Note: BetaThe dance.net store is currently in beta development.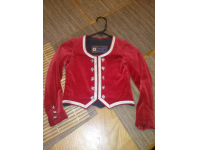 Child's Size Red Highland Jacket for sale
About
I'm selling a used red Highland Jacket for $100. I only wore it a couple times when I was about 10 years old. It was made very well by Thomas Gordon & Sons in Glasgow, Scotland. It's still in very good condition. (all measurements done with jacket flat, no one in it) Total Length: 16 1/2 inch. Sleeve Length (shoulder seam to wrist): 19 1/2 inch. Bust: 28 inch. Waist: 26 1/2 inch. Hips: 27 1/2 Original price for this jacket was around $200. I really would like to sell this jacket quickly, so price is negotiable.
jacket.jpg - 30.6K
$100.00 (USD)