Note: BetaThe dance.net store is currently in beta development.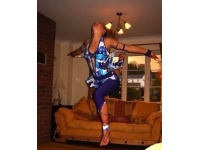 Starter dance costume roughly size 8
About
This gorgeous costume was only worn twice. The costume is an all in one with the main colours being blue and white. The back of the costume is open back and laced up and it also laces up the legs. It comes with a head piece and all the leg and arm accessories. I was a size 6-8 when I was wearing the costume and about 5ft 5. The costume also has built in cups. I love this costume which is in good condition but as I no longer dance therefore its no good to me. Contact me for more details Excellent price!!!
image.jpg - 423.0K
$100.00 (USD)