Note: BetaThe dance.net store is currently in beta development.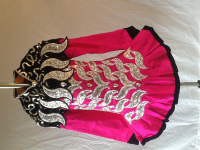 Stunning Taylor Dress! Worn 3 times
About
Stunning pink, silver & black Taylor dress made November 2013! Selling due to growth spurt! !Chest 28ins, waist 26.5ins, sleeve 23ins, V to hem 26.5ins, total dress length 28.5ins. chest band complies with CLRG rules as arms can be lifted to required height. In excellent condition!
image.jpg - 256.1K
$1150.00 (USD)