Finally made that tap board...
On 09/02/2013 13:27:07
My dad and I built a tap board...here's a video of me taping on it. Nothing hard or fancy (there's some not very good wings in there...still not good at those in this pair of shoes). We made the board out of some 2x4's, plywood, insulation foam and an old gym floor my dads friends got at the dump. My shoes and Miller and Ben. [URL=http://i61.photobucket.com/albums/h61/majere_photos/VID_20130902_130739_110_zps165e5f89.mp4]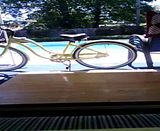 [/URL] I's been about two years since I've taken a class. It's been a year since I taught a class. I'm going to work through my Al Gilbert syllabus, starting with grade 5 or 6.
---