Forum:
Arts / Diaries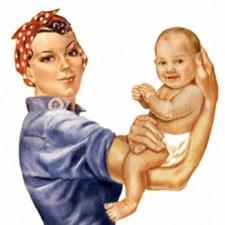 Diaries

Fitnyss (karma: 1)
By Nyssasistic




Comments: 3643, member since Sat Sep 20, 2003

On Fri Mar 20, 2015 10:30 AM


Bumped by Sumayah (204191) on 2015-08-27 18:35:29


What a goofy title for a diary, right?

So although I was able to spring back okay with the other kiddos, little Matthias, sweet and wonderful and adorable as he is, has attempted to give my naturally slim physique the kiss of death.

I could talk for miles about how unfair it is that a few pounds on me makes a HUGE difference, but I'll save that for another day maybe. Today, all I'm looking at is a bit of accountability. I'll admit, although I'm dancing on the weekends my weekdays are fairly sedentary. My diet isn't horrible, but goodness knows it's not as good as it could be.

So my vision for this diary (although I'm sure I'll still talk about other stuff too) is to document my exercise and diet stuff. I'm still 20 lbs heavier than I was pre-pregnancy, but I KNOW not a stitch of that is muscle. I would ideally like to keep the weight, but lose the fluff. I want to feel good and, finally, maybe get my core back.

So to start off, after a bit of a wakeup call yesterday I decided that I'll get going by making sure I do at least one moderately active thing for at least 20 minutes a day. I know if I jump in feet first I'll totally fail, so easing in really is best. Yesterday, I took a walk with the kiddos (3 in the stroller, Digs walking) and we walked the neighborhood for about an hour.
I'm not sure what I'm doing today, but I think I'll focus on toning rather than cardio.

Honestly, guys, I've never exercised to get fit. I've always danced and dance was enough. But now that I'm not competing, I'm not dancing nearly as much and it's taking its toll. I dislike the idea of exercising just for the sake of exercising, so if anyone has any strength/toning ideas I'd love 'em.
18 Replies to Fitnyss

re: Fitnyss (karma: 1)
By TheMidlakeMuse




Comments: 11321, member since Sun Nov 23, 2003

On Sat Mar 21, 2015 10:04 AM


I know what you mean about fitness for the sake of fitness--I'm just not vain enough to care, haha. Maybe you could find a 5k or fun run in your area that you could work towards? That kept me motivated when I wasn't competitive and it's a more flexible training schedule than a class.

re: Fitnyss


By Nyssasistic




Comments: 3643, member since Sat Sep 20, 2003

On Mon Mar 23, 2015 08:48 AM


That's a great idea! I think having a solid goal to work toward will be best since that's how I've always operated in the past. I'm going to keep my eye out for local runs.

I bought a Groupon package for 5 barre fitness classes- I think that's a good starting point since it'll have a little bit of both elements.

The whole family has come down with the plague

it seems as though the kiddos are finally on the tail end of it, but Hubby and I got hit hard over the weekend and we're pretty miserable. little Matthias was myou biggest worry because his coughing has been pretty terrible, but the doc I took him to a week ago said that it was viral and there's not much we can do. He's been up nearly all night every night for the past week, and I'm sure that's part of why Hubby and I got sick. Last night he wokeep only to nurse, which was awesome and amazing and I REALLY hope he's getting better.
In the meantime, I'm just taking it easy and enjoying some ginger tea. I'm already ready to get back to the regular routine, sans coughs and mucus and no sleeping.

re: Fitnyss


By Nyssasistic




Comments: 3643, member since Sat Sep 20, 2003

On Mon Mar 23, 2015 10:10 PM


I should be asleep- I actually was an hour ago. But I'm awake with a really stuffy head and my body is convinced that my super early bedtime was actually just a nap, so my brain is wide awake although the rest of me wishes it were sleeping.

So I'm reading The Woman in White by Wilkie Collins, and I am admiring that the narrator is SO genuine. I am loving it so far.

We all skipped out on our stuff today (hubby stayed home from work, I kept the kids here rather than take them to our co op) and we all just rested. It seemed to make a difference for some, which is awesome. I'm just hoping another night of rest will help me.

What else is going on in Nyssaland? I'm still dancing and still loving it, although I'm D-O-N-E done with competing myself. I still have goals to reach, however, and I don't intend to exit the dance scene anytime soon. None of the kiddos have decided they want to start, but I'm fine with that. It just means I have to find ways to connect with them that suit THEM rather than me.

The co op is going pretty well. I'd be lying if I said I didn't enjoy (almost) Every moment I get to spend with them there. Getting to watch their little minds work is seriously awesome.

We're working on a few home projects, first is that we're reupholstering our dining chairs. we're DIYing it, since we know that they'll probably have to be reupholstered again in a decade, after little hands learn a bit of steadiness. In the meantime, I'll also be making thin vinyl chair covers for their seats to help delay the inevitable wear and tear they'll take.
Our second (larger and DEFINITELY non-diy ) project is carpeting the living areas. We were never in love with the orangeness of the tile that came with the house, and it seems like a good time to get rid of most of it. It'll still be in the kitchen and dining room (for now...), but we're excited to see the majority of it go.

Okay, it's time to take another stab at sleep. Adios!

re: Fitnyss (karma: 1)
By Caffeine



Comments: 3194, member since Wed Aug 08, 2007

On Mon Mar 23, 2015 11:18 PM


So glad to see you back on the boards!

I know what you mean about exercising for exercising's sake. It's kind of dull (and why I was never able to sustain a gym membership). Pre-M, I used to go for an hour walk around the neighbourhood, but since then, I haven't had the time. Amazingly, I'm only 3kg heavier than I was before I got pregnant, but I'd still like to whittle that down.
Hope you and your family are over the bug soon, and you all get a good night's sleep!

re: Fitnyss


By Nyssasistic




Comments: 3643, member since Sat Sep 20, 2003

On Tue Mar 24, 2015 11:36 AM


I totally get that- when you are already bargaining with God to get 5 more minutes of sleep, going on a walk doesn't seem all that important, lol.

So Matthias wasn't impressed with my attempt at combining peekaboo and crunches today. Lol.

re: Fitnyss (karma: 1)
By majere




Comments: 5889, member since Sat Sep 29, 2007

On Tue Mar 24, 2015 12:45 PM


Do you like riding a bike? I love riding a bike - nothing fancy, just my cruiser with a comfortable seat (well, technically the bike is fancy, but I mean it has no gears etc). I do see people towing their kids around in some kind of contraption on the back of their bike.

I also like spin classes - if the instructor is fun.

re: Fitnyss (karma: 1)
By Caffeine



Comments: 3194, member since Wed Aug 08, 2007

On Tue Mar 24, 2015 06:14 PM


Heck yes, what wouldn't I do for five more minutes of sleep?!

Matthias is such a little cutie (excercise disapproval and all).

re: Fitnyss


By Nyssasistic




Comments: 3643, member since Sat Sep 20, 2003

On Wed Mar 25, 2015 09:18 AM


Majere, I LOVE riding my bike! I have a trailer for the kids to ride in, but it isn't recommended for infants. However, Matthias is so good about sitting on his own that I ought to give it a try before the weather gets too hot. Digory needs a new bike; maybe he'll get one for his Birthday in May.

Loooo ng night last night. skipping out on the co op again today to try and get some rest.

re: Fitnyss


By Nyssasistic




Comments: 3643, member since Sat Sep 20, 2003

On Sat Mar 28, 2015 03:08 PM


Edited by Nyssasistic (74238) on 2015-03-28 15:13:05 formatting
Edited by Nyssasistic (74238) on 2015-03-28 15:14:32


Hellooooo lovelies!

So I know that the point of this diary is to talk about my attempts at getting back into shape, but I came down with a really nasty sinus infection that landed me in this urgent care/stand alone ER on Thursday. I'm finally feeling a bit better, but I can only thank my antibiotics and the steroid shot they gave me for the improvement. I went to dance today, but like last week didn't touch anyone and kept my distance from the students just in case. After dance, I was just beat. Apparently I'm not back to normal yet.

My girls got their hair cut and OMG is it cute! They both got bobs, although very different in style. At first Evie wasn't a fan of it, but since she's been chewing on her hair (eeee w) it wasn't negotiable. By this morning she's come round and is happy about it, but it was touch and go for a while.
Hubby has decided he wants to paint accents on the house, which is cool but is another thing to add to the list. Starting to feel overwhelmed 0.0
Okay, naps and then run to the fabric store for fabric for curtains. Adios, mis amores!

re: Fitnyss


By Nyssasistic




Comments: 3643, member since Sat Sep 20, 2003

On Tue Mar 31, 2015 12:31 PM


Got the first bit of chair done (still needs trim, but you get the idea). You can kind of see the original fabric in the 2nd photo on the actual seat. The wood is solid, but riddled with holes so I've been putting wood filler in them before putting the new cloth on.

I walked for about an hour and a half yesterday- I didn't map my route out but I probably went about 3 miles. I pushed the girls and Matthias in the stroller while Digs rode his bike, so I got a bit of work in since combined they're probably 70-80 lbs.

I'm so excited for this easter. We'll have family coming in to town that haven't visited in YEARS and since they have kiddos the same age as we do, my kids are SUPER stoked.

I'm still trying to kick the tail end of this cold. Still feeling a bit of sinus pressure and still needing to blow my nose more often than I'd prefer. I wish it'd just GO AWAY.

Today we'll swing by home and pick up our library books, and then be off to storytime. We have passes to the zoo that expire today, but I just don't think I have the wherewithal to deal with it. I feel bad that they'll be wasted, but I didn't plan to get sick during the weeks that we could have gone. Le sigh.

re: Fitnyss (karma: 1)
By hummingbird


Comments: 10413, member since Mon Apr 18, 2005

On Tue Mar 31, 2015 03:43 PM


I love your choice of fabric on that chair, it looks very classic!

re: Fitnyss (karma: 1)
By Caffeine



Comments: 3194, member since Wed Aug 08, 2007

On Tue Mar 31, 2015 05:13 PM


Great fabric for the chairs, and the girls look cute with their haircuts.

I hope you're feeling better. Being sick always sucks, especially when you don't have time to let yourself recover properly.

re: Fitnyss (karma: 1)
By YumYumDoughnut



Comments: 8688, member since Sat Jul 10, 2004

On Wed Apr 01, 2015 12:30 AM


I love the chair!

Now for my part for April Fools...I have the April Fools kitten!

re: Fitnyss


By Nyssasistic




Comments: 3643, member since Sat Sep 20, 2003

On Mon Apr 06, 2015 12:53 PM


I am DYING for a cat- is there anything called "kittie fever"? I'm blessed in the babies department, but sometimes my bald cuties just aren't cutting it... hahaha.

Thanks for the chair praise! I have the first one completely done, and I'm about halfway through the second. 1.5 down, 4.5 to go.

Well, we were all feeling better, but yesterday a scratch turned into an angry, blistering wound on Matthias' face and now he's getting blisters all over his face/head/hands/arms. Took him in to the doctor (who thanked me for giving him something interesting to look at, lol) today and he has non-MRSA staph. So back on antibiotics (we just finished the round for his double ear infection) and now we get to use a superstrong antibiotic ointment too. My kids are never sick, but when it rains it pours I suppose... I'm so glad it seems to not bother him; I would be a mess if he were acting like it was itchy/painful.

We have my brother and sister in law (and their kiddos) staying over for the week! It's the first time they've all visited since they moved up north 4 1/2 years ago, so we're all really enjoying the time together. My sis in law and I are very close, so this is like a weeklong sleepover with my best friend as well as a family reunion. The kids are loving it, since (despite having 8 siblings and me being one of the middles) these are their only cousins.

My Easter was LONG but wonderful. Mass, lunch with Hubby's family, dinner with mine, egg hunts out the wazoo. There is something so beautiful about spending all of lent in quiet reflection and then getting to REALLY celebrate on Easter. I can't believe this Easter marks 4 years since I became Catholic... I could go on and on, but we'll just leave it there. Life is good

I still don't have a good, solid workout anything down, but just trying to fit in a few pushups here and a few crunches there alongside being a bit more conscious of what I eat has made a bit of a difference. I had to wait until I wasn't sick and now I need to make sure I'm not neglecting our houseguests, but when life calms down (ha) I'll jump on those barre fitness classes. I swear I'd be the fittest person on earth if life didn't keep getting in the way


re: Fitnyss


By Nyssasistic




Comments: 3643, member since Sat Sep 20, 2003

On Thu May 07, 2015 07:43 AM


Well, I got those barre fitness classes in (finally) and I'm so happy I did! They were a TON of fun, but more importantly they reminded me of how it felt to push myself- hold that position another 8 bars, feel my legs shake from exhaustion but still hang on until the end of the class, wake up sore and feel SO empowered that I did it. I had forgotten how GOOD that feels.
I have a few financial obligations to meet that make doing more classes not feasible right now, so I'm going to work on finding something else that'll give me the same feels.

We're about a month from the end of school and I'm simultaneously relieved and bummed. I'm soooo looking forward to the free time, but I'll really miss the other little girl I work with at our Co op.

Matthias is huge. This kid is in 24month clothing and he's not even 10 months old yet. But darn, he's adorable. He's been imitating sounds I'll make, and this morning he cracked me up when he imitated the pitch of a mega-yawn I did perfectly.

Diggy turned 7 last week! Charlotte will be 3 in about a week and a half. I love that were going back to "odds". The beauty of having the kids every other calendar year is that they eventually are all odd or even in age. I still get that side eye during those 3 months between Evie and Diggy's birthdays when I say "I have a 5 year old and a 6 year old". Lol.


Speaking of Charlotte, I am very seriously considering going back to plan A and calling her Lotte. Congrats to Will and Kate, but now half of the girls born In Charlotte's generation will be named Charlotte. So Little Lotte it is... I think she's young enough that it won't be a HUGE issue.

re: Fitnyss


By Tansey


Comments: 2367, member since Fri Mar 27, 2009

On Tue May 12, 2015 04:08 PM


Your children are beautiful!

re: Fitnyss


By hummingbird


Comments: 10413, member since Mon Apr 18, 2005

On Tue May 12, 2015 04:20 PM


I think Lotte is a lovely shortening of Charlotte and I love the kids hair cuts, they really suit them, good for you for taking Barre classes!

re: Fitnyss


By Nyssasistic




Comments: 3643, member since Sat Sep 20, 2003

On Tue Sep 01, 2015 04:14 PM


(I've tried posting this 5 times now, so im hoping taking out the pictures helps...)

It's been forever! Thanks, Sumayah, for unlocking my diary! Where to begin?

Well, Mr. Matthias turned a year old a few months ago, completing the 7-5-3-1 odd-numbered ages. Summer has been absolutely wonderful, I revamped both the laundry room and the playroom. At the beginning of May the playroom flooded (along with the majority of Texas, lol), so we tore up the carpet and replaced it with wonderfully colorful puzzle mats. We did Camp Google for 4 weeks, which came with a lot of neat experiments.

We don't start back at our co-op for another 2 weeks, so I'm savoring the last days of summer. The first day of school is also the first day of golfing lessons for Digs, so that should be fun. I found out from one of my dance families about a program that uses golf to teach core values and lessons, and since Digs' grandfather is a golfer it would be fun for him to learn the game.

What else is going on? I'm still dancing, but not competing. It's done an amazing job of keeping me in shape. I still have a few craftsy projects up my sleeve, but nothing I'm really working on right now.

Enough of an update- gotta get everyone out the door for storytime at the library!
Reply
Send
Watch