Forum:
General / Holidays

Santa got delayed but Christmas still came enigmaticpheo!
By
Sumayah


On Wed Jan 03, 2018 10:05 PM

DO I HAVE A STORY FOR YOU. AND EVERY WORD OF IT IS TRUE, SWEAR TO SANTA.
The glacier rose up in front of me, the velvet bad tossed over my shoulder. Angry screams and the stampeding of slippered feet were right on my heels.
I glanced up at the sheer cliff face. I'd never make it to the top.
My eyes darted left and the right, landing on a small crevasse in the ice.
Planting my left foot, I skid about three feet towards the wall and braced my arm out, pushing off the iridescent cold and angling for the crack. My lungs burning and blood pumping through my heart, feeling like it was going to burst, I took a breath and tucked and slid into the crevasse, gliding along the silky smooth ice.
My momentum stalled and I lost my balance and fell forward against the ice. Scrambling back, I shifted my weight to keep creeping further into the long crack. I could only hope I wasn't trapped.
Hot on my train the elves hadn't given up their chase. A candy cane dart landed feet away and then rolled in a cordial bomb. I took a breath and prepared myself for...
Oh but, I imagine I'm boring you. You probably don't care how you got your presents, just that you got them. Well!'
In Santa's bag for you are some presents for 2018.
First:
I'd love to tell you the dreidel doesn't have claw marks in it and the chocolate gelt isn't melted from being laid on, but I would absolutely be lying to you. But trust me, mauled by cats is the least of your worries when it comes to your presents.
Next up:
I'm happy to say the menorah is in much better shape. However Hanukcat is not included.
Third:
Two ticket to the San Francisco Ballet's "The Sleeping Beauty."
Fourth:
Clearly you need an all expense trip to get there.
And:
Lodging at the Alise San Francisco.
Finally: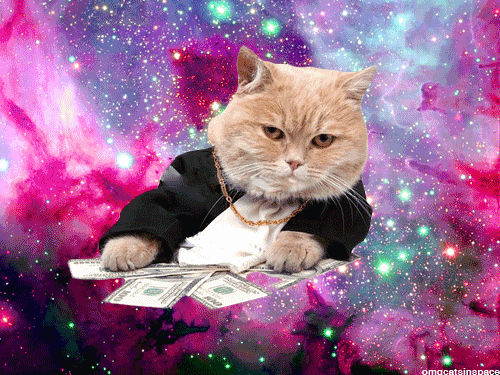 Santa also threw in spending money to make the trip more fun!
And Happy New Year! May 2018 be filled with punching Nazis, women's rights, and a voice for PoC. Cheers! <3
And wheeeeeeeeeeeee!
Reply
Send
Watch