Forum:
General / Jazz / Jazz - General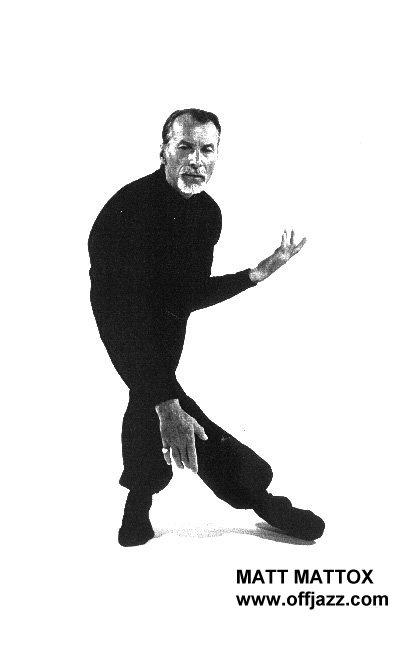 Jazz - General

Bios of Important Jazz Dancers/Choreogr aphers (karma: 17)
By kabdancer


Comments: 420, member since Sat Aug 21, 2004

On Mon Dec 27, 2004 08:50 AM


Edited by kabdancer (104061) on 2004-12-27 08:58:48 highlight
Made sticky by imadanseur (79325) on 2005-01-06 10:47:09 Okay, where is Gus Giordano??? lol....I know you are getting to him! =)


HI there all!! Borrowed this idea from the ballet board where they have bios of famous ballerina's and 'ballerino's'. I think it's a great idea since there have been many questions in the past regarding what is jazz and what are the styles etc... Hopefully this will further inform some and make them curious to do more research. I'll start by posting a couple of my favorites who greatly influence me. Cheers!!
PS - for the most part, these are copied and pasted from sites, not my writing. Please note the author at the end of the article. Thanx


Matt Mattox is a dancer-teacher-choreographer who has greatly affected the evolution of jazz dance in America and Europe. Mattox was born in 1921, and received a strong foundation in ballet before becoming a leading dancer in Hollywood from 1946-1953. As a dancer, his leading film accomplishments include Seven Brides for Seven Brothers, Gentlemen Prefer Blondes, and The Bandwagon. Some of his partners have included Judy Garland, Cyd Charisse, Mitzi Gaynor, Marilyn Monroe, Gwen Verdon, and Jane Russell. It was in 1948 that Mattox was first hired by choreographer Jack Cole for the Broadway show Magdelena. Cole is acknowledged as a pioneer in the theatrical application of jazz dance, and it was this seven year association with Cole that changed Mattox's direction from aspiring ballet dancer to the personification of perfection in a jazz dancer.
Mattox has choreographed films and musicals, but is most noted as a choreographer for his television work of the 1950s and 1960s, particularly The Bell Telephone Hour. The Mattox movement style is an eclectic form that draws from the Cole style, modern dance, ethnic, flamenco, tap, and Mattox's own studies in ballet. It is based on Mattox's personal belief that all forms of dance are valid as inspiration and expression. Mattox has commented on his need for total freedom in expression by calling his style "freestyle".

His efforts as a teacher of jazz dance, however, are significant, for Mattox created a system of exercises to train jazz dancers during the embryonic stage of theatrical jazz dance. Although he was not the only teacher to do so, it is evident that his technique method was the most intricate and most clearly integrated the jazz dance concepts of isolation and propulsive rhythm.


After fourteen years of leading the jazz dance scene in New York, Mattox moved to London and assumed the same position of leadership in English jazz dance. There he formed a concert jazz dance company, Jazzart, which he eventually brought to Paris in 1975. His technique is well known and highly respected throughout Europe. Mattox, now in his 70s, is still in great demand as a teacher and choreographer.

Although his star has faded somewhat in America due to his long absence, his legacy remains in the choreography of Graciela Daniele, Margo Sappington, Alan Johnson, Robert North, Raza Hammadi, and Anthony Van Laast. His technique can be seen in Frank Pietri, Charles Kelley, Elisabeth Frich, Renato Greco, and Jane Darling, as well as literally tens of thousands of teachers and students who have studied with him during his 40 years of teaching. Mattox is a primary figure in the evolution of the jazz dancer from a high kicking chorus girl to a concert caliber performer, and of jazz dance from the dance halls to the concert halls. Although somewhat obscure, Matt Mattox is a jazz dance legend.



Bob Boross
35 Replies to Bios of Important Jazz Dancers/Choreogr aphers

Lynn Simonson (karma: 1)
By kabdancer


Comments: 420, member since Sat Aug 21, 2004

On Mon Dec 27, 2004 09:06 AM


Lynn Simonson has been a popular teacher of jazz dance in New York and throughout the world since the early 1960s. During that time she has drawn on her dance studies to develop a movement technique for jazz and modern dance that is independent of a particular style. Her technique is a result of her inquiries into dancing without injuries, and her method of teaching involves frequent references to anatomy and imagery.

Simonson grew up in Seattle, Washington, where she received her early training in ballet with former dancers from the Ballet Russes. At the age of 16, she won her first Equity job in musical theatre, and strayed from her classical upbringing after hearing a Mile Davis album. She made her way to NY at 18 in 1961, and soon found herself dancing four shows a day with the Radio City Ballet corps. Between shows, she found time to take jazz classes with Jaime Rogers and Claude Thompson at the June Taylor studio. She was suited to the strong, tight style of Rogers, but she expanded her abilities when she started classes in the more lyrical style of Luigi.

She began teaching in NY, and was asked to teach in Holland in 1967. It was at this time that she seriously began to formulate her technical approach to jazz dance. Simonson was hampered with chronic injuries, so she began a study of anatomy and kinesiology in order to develop an approach to dance that would prepare a body to dance without being dependent on a particular style of jazz dance. Over the years, her Simonson jazz technique has been taught in New York at the Morelli Studio, and then at DanceSpace, a large studio complex at 622 Broadway, that was co-founded by Simonson. Her technique is the official jazz technique of DanceSpace. She has instituted an 18 week jazz dance teacher's training program, and has co-sponsored jazz dance concerts with Evolving Arts, Inc., the non-profit performance wing of DanceSpace. Simonson jazz technique is taught in 16 countries, and is popular in Japan, Holland, and Quebec, as well as being the primary jazz dance technique of the University of Massachusetts and Kent State University.

Bob Boross


Lynn Simonson - Simonson technique, Yoga
Lynn is the mind and body behind the Simonson technique which she has been teaching for over 30 years. She is proud that Simonson technique classes are now taught in 15 countries worldwide. Incorporating her discovery of Yoga which she has taught for over 10 years, Lynn also directs Expanded Dance, an annual summer retreat for holistic dance practitioners located on the beaches of Rockport, Massachusetts. She is a choreographer in her own right and was the director of the Jazz Project and the New Vision for Dance at the Jacob's Pillow Dance Festival for over 12 years. Lynn's expertise in concert jazz is sought after by dance schools and organizations worldwide. She devotes her time away from Dance Space Center as a tireless international guest teacher.

( her current bio from her 'faculty' page off her website )

Bob Fosse (karma: 2)
By kabdancer


Comments: 420, member since Sat Aug 21, 2004

On Mon Dec 27, 2004 09:20 AM


Robert "Bob" Fosse

Born

June 23, 1927

The son of a vaudevillian, Bob Fosse was born into the theatre. At 13 he was already touring with his own dance act, called The Riff Brothers. At 15 he choreographed his first number in a night-club, in which girls manipulated strategically-placed ostrich feathers to Cole Porter's 'That Old Black Magic'. It was the kind of sexual suggestiveness which would become a trademark of Fosse's choreography.

After a spell in the US Navy, Fosse put in two years in acting school before heading out on the road in the chorus of Call Me Mister in 1948. Two years in the chorus brought him to Broadway in the revue Dance Me A Song. Then Hollywood beckoned. 'I had fantasies of becoming the next Fred Astaire,' admitted Fosse, years later. After small parts in three films, including Kiss Me, Kate (1953), Fosse realised he was going nowhere and headed back to Broadway. That was when he got his big break.

Veteran director and playwright George Abbott took a chance on the young man for the choreography of The Pajama Game (1954). Fosse's ground-breaking staging of 'Steam Heat' was the talk of New York and the show became a huge hit. The number contained elements which were to become recognisable as Fosse's choreographic signature: small groups of dancers, drilled down to the lift of an eyebrow, executing steps which are sometimes disjointed, sometimes tortuously slow-motion - movement which seems to take the human body apart and make each piece work separately.

Fosse was in demand. The following year he worked alongside Abbott again on Damn Yankees, an unlikely combination of the Faust myth and baseball, chiefly remembered for the seductive Gwen Verdon as the devil's sexiest demon, singing 'Whatever Lola wants, Lola gets'.

From then on, Verdon was leading lady in almost all Fosse's shows, becoming the definitive Fosse dancer - all dazzling legs and double-jointed shoulders. After hits with New Girl In Town (1957) and Redhead (1959), one of Broadway's greatest partnerships got married in 1960.

By now, Fosse was directing as well as choreographing his shows. He became one of those rare directors whose name is bigger than the star's. He staged block-busting hits one after each other, following Sweet Charity with Pippin (1972), Chicago (1975) and Dancin' (1978). Those four shows alone notched up over 5,000 performances between them, and their creator finished with a total of eight Tony Awards.

Fosse also had a successful career in movies. His choreography for My Sister Eileen (1955), The Pajama Game (1957) and Damn Yankees (1958) was well received and, for Sweet Charity (1969), he became the first man since Busby Berkeley to be given absolute control over a production. The result was box office disaster and, for four years, no one in Hollywood wanted to know him.

After a string of other directors had turned it down, Fosse took charge of the movie of Cabaret, in 1972. It was his greatest year. He won an Oscar for Cabaret, a Tony for the stage show Pippin and an Emmy Award for Liza Minnelli's TV special, Liza With A Z. It also gave him the chance to make a tribute to his friend, comedian Lenny Bruce, in the non-musical film Lenny, in 1974.

But there was a price to be paid for such a relentless workload. In 1975, Fosse's chain-smoking caught up with him, when he suffered a heart-attack during work on Chicago. The show marked Gwen Verdon's come-back on Broadway but it also marked the end of their marriage. Fosse's two earlier marriages, to dancers Mary Arm Niles and Joan McCracken, had ended in divorce; now the strain was telling on Fosse and Verdon. They divorced that year, though their working partnership continued.

Mirroring his autobiographical movie, All That Jazz (1979), Fosse himself died just moments before the curtain up on the triumphant revival of Sweet Charity.

It could perhaps be argued that the latest hit revival of Kander and Ebb's Chicago, supervised by Ann Reinking - a Fosse protegée - is very much a tribute to the late, great Bob Fosse.

taken from

nodanw.com

Eugene Luigi (karma: 1)
By kabdancer


Comments: 420, member since Sat Aug 21, 2004

On Mon Dec 27, 2004 09:29 AM


Eugene 'Luigi' Louis Faccuito

Gene Kelly gave him the nickname Luigi. Dance historians have defined his style as classic jazz, elegant, sophisticated, and even liquid fire. Worldwide media and dance awards have labeled him "Pioneer", "Ambassador of Jazz", "The Teachers' Teacher", "The Pope of Broadway", but mostly, "The Innovator".
Born in Steubenville, Ohio, Eugene Louis Faccuito began his singing, tap dancing and acrobatic career at an early age winning local amateur contests. At the age of ten, he performed with Ted Lewis and his orchestra the famous "Me and My Shadow" number as his shadow. By thirteen, Luigi replaced Dean Martin as the lead singer in the Bernie Davis Orchestra. Until he was eighteen vaudeville, burlesque and nightclubs as far as Detroit and Buffalo hired Luigi as their "master of ceremony" or soloist.

After being drafted into the Navy in World War II, Luigi moved to Hollywood to establish his career as a performer. Tragedy struck in a near fatal car accident in which Luigi suffered a fractured skull and paralysis on one side of his body. Doctors gave little hope of recovery or even walking. On his own, Luigi created stretching exercises that helped him find control of his body. His philosophy became to 'feel from the inside out" and to constantly "put the body in the right position." After a year he regained enough strength to walk into dance classes at Falcon Studio with Edith Jane. He also took classes from other teachers in L.A. such as: Adolph Bolm, Bronislava Nijinska, Michio Ito, Michael Panaieff, Edward Caton, Eugene Loring, Sally Whalen, Louis Da Pron and Carmelita Marrachi.

Over a year later, Luigi, seen by a talent scout in a Falcon Studio recital, was asked to audition for MGM's On the Town. Miraculously, he got the job and started an eight year career working at every studio in Hollywood in about 40 films, such as: An American In Paris, Annie Get Your Gun, Singin in the Rain, The Band Wagon, and White Christmas. Choreographers Robert Alton and Gene Kelly became his mentors, but Luigi also worked for Hermes Pan, Michael Kidd, Eugene Loring, Nick Castle, Le Roy Prinz and Lee Scott. He was put to work with Fred Astaire, Cyd Charisse, Doris Day, Judy Garland, Bing Crosby, Vera Allen and Mickey Rooney, to name a few.

In between "takes," Luigi did his own exercises to make sure his body remained limber. Soon dancers were following and he was urged to begin his own classes in 1951. Luigi's coaching was good enough to have Horace Heidt and George Moro hire him to choreograph their shows. While working in films, Equity theaters, nightclubs with his own dance acts, and some of the early television shows, including "The Colgate Comedy Hour" and "The Red Skelton Show", Luigi continued to teach.

In 1956 Luigi was brought to Broadway by Alex Romero to dance in Happy Hunting starring Ethel Merman and Fernando Lamas. June Taylor also brought him in to teach at her school. He had created the first complete technique for learning jazz dance and in the late 1950's Luigi opened his own school calling it "The First World Jazz Centre." He continued performing and assisting Onna White and Lee Scott on three more Broadway shows.

Luigi continues his dance classes today, fueled by his credo, "Never Stop Moving." Stressing the importance of using the body properly Luigi says, "A good teacher knows how to prevent injuries." But more importantly his advice for people is, "Learn how to learn."

The world as well as NYC has recognized Luigi's artistry by inviting him to give master classes throughout the North and South Americas, England, France, Hungary, Germany, Italy, Japan and South Africa. He has served on the faculty for the Harkness Ballet, High School for the Performing Arts, Sarah Lawrence College, NYU, Radio City Music Hall, Kingsborough College, Metropolitan Opera House and Joffrey Ballet School. His method has spread to schools and colleges all over the world with the help of his technique book translated into three languages. and a master class CD. His own dance company ran for five years and pieces of his repertoire are still being performed.

To name a few of his celebrity students there is Liza Minnelli, Robert Morse, John Travolta, Joel Grey, Elliott Gould, Valerie Harper, Madonna, Jerry Orbach, Charlotte D'Amboise and Christopher Walken. Choreographers who have acknowledged Luigi's influence include: Alvin Ailey, Michael Bennett, Ann Reinking, Ron Fields, Twyla Tharp, Hama, Arlene Phillips, Kathleen Marshall, David Winters, Barry Lather, Molly Molloy, Walter Painter, Lester Wilson and Susan Stroman. Currently, Luigi is working on a Broadway show about his life and has been approached for a film documentary on his long career.

taken from danceart.com James Robey

Jack Cole (karma: 2)
By kabdancer


Comments: 420, member since Sat Aug 21, 2004

On Tue Dec 28, 2004 09:21 AM


Jack Cole born as John Ewing Richter in 1911 in New Brunswick, NJ
d.1974

Do you know who your father is?

No, this is not the topic of the latest Jerry Springer episode. What I mean is do you know whom the father of Jazz Dance Technique is? Who do we all, as jazz dancers, owe some gratitude to? Most jazz dancers are well versed on the trendy teachers of today. But where did it all start? Who took the popular jazz dance steps of the early 1900's and made it a technique? The answer: Jack Cole.

Okay, you might not feel comfortable calling him daddy, just yet. Nevertheless, it is only fair that you get the chance to know him a little better. So let's start at the beginning.

Why do we consider him the "father" of jazz dance technique?

ROOTS AND SOURCES

Jack Cole began as a modern dancer with Ruth St. Denis and Ted Shawn. During the depression era, he switched from modern to commercial dance. He danced and choreographed in nightclubs and would go on to work for Broadway and the movies. Jazz dance steps were popular at the time but lacked a technical side. Cole was the first to merge the modern dance aspect of motivation for movement with popular jazz dance steps to make technical and artistic jazz dance.


In addition to modern influences, Cole had a background in East Indian dancing and Lindy hop. He blended all of these elements to create a distinctive style. If we look at the face of Cole's jazz dance style, we are bound to see an uncanny resemblance to ourselves.

From Cole's modern training, he brought a low sense of gravity. The use of deep plié gives jazz its sense of power and explosiveness. From East Indian dancing, Cole borrowed a refined use of isolation. Today, isolations are an integral part of jazz classes. From the Lindy hoppers, he brought an intricate use of swing rhythm - syncopation. The use of knee slides and floor work came from Cole's acrobatic experience. These common traits are found in the jazz dance genes of today. If Jerry Springer paid for the DNA testing, the results would be 99.98% positive that Jack Cole was indeed our father.

Jack choreographed numerous Broadway and Hollywood musicals. In Hollywood, Cole was put in charge of training dancers for the movies. To train dancers for his aggressive and cat-like style, Jack taught Cecchetti ballet, Humphrey/Weidman modern, East Indian dance, flamenco, and gymnastics. The classes included such movie and dance stars as Gwen Verdon, Ann Reinking, Rita Hayworth, Matt Mattox, and Mitzi Gaynor. Cole choreographed the films The Merry Widow, No Business Like Show Business, Kismet, and Gentlemen Prefer Blondes with Marilyn Monroe. On Broadway, he choreographed several musicals including Kismet.

If Jack Cole is such a big deal, why haven't I heard his name before?

DNA TEST RESULTS

Sadly, knowledge of Jack Cole seems limited to jazz dance aficionados and college dance history students. Part of the reason for this is that Cole never had a major hit like Bob Fosse and Jerome Robbins who followed him. Another factor is that Jack's technique was never codified. Nevertheless, every jazz class shows evidence of his legacy. From the deep plié in second position to shoulder and head isolation in the warm up - all jazz dance classes are an extension of Jack Cole's ingenuity.

When we look at the family tree of jazz dance, we see Jack Cole at the base where musical theater and modern jazz branch off. Turning jazz dance into a technique helped it to flourish. Every jazz dance technique class is a descendent of one man's creativity. That man is the Father of Jazz Dance Technique: Jack Cole.

taken from danceart.com James Robey

Gwen Verdon (karma: 2)
By kabdancer


Comments: 420, member since Sat Aug 21, 2004

On Tue Dec 28, 2004 09:37 AM


Gwen Verdon

Gwenyth Evelyn Verdon was born on January 16th, 1925 the only child of English emigres Joseph and Gertrude Verdon in Culver City, California. The Verdons were "show people", Joseph an electrician at MGM Studios and Gertrude a former member of the Denishawn dance troupe and a veteran of vaudeville. As a child, Gwen was afflicted with rickets, which left her legs so badly bent and misshapen she was called "Gimpy" by other children and spent her early years in orthopedic boots and stiff braces. Gertrude Verdon placed her daughter in dance classes by the age of 3 where ballet began strengthening her legs and improving her carriage. By the age of 6, feisty red-headed Gwen was performing as a tap dancer.

Ms. Verdon studied multiple dance forms, from ballroom to Balinese, tap and jazz to juggling and flamenco. Attending Hamilton High in Los Angeles, Ms. Verdon combined her academic schedule with classes with celebrated ballet master Ernest Belcher. While still in high school, Ms. Verdon was cast in a revival of "Show Boat", but shocked her parents and instructors when she abandoned her budding career to elope with tabloid reporter James Henaghan. That marriage lasted only 5 years and left Ms. Verdon a 22-year-old divorcee with a young son, Jimmy, who she trusted to the care of her parents.

Ms. Verdon's quest for work led her to a position as the assistant to choreographer Jack Cole, a temperamental genius whose work was respected by both Broadway and the top Hollywood film studios. While her 5-year employment with Cole led to a few small film roles as a "specialty dancer", Ms. Verdon was more often delegated to instruct actresses for their roles, her trainees including Jane Russell, Lana Turner, Betty Grable and Marilyn Monroe. Cole cast Ms. Verdon in his show "Alive and Kicking", which turned out to be a bitter disappointment rather than a brilliant Broadway debut, with the show closing quickly and disappearing from New York theaters almost over night. Ms. Verdon returned to Hollywood, where she was becoming resigned to her role as a single mother and anonymous teacher.

Gwen Verdon's triumphant return to Broadway in 1953 became the stuff of stage legend. At the age of 28 when most professional dancers are made and fading, she was cast by choreographer Michael Kidd as the second female lead in the Cole Porter musical "Can Can", against French prima donna Lilo. When the show tested outside of New York and Lilo was displeased with Ms. Verdon receiving a threatening amount of attention from audiences and reviewers, she had her role pared down to just 2 featured dance numbers, barely more than an ensemble part. By the time "Can Can" premiered on Broadway, Ms. Verdon had formally announced her intention to leave the show. In her first night performance, however, Ms. Verdon's "Garden of Eden" number literally stopped the show, the audience thundering her name until the startled actress was brought out of her dressing room in her bathrobe to take a curtain call. Gwen Verdon received a pay raise, a Tony Award, and Lilo's ego received a severe blow for her part in "Can Can".

Ms. Verdon went on to become one of Broadway's brightest stars and a winner of 4 Tony Awards, her next for her role as the Devil's assistant "Lola" in "Damn Yankees", a role choreographed by Bob Fosse who chose her for the part over her former student, Marilyn Monroe. Ms. Verdon was often considered Fosse's muse, and the successful collaboration- they worked together in "New Girl in Town" and "Redhead", which brought the dancer her third and 4th Tony Awards- led to marriage in 1960. Ms. Verdon took a hiatus to have a daughter, Nicole, before returning to the stage in 1966 in the title role in "Sweet Charity" at the age of 41, by which most dancers are retired or reduced to teaching. The show became a Broadway cult favorite, and spawned a film version with a younger red-headed dancer, Shirley MacLaine. Ms. Verdon and her husband legally separated in 1971 over Fosse's open extramarital affairs but never divorced, remaining close friends and co-workers on projects like "Chicago" in which Ms. Verdon portrayed murderess Roxie Hart and the musical "Dancin'", as well as his autobiographical film, "All That Jazz".

Ms. Verdon developed a close working relationship with Fosse's companion, actress Ann Reinking, and later instructed for her musical theater classes. It was Ms. Verdon, accompanying Fosse to the 1987 revival of "Sweet Charity" in Washington who held him as he suffered a fatal heart attack on the walk outside the theater. Ms. Verdon later served as an advisor and consultant on the stage biography of his life in theater, "Fosse", which received a Tony Award for Best Musical.

Gwen Verdon rarely worked in films, though she recreated her role of "Lola" for the film version of "Damn Yankees". In later years Ms. Verdon's love of performing led to select movie and television appearances, such as "The Cotton Club", "Cocoon", and "Marvin's Room". Her additional awards and honors included a Grammy Award for the cast recording of "Redhead", and 3 Emmy Award nominations for appearances on "Magnum PI" (1988) and "Dream On" and "Homicide" (both in 1993). Maintaining a surprising level of agility, Ms. Verdon continued to instruct dance and musical theater through 1999.

On October 18th, 2000, Gwen Verdon died quietly in her sleep from natural causes at the home of her daughter, Nicole Fosse, in Woodstock Vermont, and the same day lights on Broadway were dimmed in honor of the passing of one of its brightest stars.

taken from Internet Obituary network

re: Bios of Important Jazz Dancers/Choreogr aphers


By DionysusBoy

Comments: 167, member since Sat Jul 24, 2004

On Wed Dec 29, 2004 01:50 AM


I thought this was cool!

re: Bios of Important Jazz Dancers/Choreogr aphers (karma: 1)
By kabdancer


Comments: 420, member since Sat Aug 21, 2004

On Wed Dec 29, 2004 01:23 PM


Edited by kabdancer (104061) on 2004-12-29 13:16:51 addition


Frank Hatchett

Frank Hatchett,

Master Teacher & Choreographer

Entertainers, students, and dance teachers from all over the world come to study with Frank Hatchett at Broadway Dance Center in New York City. Frank continuously tours the country giving master classes, and making special guest appearances. In addition, Frank is one of the featured master teachers for the annual Jazz Dance World Congress.

The Hatchett style is a blend of strength, funk, and individual interpretation, with an emphasis on selling your performance. Associated exclusively to Frank Hatchett, his unique energy and spirit have come to be called VOP.

Aside from teaching, Frank has choreographed for all aspects of the entertainment industry. ABC's "Good Morning America" dubbed him "The Doctor of Jazz". CNBC's television documentary, "Real Stories" featured a series on Frank, which later won an Emmy Award. Mr. Hatchett has also been featured on MTV's "The Real World",and VH1's "Driven". In 2000, Frank Hatchett and Nancy Myers Gitlin co-authored the popular book titled "Frank Hatchett's Jazz Dance". Frank was also honored as one of the recipients of the Fred Astaire awards in 2002.

After Many years as a performer in theater, movies, television, and concerts, Mr. Hatchett continues to be in demand as a Master Teacher/Choreographer for most major dance organizations and studios around the country. He can be found daily teaching his classes at Broadway Dance Center in New York City.

For additional information on Frank Hatchett:

broadwaydancecenter.com

, or

broadwaydancecenter.com . . .

This is from the National Dance Week site

I was hoping to find more about his training etc...this is all I could find on the net.

Josephine Baker (karma: 1)
By kabdancer


Comments: 420, member since Sat Aug 21, 2004

On Wed Dec 29, 2004 01:42 PM


Josephine Baker
(1906 - 1975)
Full name: Josephine Carson
From the start, Josephine Baker was a survivor. Far from the glitter and gaiety that characterized her beloved Paris, Baker's beginnings were harsh and difficult. Born in the slums of St. Louis, Baker grew up sleeping in cardboard shelters and scavenging for food in garbage cans.

At age 13, Baker left her parents' house and got a job as a waitress. Soon afterwards, she married Willie Wells. However, the marriage ended in divorce, and she returned to waitressing. She then joined a group of performers, the Jones Family Band, and had her stage debut at the Booker T. Washington Theater, a black vaudeville house in St. Louis.

By age 18, she was out of Missouri, had been discovered in New York and was performing with numerous troupes in various stage productions. Some of these productions included the Folies-Bergeres, Ziegfeld Follies, and the famed Le Negre Revue in Paris. In Le Negre Revue, Baker danced with a male partner; her costumes consisting of a skirt of feathers. It was in Paris that Baker's transformation began.

For a city that was bursting with the spirit and rhythm of jazz, Baker was a perfect match. She was an entertainer and dancer, known for her contortionist positions, striking ebony features, and goofy, cross-eyed face. As she swang from a trapeze at the Folies-Bergere or tossed flowers to her audience, Baker embodied the pain and emotion of the times.

During the early 30s, Baker toured Europe, recorded songs for Columbia Records, and starred in two films, Zou-Zou and Princesse Tam-Tam. In 1935, Baker returned to the United States searching for the success she had in France. However, American audiences weren't ready for a black woman with the style, grace, and sophistication that Baker possessed. Before returning to France, Baker divorced her second husband, Willie Baker, who she had married in 1920. In 1937, she married Jean Lion, a French sugar broker, and became a French citizen. However, the marriage ended 14 months later.

With the rise of Hitler, Europe experienced a transformation which affected Baker in several ways. In a Europe split with hate and intolerance, Baker engaged in undercover work for the French Resistance during World War II. She became an "honorable correspondent" and became sub-lieutenant in the Women's Auxiliary of the French Air Force.

In 1940, Baker moved to Morocco. In 1942, she toured the region performing for the resistance. She returned to France in 1944, got married in 1947 to Jo Bouillon, an orchestra leader, and was back in the States in 1948, where she became an activist for civil rights. Baker was back in France in 1954, with the intention of raising a family of ethnically diverse children that she had brought to France from her tours around the world. She called them her "Rainbow Tribe."

In her last years, Baker suffered struggles, financial difficulties, and poor health. In 1973, she married Robert Brady, an American artist. She died on April 12, 1975, four days after the opening of Josephine, a show based on her life. Her funeral took place in her beloved France, the country which she had adopted as her home.

Although Baker's life was full of struggles to overcome the difficulties and limitations, she lived her life passionately. She had four spouses, adoring audiences, and she closely related with celebrities such as Grace Kelly or Maurice Chevalier and important politicians such as de Gaulle, Castro, and Mussolini. Many years after her death, Josephine Baker's charm, vivacity, and captivation live on and so does her legend .

* This is page is from © 1998 Josephine Baker Estate c/o CMG Worldwide

Michael Kidd (karma: 1)
By kabdancer


Comments: 420, member since Sat Aug 21, 2004

On Wed Dec 29, 2004 01:51 PM


Michael Kidd

Choreography/Actor/Director : Born September 12, 1919 - Brooklyn, New York City, NY


An important choreographer, director, and dancer who pioneered a joyful and energetic style of dancing. Kidd was a soloist with the Ballet Theatre (later called the American Ballet Theatre) before making his Broadway debut as choreographer with "Finian's Rainbow" in 1947. He won a Tony Award for his work on that show, and earned four more during the '50s for "Guys and Dolls" (1950), "Can-Can" (1953), "Li'l Abner" (1956), and "Destry Rides Again" (1959). His other shows around that time were "Hold It," "Love Life," and "Arms and the Girl."

From "Li'l Abner" onward he also directed, and sometimes produced, most of the shows on which he worked, but it was as a choreographer of apparently limitless invention that he dominated the Broadway musical during the '50s.


In the '60s and early '70s he worked on productions such as "Wildcat," "Subways Are for Sleeping," "Here's Love," "Ben Franklin in Paris," "Skyscraper," "Breakfast at Tiffany's" (which closed during previews), "The Rothschilds" (1970), "Cyrano," and a revival of "Good News" (1974).

Kidd also filled the big screen with his brilliant and exuberant dance sequences in classic Hollywood musicals such as THE BAND WAGON, SEVEN BRIDES FOR SEVEN BROTHERS, IT'S ALWAYS FAIR WEATHER, and HELLO, DOLLY! He co-starred with Gene Kelly and Dan Dailey in IT'S ALWAYS FAIR WEATHER, and appeared in several other films, including MOVIE MOVIE, an affectionate parody of a typical '30s double feature that went largely unappreciated in 1979.

However, recognition of his immense contribution to the screen musical came in 1997 when he received a special Honorary Academy Award.


Source: Biographical information provided by MUZE. Excerpted from the ENCYCLOPEDIA OF POPULAR MUSIC, edited by Colin Larkin. © 2004 MUZE UK Ltd.

Chita Rivera (karma: 1)
By kabdancer


Comments: 420, member since Sat Aug 21, 2004

On Wed Dec 29, 2004 01:59 PM


Chita Rivera

Universally regarded as an American national treasure, Chita Rivera is an accomplished and versatile actress/singer/dancer. A recipient of the prestigious Kennedy Center honor presented by the President of the United States, Chita has won two Tony Awards as Best Leading Actress in a Musical and received six additional Tony Award nominations. She most recently appeared on Broadway in the Tony Award winning revival of Nine, starring Antonio Banderas.

Born Dolores Conchita Figueroa del Rivero in Washington, D.C., on January 23, 1933, Chita's parents were from Puerto Rico. Her father, Pedro Julio Figueroa, played clarinet and saxophone for the Navy Band; after his death when Chita was 7, her mother, Katherine Anderson del Rivero, went to work at the Pentagon. (Chita's mother died in 1983).

Young Conchita was a tomboy. To tone down her rambunctiousness, when she was 11, her mother enrolled her in the Jones-Hayward School of Ballet, a school run by an impressive pair of black women, Doris Jones and Claire Haywood. When Conchita was 15, a teacher from George Balanchine's School of American Ballet visited their studio. She was one of two students picked to audition in New York.

At the audition, Doris Jones calmed her student with a piece of advice. "Conchita, stay in your lane." Meaning, "Don't worry about the long bodies and blond ponytails lining up next to you for the auditions; be who you are!" Chita Rivera never forgot it.

She was accepted on the basis of her audition and given a scholarship to the American School of Ballet by the legendary George Balanchine. Her teachers included some of the top American dancers of the century: Edward Villella, Allegra Kent, and Maria Tallchief among them.

Soon, however, the ballet world lost and Broadway gained a future star when the 17-year-old aspiring ballerina accompanied a friend to the auditions for Call Me Madam. Conchita intended only to support her friend, but she ended up landing the part herself! Other roles quickly followed in such shows as Guys and Dolls, Can-Can, Seventh Heaven, and Mr. Wonderful with Sammy Davis Jr.

Then in 1957, Broadway history was made when Chita's electric performance as Anita in the Broadway premiere of

West Side Story

brought her stardom. She married dancer Tony Mordente on December 1 of that year. Chita's talent enabled the brilliant Jerome Robbins to realize his groundbreaking choreographic vision for the production. Indeed, her performance was so central to the success of the show that the London production was postoned until after Chita had given birth to her daughter.

Rosie, the starring role in Bye Bye Birdie followed, and Chita returned to the West End in 1960 to reprise her performance in that role as well. Around the nation or on tour, Chita subsequently starred in Born Yesterday, The Rose Tattoo, Call Me Madam, Threepenny Opera, Sweet Charity, Kiss Me Kate, and Zorba. A national tour of Can-Can with the Radio City Music Hall Rockettes took her to Japan as well.

Chita also played Nicky in the film version of

Sweet Charity

with Shirley MacLaine. In a wry tribute to Nicky, Chita's character for her most recent screen appearance, a cameo in the film version of Chicago, is also named "Nicky." Despite the many highlights of her stellar and historic career, Chita always maintains that her most treasured production is her daughter, singer/dancer/choreographer Lisa Mordente.

For an excellent recent article on Chita's life and career, see "For Chita Rivera, A Career With Legs," by Jacqueline Trescott, Washington Post, Sunday, December 8, 2002; Page G01:

www.washingtonpost.com . . .

This was taken from Chita Rivera's web site

re: Bios of Important Jazz Dancers/Choreogr aphers


By hilly11148


Comments: 2317, member since Mon Dec 31, 2001

On Wed Dec 29, 2004 11:10 PM


Awesome. That is SO much good history. I'm trying to soak it all in to remember it.

re: Bios of Important Jazz Dancers/Choreogr aphers (karma: 1)
By kabdancer


Comments: 420, member since Sat Aug 21, 2004

On Sun Jan 02, 2005 11:43 AM


ANN REINKING

(Choreographer)

Ann Reinking was born and raised in Bellevue, Washington. She trained with Robert Joffrey then moved on to the San Francisco Ballet School under a Ford Foundation Scholarship.

Ann Reinking has received the 1997 Tony Award, Best Choreography for CHICAGO, as well as the Drama Desk, Outer Critics Circle, Astaire, and NY Drama Critics Awards. Other credits include Director, co-choreographer for Fosse (1998 Tony Award for Best Musical); Tony nominations for her leading performances in DANCIN' and GOODTIME CHARLIE; recipient of the Theatre World, Clarence Derwent and Outer Critics Circle Awards for her work as Maggie in OVER HERE! Film credits: ALL THAT JAZZ; ANNIE; MICKI AND MAUDE and MOVIE, MOVIE. Recent choreography credits include SUITE KANDER for Missouri State Ballet, RITMO & RUIDO for Ballet Hispanico, LENGENDS for Joffrey Ballet of Chicago, THE THREEPENNY OPERA for Williamstown Theatre Festival, NILSSON/SCHMILLSON for Seattle's Spectrum Dance Theatre, "Bye Bye Birdie" foe ABC-TV, national tour revival of APPLAUSE.

Ms. Reinking is the founder and Artistic Director of the Broadway Theatre Project. She is the recipient of the Drama League Award for Distinguished Achievement in Musical Theatre 1999, Musical Hall of Fame Award 1999, Dance Library of Israel Award 1998, Distinguished Artist Award 1998, School of American Ballet Artistic Achievement Award 1997, National Art Club Award for Service to the Arts 1995, and the Governor's Award-Ambassador of the Arts for the state of Florida 1994.

* taken from the 'CHICAGO' site biography
Alvin Ailey (karma: 2)
By DaNcEcLuB_89 Comments: 29, member since Mon Aug 18, 2003

On Sun Jan 02, 2005 07:25 PM


I actually had to do a research paper on Alvin Ailey... so here it is:

Founder of Modern Dance

I. INTRODUCTION

"Modern Dance" is a phrase that refers to a wide range of non-ballet dance forms. Alvin Ailey Jr. was an example of a great modern dancer. Alvin Ailey was a pioneer who started his own company. When he came to the Broadway stage, he found the perfect combination of people and opportunities to realize his dreams. He had a very rough childhood, but he had an amazing dance career, in which he created Alvin Ailey American Dance Theatre.

II. ALVIN AILEY'S CHILDHOOD

Alvin Ailey Jr. was born on the cold morning of January 5, 1931 in Roger, Texas. Jennifer Dunning was once quoted saying, "The world into which Alvin Ailey was born was, and to some extent still is, one of harsh and arbitrary extremes." The lives of Blacks were as peaceful and secure as racism and poverty would allow (Dunning 3). Blacks and Whites lived in mostly peaceful coexistence in the small segregated rural towns where Alvin lived when he was younger. In the 1930's, when Alvin was a child, public facilities were segregated and "color" facilities were almost always humiliatingly inferior to what Whites could expect (Dunning 2). His seventeen-year-old mother was so undernourished that she was unable to nurse Alvin (Haskins 163). His mother's first reaction was that he was dead. "But as soon as he got busy he was born"(Dunning 4). He was a very large baby, with such a large head. Lula Ailey, his mother, began to wonder if he would be hydrocephalic. Alvin could not walk very easy, so Lula ended up carrying him everywhere (Dunning 4). Alvin was so large and active seemed something of a miracle. With 13 women, men and children living in a single walled cabin, there was as little room as they had food. When Alvin was 3 months old, his mother, father and him moved into a one-room cabin of their own, just outside Rogers (Dunning 5).Alvin Ailey's parents separated when he was very young (Haskins 163). In May of 1935, Alvin Sr. returned to his family.

The reunion was not a happy one. "He was a big, fine-looking guy, dark skinned with black curly hair. He was a good man. He wasn't rude to me. He was a straight well-dresser, but he just wasn't a well-worker. He just didn't have the education to take care of a family. His family was the same. They depended on Mr. Crouth all their lives. So I just made up my mind I was going to do something about this. "I told my father I was going to separate from him. And my daddy told me, 'You married him, you're going to stay with him. There will be no divorces in this Cliff family.' I said to myself I'd fix him."(Dunning 6).

Lula earned as little as three dollars a week. She started saving her money up, but didn't tell anyone what she was planning on doing. She left her husband and the Etters four months later. Lula and Alvin boarded the midnight train and left towards a new life in Wharton, Texas. They arrived very early the next morning, to find themselves stranded with no money, food, or home. A lady by the name of Maggie Earl, who was a gentle, observant black women that had been traveling on the same train, invited Lula and her baby to live with her until they found a home (Dunning 6). Dunning says that Alvin picked cotton with his mother, although his work consisted mostly of an occasional, rather lordly separating of the unopened balls that had found their way into the sacks of cotton (6). Most of Alvin's days as he grew older, consisted of watching the trucks and trains go by (Dunning 9).

Upon Graduating high school in 1948, Alvin enrolled bat the University of California at Los Angeles, before transferring to Los Angeles City College. His ideal plan was to become a teacher (Haskins 164).

III. ALVIN AILEYS DANCE CAREER

As he was a lonely child, he began to write poetry (Haskins 163). Then as he became a teenager, he was active in sports. He also took tap and primitive dance lessons, but he didn't take dancing seriously (Haskins 164). His first discovered dance when his Jr. High class attended a performance called the Ballet Russe de Monte Carlo. He started taking trips to the city to take dance classes every Saturday (

www.texas-on-line.com . . .

). Ted Crumb, a tall, bright-eyed boy who was in love with dance, who lived down the street, became one of Alvin's friends. Ted became well known among young Los Angeles blacks, but he was just an eager amateur when his and Alvin's lives collided (Dunning 35). They both shared a love for Dunham's style and snuck into one of her technique classes. Alvin only lasted for one class, partly because he had became a gymnast to impress some girls with his strength, which was not the only thing he needed. He also needed coordination and lyricism, which made Alvin not enjoy that experience (Dunning 36). In 1949, he was introduced to Lester Horton, a modern dancer. With help of his scholarship, he was able to take composition and technique classes with her. He thought that he needed a more stable career, so he transferred to San Francisco State College, to major in Romance languages so he could teach them. He could not stand it, and decided that a dance career was the choice for him. He rejoined Lester Horton Dance Theatre and began choreographing for the Horton Company (Haskins 165).

IV. ALVIN AILEY AMERICAN DANCE THEATRE

In 1954, Alvin moved to New York City. There, he studied with Martha Graham, Doris Humphrey, Anna Sokolow, and then he also studied ballet under Karel Shook. After choreography many pieces for tons of Broadway shows, he decided it was time to open his own dance company (Haskins 166).

www.alvinailey.org . . .

states that, "On March 30, 1958, Alvin Ailey and a group of young black modern dancers performed for the first time as members of Alvin Ailey American Dance Theatre at New York's 92nd Street YM-YWHA." Then in 1960, Alvin choreographed his best-known master peace Revelations (

www.alvinailey.org . . .

). In 1964, AAADT took their first European tour, creating such a commotion that in Hamburg, Germany they ended up having sixty-one curtain calls. In April of 1966, The Company was having very severe financial problems, and Ailey had to shut down it for about a year. His company ended up being very successful, compared to other modern dance companies.

www.alvinailey.org . . .

stated that:

Although he created 79 ballets over his lifetime, Alvin Ailey maintained that his company was not exclusively a repository for his own work. Today, the company continues Mr. Ailey's mission by presenting important works of the past and commissioning new ones to add to the repertoire. In all, more than 170 works by over 65 choreographers have been performed by The Ailey.

After His death on December 1, 1989 in New York City, the company was taken under direction by Judith Jamison (Haskins 174).

V. CONCLUSION

Alvin Ailey was one of the greatest Modern dancers ever. He had a very rough childhood, but he had an amazing dance career, in which he created Alvin Ailey American Dance Theatre. Alvin started a new world for black dancers.

re: Bios of Important Jazz Dancers/Choreogr aphers


By kabdancer


Comments: 420, member since Sat Aug 21, 2004

On Sun Jan 02, 2005 07:37 PM


Excellent addition dance_club. thank you!!

He's definately better known for his Modern work, but given his African American Heritage contributes alot of soul to dance with jazz movements and influences.

Tina Pratt (karma: 3)
By kabdancer


Comments: 420, member since Sat Aug 21, 2004

On Thu Jan 06, 2005 10:31 AM


Tina Pratt

is one of the few remaining members of the once packed ranks of jazz entertainers who populated the theatres, clubs, tent show, ballrooms and every other kind of venue in the Unites States. Precious few of them have passed on accurate accounts of their careers, yet collectively they produced the artistic underpinning of much of the musical and dance material of Hollywood and Broadway.

As her record demonstrates, Tina Pratt is doubly important as someone who has not only extensively worked the

"Chitt'lin Circuit,"

but who is herself an historian who is prepared to undertake the laborious work of recording, with ample documentation, her career.

In their seminal, and still unsurpassed 1966 work, JAZZ DANCE, Marshall and Jean Stearns traced out for the general public the character and structure of the "American vernacular dance tradition" to use their words. They interviewed some 200 artists and attempted to create an overall picture of this quintessential American art form, where every new ethnic group - to the USA - seemed to pitch in their contribution. Inevitably there are various mistakes and weaknesses in such a monumental task, but what is now needed are specific in-depth studies of different aspects of the business whic can createthe deeper undertanding that the Stearns prepared the way for. Until its final demise in the 1960's, the underpinning of the many different performance venues of this tradition - minstrel shows, tent shows, ghillies, vaudeville circuits were the small clubs or other venues - even medicine men in the early days - where individual artists learned the basics of their craft and kept practising and developing until they were ready and lucky enough to move up the ladder.

From the 1920 - 1960's this area of work was known as the "Chitt'lin Circuit" and consisted of clubs and other small venues the length and bredth of America that served primarily the many black communites. Tina Pratt entered this world after training in tap, acrobatics and ballet in her native Pittsburgh after having been the first black student to attend the Mamie Barth dancing academy there and avidly watching all the important visiting artists like Katherine Dunham and Bill Robinson.

At the age of 15, she danced professionally. At 18, she danced in night clubs and show bars in Detroit and Cleveland where she met the four McCoy Sisters who invited her to join their act, performin line, chorus, jazz, tap and other types of dance. Tina was valued for her versatility, her ability to perform exotic dance solos and her choreography skills.

During the next decade, she danced throughout the United States and Canada in night clubs and supper clubs in many different types of engagements. She danced with the

Frank Hatchette

trio for three years, was a featured dancer with Redd Foxx, Phylis Diller, Dakota Staton, Dexter Gordon Jazz Concert, Count Basie and the Barry Harris Jazz Ensemble Concerts. She also worked with the big production show, Larry Steele's Smart Affairs in Atlantic City's Club Harlem. She stayed for two seasons. However the gig with Barry Harris was of special value, as through working with him, and later in the 1970's with Jaki Byard, she learned the rudiments of musical theory. Tina exclaimed, "Because of Barry and Jaki, I got my dancing together. I was just out there flying and not making any sense." She began to understand she was a lyrical dancer and then was able to work on her choreography with musicians rather than just dancing to whatever they created.

At one point in the 1960's she stayed for a while in Boston, where she danced with the Afro-Cuban Fouchee Dance Team. Boston remained a center of tap dance, largely because of Stanley Brown who ran the famous studio there, and Tina met luminaries like Jimmy Slyde, John Bubbles and Honi Coles. Tina as an exponenet of the "female" style of tap, which didn't utilize the flat shoes or wear trousers, developed her unique upper body movement which drew from other types of dance she performed.

As the work that sustained the whole scene became extremely scarce, Tina took a day job at Pace University in New York City, but never gave up on her attempts to teach, explain and record the history of the galaxy of artists she had worked with or met. She has sustained this commitment for over twenty years now, a record of achievement that virtually no other artist of that era can match. The materials she has collected not only from her career, but since embarking on this new phase in her life along with the growth of her knowledge and understanding through all work she undertook, has made Tina into an extremely valuable key to this unique phase of American cultural history.

Tina needs financial support to tell her story, as her story is spread out across the USA and there are many different aspects of features that need to be checked up on or more details found out about. There was a time when the jazz/black vaudeville tradition was totally ascribed to New Orleans, but increasingly it is being recognized that it was the creation of all the black communities across the United States. It was the travelling artists along with the population movements associated with the major events of the 20th Century that wove it all together. Tina has an important story to tell, and it needs to be recorded, now.

taken from

webcomposer.pace.edu . . .

re: Bios of Important Jazz Dancers/Choreogr aphers (karma: 3)
By ballerina7


Comments: 462, member since Sat Mar 08, 2003

On Sat Jan 08, 2005 01:09 AM


Being a Gus Giordano admirer myself....

GUS GIORDANO

Gus Giordano was the recipient of the 1984 Dance Educators of America Award for his "outstanding contribution to the world of jazz dance." His lifetime dedication to jazz dance has exhibited itself in all facets: dancer, master teacher, choreographer, author, and founder of Gus Giordano Jazz Dance Center in Evanston, Illinois. On the international dance circuit Mr. Giordano serves regularly on the faculties of the International Tanz Wochen – Stuttgart, the Academie International Des Danse – Paris, and the Cologne Dance Festival. Mr. Giordano has also taught at every major national dance convention in the United States and for the American Ballet Theatre School in New York City.

Giordano has extended his choreographic talents into all dimensions of performance including television, film, stage commercials, and industrials. His nationally acclaimed 1980 television production, The Rehearsal, received an Emmy Award, the PBS Award, and the Ohio State Award. Giordano was also commissioned by orchestra conductor Doc Severinsen to choreograph his jazz production, The Valley of Xebron, which made its debut nationally on the "Sound Stage" television show in 1982. Mr. Giordano was also the choreographer of the award winning film The Music Box. He has choreographed the Goodman Theatre's holiday presentation, A Christmas Carol, and he was one of six choreographers for the 1988 Chicago revival of the Broadway musical Hair. Giordano continues to collaborate with the Apparel Center in their fashion shows.

Gus credits Minette Buchman, St. Louis, as his mentor during his early dance training. He minored in dance at the University of Missouri (Columbia). While in New York, he appeared on Broadway and studied with Hanya Holm, Alwin Nikolais, and Oreste Segerifsky. His choreography has been part of the repertoire of Gus Giordano Jazz Dance Chicago, American Ballet Theatre II, Discovery Dance Group (Houston), Gainesville Civic Ballet Company, Georgia Dance Theatre (Atlanta), Aline Roux Dance Company (Paris), Minnesota Jazz Dance Theatre, Jazz Dance Theatre of Denver, Margit Manhardt Dance Company (Vienna, Austria), Dance Omnium (Fairbanks, Alaska), and Ruth Mitchell Dance Company (Atlanta).

Giordano wrote the highly acclaimed Anthology of American Jazz Dance, the first book of its kind. Dance Magazine wrote, "Paul Whiteman and George Gershwin were responsible for jazz turning respectable when in 1924, they premiered 'Rhapsody in Blue' in a serious music concert in New York City. Gus Giordano performs a similar rite of passage for jazz dance in 1975 with his book Anthology of American Jazz Dance." Giordano organized the First Jazz Dance World Congress in August 1990. This event, co-sponsored by Northwestern University, assembled jazz dance greats such as Luigi, Matt Mattox, and Giordano and numerous jazz dance companies for a week of master classes and performances. Now an annual event, the Congress has been held at The Kennedy Center, in Washington, D.C., Nagoya, Japan, Wiesbaden, Germany, Phoenix, Arizona, 1999 and 2000 Buffalo, New York, in 2001 Monterrey, Mexico and in 2002 Chicago.

Additional honors include: the Dance Masters of America Outstanding Dance Award; the 1988 Mayor's Award for the Arts (Evanston, Illinois); the 1989 Governor's Award for the Arts for exemplary individual artistic achievement; the 1991 Dance Teacher Now "Circle Award" for lifetime contributions to dance education; the 1993 Ruth Page Lifetime Service to the Field Award (presented to Gus and his late wife Peg); and in 1996 from the University of Missouri the "Distinguished Alumni Award" and the "William Francis English Scholar-in-Residence Award." In 1985, Governor James Thompson declared April 25 "Gus Giordano Day" in appreciation of "his immense contribution to the cultural environment of the State of Illinois." In 1995 he received the "Honorable Artist Award" from Chukyo University in Nagoya, Japan. Gus also served as National Spokesperson for National Dance Week, April 27-May 3, 1997. In 1999, Gus received the Third Annual Katherine Dunham Award for "excellence and great contributions to the Arts." This year Chicago's Mayor Daley presented Gus with the 2003 Chicago Senior of the Year Award.

www.giordanojazzdance.com . . .

re: Bios of Important Jazz Dancers/Choreogr aphers


By dancingqueen_17


Comments: 266, member since Tue Jul 06, 2004

On Fri Jan 28, 2005 04:30 PM


Wow, i learned something new today! (actually, i learned a lot!) This must have taken you forever!
karma

re: Bios of Important Jazz Dancers/Choreogr aphers


By Velma

Comments: 448, member since Wed Dec 29, 2004

On Tue Feb 08, 2005 10:43 AM


awww fooses is amazing, he is such a good choragrapher, amazing, he achiveve so much at such a young age, why? because he was determined he was ambitous, he was HIMSELF!!!!

remeba that guys



re: Bios of Important Jazz Dancers/Choreogr aphers


By JulieBDancer



Comments: 1070, member since Thu Dec 30, 2004

On Tue Mar 15, 2005 08:50 PM


I love Luigi. I studied with him for 4 years. I still (many years later) hear his instruction in my head when I take class and I use so many aspects of his teachings in the classes I teach. So many good things to be learned from him. So solid and centered.


re: Bios of Important Jazz Dancers/Choreogr aphers


By Dancergrl4997


Comments: 600, member since Sun Jun 27, 2004

On Sat Mar 19, 2005 05:21 PM


I love Fosse, he's my favorite choreographer ever! My dance company is doing about 10 fosse pieces. He's great!!!!!

re: Bios of Important Jazz Dancers/Choreogr aphers


By ck12


Comments: 158, member since Wed Sep 03, 2003

On Sun Mar 20, 2005 12:21 PM


When my drill team went on a trip to NY at the beginning of March, I took a few classes at the Broadway Dance Center. Lo and behold, one of those classes was taught by Frank Hatchett himself! He taught us a short combo, and it was really fun! Mr. Hatchett is really something!

re: Bios of Important Jazz Dancers/Choreogr aphers


By TapOutLoud


Comments: 995, member since Sat Mar 12, 2005

On Sat Apr 23, 2005 10:06 AM


i went to a convention one time, and one of the jazz classes was taught by frank hatchette!! it was soo mcuh fun and it was an icredible experience to meet, him.. my dance teacher is trying to get wade robson to come and teach too!! i also took classes by bob rizzo and Deena rizzo.. i went w/ my dance teacher and picked up deena rizzo at the train station, so i got to meet her before all of my friends!!!...lol.. she is really cool.. i also took a ballet class taught by janice bernice, the authour of "the ponte book".. it was really cool.. well thats it.. the bios were really cool.. thanks for sharing!!!!


re: Bios of Important Jazz Dancers/Choreogr aphers


By BeccaBecca


Comments: 105, member since Tue Oct 12, 2004

On Tue Jun 14, 2005 07:38 PM


Cmon now! Where are all the bios of those amazing Canadian dancers! We need some of those pronto!
-Becca

Hannah Stilwell (karma: 1)
By kabdancer


Comments: 420, member since Sat Aug 21, 2004

On Sat Jun 25, 2005 03:52 PM


Rhythm Nation:
There's Cuba in the blood of Hannah Stilwell

With the ability and boldness to make her life's passion her
work, Hannah Stilwell, BA'85, is often praised for doing so. "You're so brave," people remark when they realize she makes her career decisions based on heart and not on income.

In 1998, this co-founder of Decidedly Jazz Danceworks(DJD) was forced to re-evaluate her career as a performer when she developed chronic fatigue syndrome, a virtual death sentence in the life of a dancer. With an undetermined timeframe and thanks to a Canada Council for the Arts grant, Stilwell headed to Cuba on sabbatical. She hoped to regain some of her lost energy and to further develop her choreographic style at her own
speed. Having studied African dance for years, Stilwell had made investigating the roots of jazz a life's work. In Cuba, she found the link that was missing in her interpretation of jazz—Afro-Cuban music and dance. She had been introduced to it at an Afro-Cuban festival in Banff a few years earlier, but it was not until Stilwell's complete immersion in the Cuban culture that she felt her understanding of jazz music and the dances that come from it truly blossom.

Back in Calgary, Stilwell teamed with Luis Bran, who had been taking students to Cuba to study percussion. "Like most
African cultures, they [Afro-Cubans] don't separate music, dance, and song." With this in mind, the two formed TambóCuba, and together they travel with students to Cuba and introduce them to the country's culture through a series of workshops taught by Cuban musicians, singers, and dancers. Living, eating, and socializing with the locals gives participants a
true Cuban experience. Visits to schools and hospitals are even arranged, and almost everything is booked through aid organizations to ensure the money is passed on to those who need it.

A success from the start, the adventure is considered to be a life-altering experience by nearly every participant, explains Stilwell. One woman, in fact, came back to Canada, packed up her belongings and moved to Havana permanently. The people of Cuba make an impact. "There's so much heart in everything Cubans do, despite having so little," explains Stilwell, who continues to live between Cuba and Calgary, spending about half a year in each place. info@tambocuba.com

– LESLIE STRUDWICK
(taken from the University of Calgary's Education Roster 2005)

(the following is the bio from the Decidedly Jazz Danceworks Site)
Hannah Stilwell is a performer, teacher and choreographer entranced by the relationship between audible and visual rhythms. Throughout her career, she has dedicated herself to the discovery of many dance forms that have fused to become jazz dance. Her work has taken her to Africa, Cuba, Jamaica, India and throughout North America. She holds a BA from the University of Calgary where she has instructed dance since 1982, and is a founder of Decidedly Jazz Danceworks. Currently, Hannah is guest teaching and freelancing in Canada, Europe, The United States and Cuba.
Reply
Send
Watch