Forum:
General / Jazz / Jazz - Competitions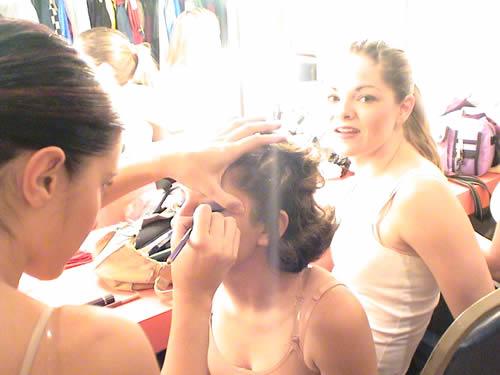 Jazz - Competitions

72 Last Minute Tips for Competition! (karma: 46)
By xSupastarx



Comments: 1469, member since Mon Aug 16, 2004

On Tue Jun 07, 2005 11:29 AM


Made sticky by Theresa (28613) on 2005-07-24 21:55:16 *giggles* That's from my website! :D I found it online once upon a time, but I couldn't begin to tell you where. Thanks for posting though! :D


I found this on

www.geocities.com . . .

and thought you all would find it useful! I only decorated it, and put in all the numbers.. Harder than it sounds, TRUST ME! Enjoy!

You're nervous, excited and scared all at the same time. Maybe this is your first time competing or maybe you just experience butterflies every time you perform. Here's advice from dancers and teachers who've been in your shoes. 10 Things You Can't Live without at Competition

1. A first aid kit, including Band-Aids, Ace bandages and ointment.

2. A water bottle. Drink water before and after dancing to avoid dehydration.

3. Safety pins.

4. A support system of friends and family.

5. A good luck charm, like a special teddy bear—something that will make you feel good.

6. Baby wipes and Vaseline for fast makeup removal.

7. A note pad. Take notes on the music you liked, including steps you saw in other dances and ideas you got from an inspiring dancer.

8. An open mind. This is a learning process and you will grow as a dancer from your experience.

9. A good attitude.

10. A smile.

Costume Check

11. Check your costume. Make sure all loose threads are cut, tags don't show and seams are sewn together. "The worst thing is doing your dance and having your costume rip," says Kristin.

12. Be organized. Put all costumes and accessories together—shoes, headpieces, tights in the same bag as the costume.

13. Put your name on all your belongings.

14. Make sure to pin all undergarments.

15. To avoid panty lines, don't wear any.

16. "Get everything ready the day before," advises Tiffany Bagg, a dancer from Manchester, New Hampshire.

Tight Tips

17. Bring extra tights!

18. Surge tights so cotton panel doesn't show. It will avoid any seams showing on high kicks.

19. For group dances make sure everyone has the same name brand of tights or leggings to avoid one person wearing "ballet pink" while everyone else is in "theatrical pink."

Shoe Savvy

20. Bring an extra pair of shoes as a back-up.

21. Make sure team's shoes match for group dances.

22. Polish tap, jazz and character shoes.

23. For ballet slippers use a light layer of vaseline to shine them.

24. Wipe pointe shoes down with a damp cloth.

25. Always break in new shoes before a performance.

Makeup Musts

26. Get a makeup case like a Caboodle to store all cosmetics and hair supplies.

27. Makeup should include: foundation, concealer, eye shadow, eyeliner, mascara, blush, lip liner, lip-stick, glitter, powder, false eyelashes and eyelash glue.

28. Because stage lights give you a washed out look, go a shade darker on foundation and rub into your hairline, neck and ear lobes. Finish with a pressed powder to take away the shine.

29. Be generous when applying makeup. You need more for stage than you would wear every day.

30. Stay away from eye shadow shades that are distracting, like blue. Stick with earth tones on the eyes, unless the choreographer calls for a particular look.

31. Use false eyelashes. Your eyes will come alive on stage.

32. Spritz yourself lightly with a favorite scent—judges won't smell it, but it'll brighten your mood.

33. Practice applying makeup before the day of competition. Just like dancing, the more you do it, the better it looks.

Heads Up on Hats

34. Pin it. If you are wearing a hat, be generous with the pins.

35. Bobby pins should match hair color or the color of the hat. For example, if you are wearing a white nurse hat, use white bobby pins.

36. Use a skin-colored elastic to help keep hats in place.

37. Clarify where the hat/headpiece should be positioned in group dances.

38. Deborah Nelson, owner of Satin Stitches, Ltd. in Minneapolis, Minnesota adds, "If a hat or other costume piece does fall off during a performance, pretend nothing happened. If necessary kick it out of the way, and keep on dancing."

Hair Helpers

40. Keep it clean and simple.

(xSupastarx- Unless it's disco!)

41. Buy a large bottle of hairspray!

42. To avoid a shadow on the face, pull back your bangs.

43. For buns: Use bobby pins and a hair net that match hair color.

44. For French braids: Spray all wisps into the braid and use an elastic that matches hair color.

45. For wigs: Fibers should match your hair color and texture perfectly.

46. Be sure the wig is of good quality.

47. Securely attach the wig to your head with bobby pins of the same color.

Jewelry Rules

48. Less is best. Try just one flashy ring over long black gloves for a flapper's number or a small rhinestone stud earring for a lyrical dance.

49. Jewelry should accent the costume, not distract the judges while you are dancing.

Fine Tuning Techniques

50. Make sure the cut in music sounds professional.

51. Be sure your dance has been placed in the right category.

52. Double check time limits on music to be sure you have not exceeded the time allowed.

53. Debbie Pacheco, owner of Anita's Dance Studio in Parkville, Maryland says, "Make sure you have backup tapes for all your dances."

54. Videotape yourself practicing. Watching a tape of yourself dancing is a real eye opener. Were your toes pointed in that grand battement? Did you notice that your back leg wasn't straight on your switch leap?

55. Practice dancing in full costume. You want to find out in rehearsal, not during competition, if that big-feathered hat will stay in place or if you need to add elastic.

56. Keep props to a minimum and always rehearse with them.

57. Kristin Sulak, who dances at Center Stage in LaGrange, Texas, gives this advice: "Practice, practice, practice!" The more you practice your routine, the more automatic it becomes—you do the movements without thinking about them.

Don't Forget to. . .

58. Get plenty of rest the night before.

59. Be kind and rewind. There is nothing worse than being on stage ready to dance and finding out they have to rewind your tape. "Don't just rewind the tape, cue it. So all you have to do is push play and the music is there," says Ellen Werksman of Applause Talent Presentations in Hamilton, Ohio.

60. Arrive an hour before your first scheduled dance.

61. Eat during the day. Sometimes you have quick changes and forget to eat. Your energy will be depleted if you don't continue to fuel your body.

62. Double knot your shoes before you go on.

Christine Francoeur of Tallahassee, Florida says, "Warm up before every piece you perform." It is important to stay warm in between dances to avoid injury.

63. Stay focused. Bring a headset and listen to your music, using visualization to imagine yourself performing.

64. Think positively. Don't get freaked out because someone is dancing to the same song as you or has the same costume. It is the dancer who makes the dance.

65. George Hurley, a former Mr. Dance of Michigan and current judge, says, "Keep those toes pointed!" Wimpy feet are not attractive.

66. Be friendly to other dancers. It is a lot of fun getting to know dancers from other areas.

67. Applaud for everyone. You know the hard work it takes to prepare for a competition, so be respectful to all the dancers.

68. Try to remain seated while people are performing. It is very distracting for the dancers and the judges when there is a lot of activity in the audience.

69. "Don't look at the floor while you are dancing," says Kathy Willard of American Heritage Dance Convention and Competition of Saginaw, Michigan.

70. Use natural expressions. Let your face show how you feel. If you have that joy of dance inside you as you perform, it will show on your face.

71. Be sure to check yourself after quick changes. One of my students once had a quick change into a lyrical costume. While stretching we realized she had put both legs into one leg hole of her ensemble. Fortunately, we caught it before she went on!

72. Have fun! Judges can tell if you are nervous. Relax and try to enjoy yourself— it will shine through in your performance.

Wow! Gosh, that took a long time! So much to remember... Hope you've found that as interesting and useful as I have!

92 Replies to 72 Last Minute Tips for Competition!

re: 72 Last Minute Tips for Competition! (karma: 1)
By YumYumDoughnut



Comments: 8689, member since Sat Jul 10, 2004

On Tue Jun 07, 2005 11:47 AM


I found it very useful. Karma coming your way


re: 72 Last Minute Tips for Competition!


By dancingrl247


Comments: 2989, member since Fri Sep 26, 2003

On Tue Jun 07, 2005 12:16 PM


so useful and all are really good tips! thanks for posting! karma and hopefully in the near future someone will make this a sticky!
re: 72 Last Minute Tips for Competition!


By LaDYLioNeSS Comments: 23, member since Mon Jun 06, 2005

On Tue Jun 07, 2005 07:52 PM


Awesome List!!! You can't be ill-prepared if you use that to pack!

LL

re: 72 Last Minute Tips for Competition!


By xodncnblondi13



Comments: 1440, member since Sun Jan 23, 2005

On Thu Jun 09, 2005 08:59 PM


hey great info

ellen werksman taught a dance for the company and her company danced in one of the shows we did

i found that funny
lol
re: 72 Last Minute Tips for Competition!


By leezathebaleriza

Comments: 144, member since Fri Jan 14, 2005

On Fri Jun 10, 2005 06:54 AM


good post! great tips..... NICE!
re: 72 Last Minute Tips for Competition!


By BeBekitty87 Comments: 12, member since Fri Jun 10, 2005

On Fri Jun 10, 2005 02:00 PM


those were great tips and very true ones at that

re: 72 Last Minute Tips for Competition!


By LilDancerGal



Comments: 269, member since Sat Jan 24, 2004

On Sat Jun 11, 2005 07:55 PM


GREAT TIPS!! It's perfect for the beginer or even the most advanced competitioner... KARMA!!!

LilDancerGal

re: 72 Last Minute Tips for Competition!


By crystal_sky


Comments: 1190, member since Sat Apr 23, 2005

On Mon Jun 13, 2005 11:07 PM


thank you sooooo much! These are some of the best tips ever, karma to you

xXx.Crystal.xXx
re: 72 Last Minute Tips for Competition!


By DanceDivaUSA Comments: 20, member since Fri Apr 08, 2005

On Thu Jun 16, 2005 12:00 AM


Awesome tips! Thanks! I will definatley remember them


re: 72 Last Minute Tips for Competition!


By x___moo___x

Comments: 120, member since Fri Apr 15, 2005

On Thu Jun 16, 2005 02:25 PM


Removed by glitterfairy (42646) on 2005-07-01 04:03:44 netspeak


thanks hunnie!! thtz g8 ill try remember it all and ill try help my sis to get ready ( coz shes always messy and not prepared lolz it mite set her staight)

loadza love kumba

xxxx

72 Last Minute Tips for Competition!


By TEAM_MOM




Comments: 2268, member since Tue Sep 21, 2004

On Sat Jun 18, 2005 08:30 AM


Great List!

Love the thing!

I'm printing it out right now.....


re: 72 Last Minute Tips for Competition!


By Kellith



Comments: 465, member since Thu Jun 16, 2005

On Sat Jun 18, 2005 02:06 PM


Thanks for that! Lots of good tips in there! We have these flower barrettes for one of our dances and at our recitial someone's fell out so I just kind of kicked it to the back so no one would trip, I'm glad to know that it's okay. lolz
re: 72 Last Minute Tips for Competition!


By skatendance


Comments: 413, member since Sat Aug 21, 2004

On Thu Jul 21, 2005 07:59 PM


Edited by skatendance (104001) on 2005-07-21 19:55:00


Here's my little tip of the trade to add that I learned from choreographers when doing skating ice shows as there are spotlights etc:

Always make sure you can find the light in your eyes. If you can find the light in your eyes, it means your face is illuminated. If you do this you will be able to avoid as best possible any of the less-lit portions of the stage. When dancers get themselves into these areas it is kinda distracting from the dance and breaks its seamlessness- you might notice this in some dance videos. Its just good to avoid if you can. Sometimes this is harder to avoid when a large group is dancing, but its usually doable in solos and smaller groups.

So whenever possible do everything you can to make sure the light is in your eye- even if its semi-blinding

Hope that's a helpful tip from me to you

Any other tips you might want to share?
This is a fantastic thread!

re: 72 Last Minute Tips for Competition!


By Jazzy_Audrey87


Comments: 1210, member since Thu Jun 30, 2005

On Fri Jul 22, 2005 07:47 PM


thank you sooo much. I have my first competition in 3 weeks! KARMA!!!
re: 72 Last Minute Tips for Competition!


By BuffaloDancer

Comments: 73, member since Wed Dec 29, 2004

On Tue Aug 09, 2005 10:04 PM


Guys dont forget SOCKS!!! .. looks terrible on stage with black pants black shoes and skin inbetween ...

BD

re: 72 Last Minute Tips for Competition!


By DFSI_dancer09


Comments: 178, member since Sat Mar 26, 2005

On Wed Aug 10, 2005 11:10 AM


thanks for sharing thet. It's really helpful!

DFSI dancers kick dupa!
DFSI_dancer09

re: 72 Last Minute Tips for Competition!


By RDSSPomDancer



Comments: 353, member since Tue Jul 20, 2004

On Thu Aug 18, 2005 05:20 PM


Love that post! I believed every single tip on that list.

Jackie

re: 72 Last Minute Tips for Competition!


By TapOutLoud


Comments: 995, member since Sat Mar 12, 2005

On Fri Aug 19, 2005 05:49 PM


thank you so much for this... it is printing as i spreak... this is incredibly helpful... and im gonna bring it with me to competition!... thanks again... this is exactly what i needed, i tend to get a bit unorganized at competition. karma for you definately... it must have taken a lot of time and effort to type this all up... thanks!...

*~keep dancin~*
re: 72 Last Minute Tips for Competition!


By PoorDanceMom Comments: 26, member since Tue May 31, 2005

On Mon Aug 29, 2005 01:59 PM


Thanks. That is a great list. I am going to print it right now and give it to my daughter. Now, maybe she can start getting her own stuff together before competitions.


re: 72 Last Minute Tips for Competition!


By Chevy14


Comments: 280, member since Thu Aug 18, 2005

On Sat Sep 03, 2005 12:07 AM


Thank you so much!!!! wowza ive always been so scarred to forget something at a comp but i used ot only compete in my local town..this year im going to 2 other places...AHHH...lol at least with a list like this i wont forget anything

Chvey....karma!
re: 72 Last Minute Tips for Competition!


By StarstruckBabe Comments: 26, member since Tue Aug 09, 2005

On Mon Sep 05, 2005 02:56 PM


Wow thanks this will really help me and a bunch of other people!
chelsea

re: 72 Last Minute Tips for Competition!


By Jenna




Comments: 3017, member since Thu Feb 27, 2003

On Sun Sep 25, 2005 01:20 PM


Haha thats great! I want to make all of my students read that!

*and print...* lol

Jenna
re: 72 Last Minute Tips for Competition!


By dancer98 Comments: 30, member since Wed Jun 29, 2005

On Sat Oct 01, 2005 07:01 PM


Wow! That was an awesome post. It helped me a lot when i was packing my costumes and extra supplies for competitions. Also, the tips were great! Keep posting and I will keep reading! Great Post it was really helpful!
re: 72 Last Minute Tips for Competition!


By ekdancer07 Comments: 24, member since Mon Aug 22, 2005

On Sun Oct 02, 2005 01:40 PM


Thanks a bunch. I passed it out to my dance team and it was alot of help.
Reply
Send
Watch