Forum:
Highland / Highland Photos - Members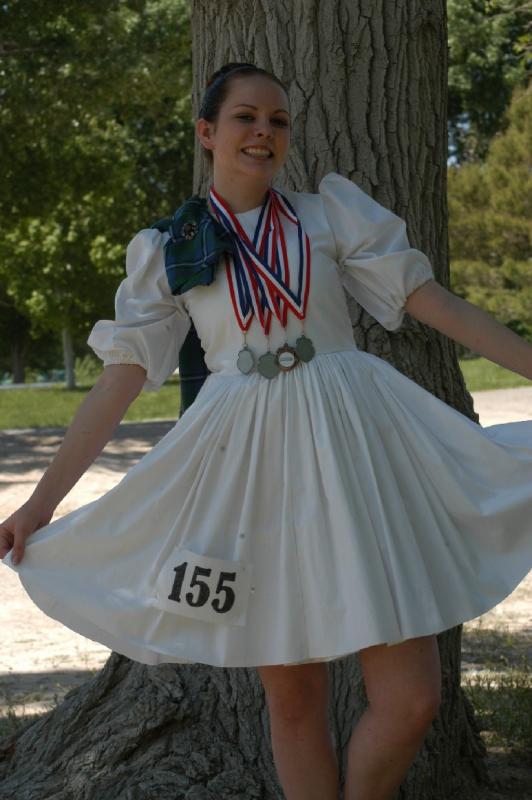 NATIONAL DILEMMA
By
JiG_till_u_drop



On Thu Jul 28, 2005 03:42 PM

there is a funny story about this dress. a few days before the las vegas competition my mom let out the hem of my national dress so she could make it a tiny bit longer as im growing. well we had a family emergency and never found the time to re-sew the hem to my length. when i pulled out my nationals dress the day of the competition, i saw the scraggely hem of my dress. panicked (as i was about to go on in no more than 5 minutes), i freaked to my mom who calmly slip stitched it for me, but the thread was too weak to dance in so we ended up cutting it at the hem. the dress was FAR too short but it was an even cut with no loose ends so it was out last resort. as u can see i ended up doing pretty well regaurdless of our little brakdown. lol. anyways she just made me another dress and it fits! lol. heres a pic of the new dress at pomona standing alongside my teachers.


6 Replies to NATIONAL DILEMMA

re: NATIONAL DILEMMA
By
JiG_till_u_drop



On Thu Jul 28, 2005 03:44 PM

oh darn the 2nd pic didnt work


national
By
Dancing_24_7



On Thu Jul 28, 2005 03:46 PM

You look super congrats on the medals! I did the same thing to a choreography skirt i forgot to even do the hem at all and we had to pin it it looked well interesting...

re: NATIONAL DILEMMA
By
batd_teacher



On Thu Jul 28, 2005 04:02 PM

I've been known to tape the hem in emergency's! I've let kilt hems out in the hotel room praying for a decent iron, and safety pinned the buttons on! Love those little emergencies!

Congratulations too by the way!

re: NATIONAL DILEMMA
By
HighlandHottie05



On Thu Jul 28, 2005 04:51 PM

I've got a story too---
I was going to a competition in Montreal. My grandma lives there and shes english living in a french province...anyways she thought she could make the skirt band less full of material cuz it made me look fat, so she tryed and failed. Then she took it to a seamstress..(a french one lol) and they miss comunicated and the seamstress cuz all the tartan and matched it up unevely..so the night before we went to walmart and got a whole bunch of dress stewart material that was onsale for like4 bucks all together from walmart. we sewed up our aboyen at 12 pm and its the aboyen that i use today


re: NATIONAL DILEMMA
By
NiilaWafers



On Tue Aug 02, 2005 10:24 PM

How the heck did I look at this picture and not recognize you. I'm so bad. *hits self* Congrats on the medals.
Reply
Send
Watch
Draw