Forum:
General / Room Salutes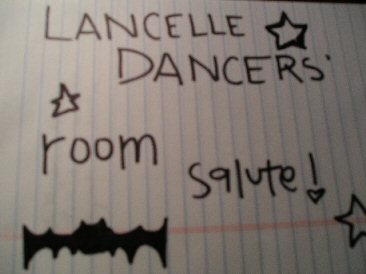 Lancelle's Room Salute!
By
LancelleDancer



On Sun Aug 28, 2005 02:43 AM

Edited by LancelleDancer (45233) on 2005-08-28 02:47:03

So I did some cleaning for this one! (All but the wreck room, which is beyond the point of "cleaning" har har) There are TONS of pictures sorry!
My Bed
My Vanity
Makeup on Vanity!
The Jewelry side of the Vanity.
My window. Has no view since my room is in the basement!
My Dresser
Close up of dresser
Closet, I have too many clothes I cant fit them all. And I only wear about half of them!
Pictures
Even More pictures
And Yet...
Posters above my bed
Simple Plan sweat towel (I caught it!) and trophy bobble heads
My Poem book
My Harry Potter Collection! HBP's cover is bent because I threw it after I finished it.
My bathroom
And yet.
Wreck Room TV
Wreck Room. Which is a wreck. Didnt feel like cleaning it!
Pin Ball machine
Movies
Buffy
5 Replies to Lancelle's Room Salute!

re: Lancelle's Room Salute!
By
HighlandHottie05



On Wed Aug 31, 2005 07:42 PM

wow i really lik eyour room! thanks for sharing
re: Lancelle's Room Salute!
By
dancinsuga5
On Thu Sep 01, 2005 03:45 AM

hi ya
WOW...wow ...WOW
nice room
Its C


L
luv amy x*x*x*x

re: Lancelle's Room Salute!
By
pink_danca



On Thu Sep 22, 2005 07:59 AM

woow!
you have a really nice room!
and you have your own bathroom!
lots of love xxxx

re: Lancelle's Room Salute!
By
pink_danca



On Thu Sep 22, 2005 08:00 AM

woow!
you have a really nice room!
and you have your own bathroom!
lots of love xxxx
Reply
Send
Watch
Draw