Forum:
Highland / Highland Photos - Members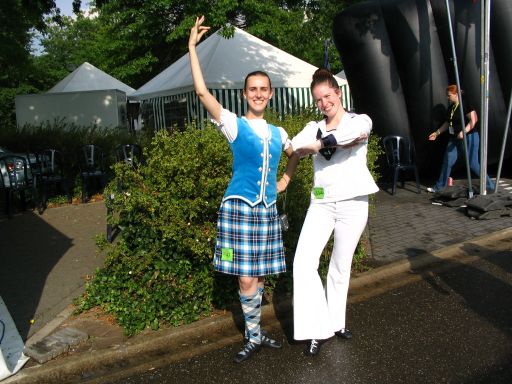 How international!
By
Cluich



On Thu Sep 15, 2005 05:30 AM

Edited by Cluich (64754) on 2005-09-15 05:31:48 too quick ...

Here is a picture I had taken of Maria Alferova and myself at the Belgium competition last Saturday. Maria came over from Moscow to dance and she's fab. Originally I had planned for a Japanese dancer to enter as well, but she couldn't get her SOBHD card in time. She's planning to dance in April though, and Maria wants to come over as well, and if we manage I'll be sure to post a picture of that as well.
The picture was taken after the medals had been given out (that's why I'm not wearing my hornpipe hat), and we'd both received a good deal of them so we're looking pretty giddy. It was swelteringly hot that day, but it rained briefly just before the picture was taken so the tarmac is wet here and for the first time that day we weren't dying as we were standing in the sun ...

11 Replies to How international!

re: How international!
By
SeniorLady



On Thu Sep 15, 2005 06:11 AM

That's a really nice picture. Her tartan is really fab as well. Did she dance in premier?

re: How international!
By
GordonGirl_82


On Thu Sep 15, 2005 05:20 PM

What a great pic, I didn't know they had highland comps in Belgium!! Looks like you both had a great time...I have never seen that tartan before, it's really nice! Do you know what it is?

re: How international!
By
highlandchic


On Thu Sep 15, 2005 05:25 PM

great pic! love it. Wow the numbers are so small, the judge must've had to have a magnifying glass!

How international!
By
swingingkilts



On Thu Sep 15, 2005 05:54 PM

Incrediable pic Cluich!
How great to have met friends from Belgium and so many more.
You are very fortunate, and say hello from DDN to all the new dancers
that you've had the pleasure to meet.


re: How international!
By
WritingLassie


On Thu Sep 15, 2005 06:47 PM

I SO love that pic! What's Maria's tartan??

Tartan name
By
Mairi



On Fri Sep 16, 2005 03:34 AM

Hello everybody. Just got my account here confirmed:) We really had a very good time there. And my tartan name is Dress Earl of St. Andrews.

re: How international!
By
Cluich



On Fri Sep 16, 2005 05:10 AM

Edited by Cluich (64754) on 2005-09-16 05:14:35 Forgot to reply to another comment

Whooo, it's both of us now!

And the numbers WERE tiny, it was like "what the heck" when I got them. And they were green as well which didn't help much either.

re: How international!
By
Star77



On Sat Sep 17, 2005 01:13 PM

That green would not be pretty with my kilt! Beautiful picture though! I love that Highland dancing is so international! Hey... I'm a pale, freckly redhead and I just started Middle Eastern Belly dance... its great

re: How international!
By
Nessie


On Sat Sep 17, 2005 03:37 PM

You two look like you could be twins! Tell us about your competition in Belgium - how many classes? numbers of dancers etc.? It would also be interesting to know who judged and piped for you at the competition. Was it a full out Highland Games or an indoor dance competition?

re: How international!
By
Cluich



On Mon Sep 19, 2005 05:34 AM

Nessie: We had all categories, from Primary through to Premier, and about 45 dancers took part (that's considered really good over here, seeing that there can't be more than about 50 Highland Dancers on the European mainland!). Maria and I both dance in Premier. This competition usually has quite well-known judges, this year we had Derryck and Gareth Mitchelson judging us (though why we had two I don't know as we only had one stage and it was just a competition). I used to know who was our piper, but apart from the fact that he was really good, and never broke a sweat all through the comp, I've forgotten his name.
The competition was part of a pipeband competition and highland games. It's always during the 2nd weekend of September and it's a whole weekend of events, though the HD comp is only on Saturday. The organisation tends to leave a little to be desired as far as entry forms are concerned, but on the day it's generally pretty good -- but I hope that next year we'll have larger numbers!
The website is:
www.scottish-weekend.be
Star77: We had bright pink numbers about two years ago (at another comp): that didn't look good on ANYONE's kilt!

Reply
Send
Watch
Draw