Forum:
Arts / Pets

re: Pet Loss Support/Memorial Thread


By kt_bug

Comments: 64, member since Tue Nov 22, 2005

On Wed Nov 23, 2005 04:50 PM


that is really sad. most of my pets just ran away but I have a really great one right now it's ray-ray under spanky!!!!

re: Pet Loss Support/Memorial Thread


By Iridescence




Comments: 1686, member since Thu May 20, 2004

On Sat Nov 26, 2005 12:45 AM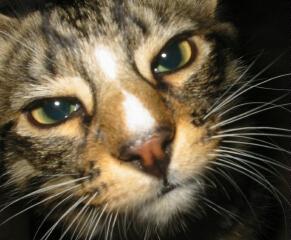 My kitten Rastus was found today. He'd been missing for just over a day, and our neighbours found him under a chair on their front patio. It seems that he'd been knocked on the head pretty bad, and crawled there to die.

He was 10 months old exactly, the most loveable craziest kitten ever. He looked like he'd nosedived into white paint, and skidded along it on his tummy and paws. He was a big fluffy black striped tabby. He had such a heart, loved attention and loved being in the centre of attention. He provided much of the laughs in our home, and had become one of the family.

He's insanely missed - I keep expecting him to claw my thigh as I sit here and then jump into my lap. He's left a huge hole here. We love you, Rastus.

re: Pet Loss Support/Memorial Thread


By bronni



Comments: 3459, member since Sat Jul 16, 2005

On Tue Nov 29, 2005 01:47 AM


hiya

awwww i am sorry to hear to loss of anyone pets that have died

my younger sisters hamster has just died-my sister dosent no yet though she thinks its just asleep my mum is going to tell her when she gets back from shcool i dont think she will take it to well

.she has died a bit quickly we only had her for 6 months

and she dident seem ill

R.I.P
candice
from bronni
xxxx

re: Pet Loss Support/Memorial Thread


By DeLiShuSxDaNcEr



Comments: 220, member since Wed Feb 02, 2005

On Tue Nov 29, 2005 07:55 PM


Hey,

I'm sorry to hear about all these deaths. It reminds me when I lost my Rosie. I was walking to school one day when a lady was holding a dog. I was like Is that a west highland terrier she was like I dunno is it yours? I'm like yeah, no, yeah, maybe! I thought it was my dog she looked just like her but dirrter. I ran back home with the dog. I'm like mom i found Missy shes like Oh Kay. Later we heard my *real* dog in the garage tured out it wasnt Missy. So we kept her. She was older. We called her Rosie. She was the friendlest dog I've ever met. Not to metion the stinkest. So was washed her and feed her. I loved her to bits. But Missy wasnt so fond of her. Everyday when I would come home so would just keep kissing me as I tryed to hold my breath! A year after having her something strage happened. She littuary disaperied. I couldn't find her anywere. I think she curled up somewhere out side and slepted her way into heaven. I cryed and cryed and cryed I was lifeless for a week. I just held pictures of her.

Writing this makes me tear up. I hope she is eating all her bacon treats those were always her fav. Aw I miss her o much I need to go hug Missy

Jenna
P.S: R.I.P Rosie I Love You...
re: Pet Loss Support/Memorial Thread


By littobabydancer

Comments: 230, member since Sun Jul 17, 2005

On Sun Dec 11, 2005 01:47 PM


hiya

awwww

ur pet is soo0oo cute

love sarah

Pet Loss Support/Memorial Thread


By d4j




Comments: 12490, member since Fri Aug 27, 2004

On Fri Dec 23, 2005 12:20 PM


It has been a year since I have been brave enough to visit the "Pets" board. And the first post I saw is this one. I'm still heart-broken over the loss of my Golden Retriever, Lexie. She was only three years old when she died suddenly of rat-poisoning - a horrible painful death that she didn't deserve. It still hurts so much.

Like all beloved pets, my Lexie was the sweetest, most loving, happy-go-lucky, beautiful pet on the planet. She was a red Golden, which is a rare color - she looked sort of like an Irish Setter. She was adored by all.

My family wants another dog. I can't do it, can't take the guaranteed future pain when it dies. I've lost beloved people before, but somehow pets are different, I'm not sure why.

I came across a bluegrass song on the radio not long ago, entitled, "Ole Blue". Part of the words:

Ole Blue, he was a good dog too,
Ole Blue, he was a good dog too,
When I get to heaven,
First thing I'm gonna do,
Is get out my whistle,
And call Ole Blue.

I pray all the time that pets really go to heaven and that I will see my sweet Lexie.

Thanks for this thread.

re: Pet Loss Support/Memorial Thread


By RavenMad



Comments: 1531, member since Thu Oct 06, 2005

On Sun Dec 25, 2005 04:41 AM


Two days ago, I had to put my sweet little hairless rat, Heyokah, to sleep. He'd been diagnosed with cancer and had battled pneumonia in the past month. He had also gone blind, though this never stopped him from anything; his brother was his "seeing eye rat."

I had opted to keep him comfortable for as long as I could, but when I could no longer do so...I'd let him go peacefully. That day was Thursday. He was barely 2 years old.
Heyokah was such a strange little guy. I named him for the Lakota Sioux individuals who would intentionally do everything wrong to make sure the tribe knew what to do right. Heyokah came from a very furry family, but was born hairless. His best friend was a cat. He used to pick fights with my 60lb dog. He used to watch people like we were RatTV. He was gentle, affectionate, and I'll miss him. So will his brothers, Nagi and Wanazi.
Godspeed Heyokah...enjoy the next world of life without pain, without cold, without cages. Run free. And I'll see you again in the next life.

re: Pet Loss Support/Memorial Thread


By caryna

Comments: 1016, member since Thu Nov 11, 2004

On Tue Jan 03, 2006 12:49 PM


hi lovely pet

re: Pet Loss Support/Memorial Thread


By I_Love_Treble



Comments: 598, member since Sat Aug 27, 2005

On Fri Jan 20, 2006 07:49 AM


This is a thread no one want to have to use. However, it is a fact of life. I remembered seeing it some time ago, and now I need it.

One of my sweet cats died yesterday. Caitlyn was only five but had kidney failure. For the last three months I have had to give her fluid IV injections every other day. She went from 9.5 lbs. down to 4 lbs. The last two days were very bad for her so the vet helped her pass on peacefully.

I am very lucky that I have three other beautiful cats. I just wonder how they feel about losing their sister.

Thanks for this thread.

re: Pet Loss Support/Memorial Thread


By GrandePas


Comments: 130, member since Thu Aug 04, 2005

On Tue Feb 07, 2006 04:21 PM


I just lost my kitty today.

I can't get over it. I keep expecting him to walk around the corner and be meowing and fine.
But reality is sinking in. Hard. And it hurts.
He's been with our family since before I was born. I can't imagine it without him.

RIP Yoda
1990- 02/07/2006
Pas

re: Pet Loss Support/Memorial Thread


By smileywoman




Comments: 11032, member since Sat Sep 17, 2005

On Sun Feb 12, 2006 12:35 PM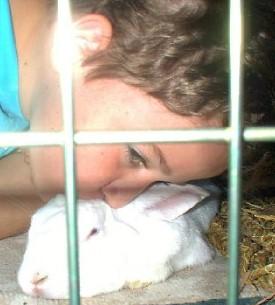 The Story of Big Boy Bunny.

Evan and I wanted a dog. We went to the animal shelter to get a dog. We adopted a rabbit. . . turned out to be cooler than a dog. . .like a dog in disguise! [No offense, I'm a dog lover too].

I have had many rabbits, but my son was not familiar with the wonderful world of falling in love with a rabbit.

On the drive to the shelter, we talked about visiting bunny rabbits before we visited with the dogs. I told Evan stories about my 20 lb. rabbit Pooka who loved to sleep in my arms like a baby, and have his tummy rubbed. The space for rabbits at the shelter consisted of 3 or 4 cages where the rabbits lived in a room adjacent to the sick kittens room. We oohed and aahed at the sneezing kittens as we walked through (knowing that a cat was not our focus for the trip.

We spent 30 minutes visiting each rabbit. Evan wanted a cute little bunny, he didn't like the big guy with red eyes. He tried to make friends with the cute, little rabbits, but they were shy and ran away from us. The little ones did not warm up to us, or show any interest in making friends.

The big bunny was very mellow, and once Evan got over his impression of a red-eyed bunny, he admitted the big white bunny was the one for us.

The big white bunny was a New Zealand white male who was a stray. He was found wandering around a wealthy area of NW Washington DC. His coat was thick and coarse like he had lived outside for several months.

I liked the rabbit because I knew that larger rabbits, like larger dogs are rather mellow. I also felt bad that bigboy was on death row. The shelter had no more room for rabbits, and the next rabbit stray that arrived would get this big guy's space, and he would be destroyed. This bigboy had been at the shelter for months, but no one wanted to adopt a large white rabbit with red eyes.

What We'll Miss Most About Big Boy. . . .
How he greeted us on his hind legs, straining for a pet on the head.
How he happily ran figure eights around the room (or around our feet) telling us 'I Love You!'
How he nudged or nipped at our pant leg if we didn't give him enough petting or attention.
How he played catch with Evan.
How he played 'face out' in his pen to get a treat or a pat on the head.
How he tossed his toys over his head when he wanted to play.
How he rearranged his house, after mommy took so much time to tidy up and vacuum.
How he closed his eyes and relaxed in bunny love when someone stroked him from head to tail.

re: Pet Loss Support/Memorial Thread


By Honey



Comments: 2842, member since Wed Jul 06, 2005

On Sun Feb 19, 2006 05:17 PM


I lost my cat, Oliver last week, it's really hard.

re: Pet Loss Support/Memorial Thread


By MissyT




Comments: 3660, member since Wed Aug 11, 2004

On Fri Feb 24, 2006 04:36 AM


My goldfish Ginger died last week.

I'd had her 2 and a half years and she had a lot of meaning to me as i'd bought her and her play mate Fred when I'd bought my house.

Ginge grew beautifully, she was an absolute massive goldfish, like the size of a bread roll and then her fins and tail on top of that. She had never had any illness and was always in perfect condition. I came back from holiday and she'd got ill. She was being bullied in the tank by a sucker fish which obviously caused her stress, broke down her immune system, she just got so poorly. I kept treating the water, then she'd got better, but then a couple of days later she was worse than ever. The other fish were attacking were she was too weak to fight them off. I had to move her out of that tank, so her and her goldfish play mate Fred, I moved out of this tropical tank with the other fish and bought another tank and put the pair of them in there.

She just couldn't get over her illness though and sadley died. Now Fred's swimming around on his own

Its so sad, I know its only a fish but she was my girl ! I cried for about an hour (must have needed a good cry !) and then I buried her in my back garden.
I've never experienced death in my life so this was actually pretty distressing ! I'd be a wreck if I ever lost somebody close to me. Its painful how pets have this hold over you, you're responsiblr to care for them and you do feel slightly responsible when they pass. Could I have done more to prevent it, should she have been in that tank in the first place, should I have left her in the original tank or taken her out ?
It wont bring her back though...
RIP Ginger x

re: Pet Loss Support/Memorial Thread


By hylndlas




Comments: 7170, member since Wed Sep 22, 2004

On Fri Feb 24, 2006 09:25 PM


I lost my Daughter Emily on Weds......

I hurt so much right now....she really was like a child to me.

I miss her.


re: Pet Loss Support/Memorial Thread


By Kathy




Comments: 10721, member since Wed Mar 05, 2003

On Wed Mar 01, 2006 05:17 PM


I lost my rat Maya this sunday and Nikiya today. Now I´m petless.

Both of them where 3 1/4 years old which is INCREDIBLE old for rats, so I´m happy that I had them for such a long time. I´ll still miss them forever.
Kathy

re: Pet Loss Support/Memorial Thread


By LouCee




Comments: 1608, member since Wed May 19, 2004

On Tue Mar 28, 2006 09:01 AM


I lost my guinea pig to the exactly same thing...about an hour ago

Am still crying, but it's nice to know she won't be in pain anymore. Her back legs wouldn't move anymore, and yeah the same, she was eating fine, drinking fine, but she couldn't move easily. But today she got diarroeh (really bad as well) and we decided to take her to the vet.
It was just over so quickly, one moment I'm stroking her in the waiting room and 5 minutes later, she's gone.
May she rest in peace.
Lucy xxx
bye bye nicki


By danceshorty08 Comments: 21, member since Thu Mar 02, 2006

On Sat Apr 01, 2006 10:20 AM


My guinea pig Nicki just died last night! It still feels unreal, like a joke...i just cleaned her cage yesterday!!!
re: Pet Loss Support/Memorial Thread


By Plumeria



Comments: 3483, member since Sat Feb 26, 2005

On Sat Apr 08, 2006 11:11 AM


My cat, Duchess, got hit by a car when I was little. I wasn't expecting it at all. I had to go to Pre-school on the same day it happened, I remember crying in school and people asking me what was wrong. It was a sad day. Then, her kitten, Gray, got hit by my dad's car pulling out off our driveway on the way to church. I was a little mad at him then.

About two years ago, my first hamster, Squeaky, got a tumer (sp?). Right when she got it, I knew she wasn't going to be lving ffor much longer. It was hard for me to watch her waddle with her tumer because it was next to her leg. She looked sad. Then one day, she fell alseep. She slept for a long time, I thought it was weird that she did. Then I found out she died in her sleep. I buried her in a garden with a rock with her. I think it is still there today.

hey


By disco_diva_zoe




Comments: 2356, member since Sat Apr 05, 2003

On Wed Apr 12, 2006 03:26 PM


omg i think i can read no more

i realise just how lucky we are !
our yorkshire terrier Pj,was hit by a car and he lost up to his body weight in blood.we thought he was going to pass but he pulled through.now i think back to when we could have lost him :S
i hope that you will all feel better soon
loadsa love zoe x
(im only 12 by the way so maybe to only have him for 1 year of my life was pretty scary !

re: Pet Loss Support/Memorial Thread


By Jitchiwah




Comments: 2897, member since Tue Sep 03, 2002

On Wed May 03, 2006 08:22 AM


good thread. One of my rats died during the night on Sunday. Came in in the morning to see pudge sprawled on the bottom of the cage, already dead, with stitch huddled up next to her trying to keep her warm

Stitch doesn't look to be too far behind either. She's like a little old lady rat - her hair is scruffy, she's not clenaing herself properly. And she is weak too, all wobbly when she actually does walk. Most of the time she is lying on the floor of the cage pining for pudge. Won't drink unless i put the bottle in front of her nose, and isn't touching her normal food - all i know she's eaten today is some yoghurt off a spoon and a couple yoghurt drops. Sad. I'm trying to keep her warm and comfy and feed her tasty things and keep her drinking. But we'll see.

re: Pet Loss Support/Memorial Thread


By maureensiobhan


Comments: 4741, member since Wed Dec 24, 2003

On Wed May 03, 2006 09:37 AM


Sorry to hear of your loss. It is extremely sad to lose a beloved pet.

I can relate. My brother and sister-in-law lost their pet dog Billy. This happened on a Friday. They called the next day, Saturday, and told us that my brother let the dog out one last time before bedtime the night before. He went and called and called for the dog, and the dog didn't come back into the yard. It was getting late, so my brother eventually thought, "He'll come back.". Well, in the wee hours, a policeman came to the door and said the police had found the dog, who had been hit by a car. The police said one of the dog's hind legs had been broken, the other had been pulled out of its socket, and the pelvis was broken. They said, "This dog is in a lot of pain.". They also said there was no one available then to put the dog down, and wouldn't be available until Monday. Can you believe that?! So, that poor little dog had to suffer the entire weekend. They gave the dog a morphine drip, but even with that he whined constantly with the pain. Through that weekend, they gently coaxed the dog to try to eat and drink a little bit of something. All the dog could eat was just a few little crumbs of a cookie, and drink just a few little sips of water. Finally, Monday morning came around, and my brother took the dog to the pound to have him put down there. The dog would be put down in something that looked ominously like a gas chamber, which would only drag things out longer than they needed to be. That poor little dog had already suffered enough, so my brother decided to take the dog to the vet. The vet gave the dog a shot, and said, "This dog will be gone within a matter of seconds.". We all cried. (In fact, I'm getting choked up right now just thinking about it.) My sister-in-law had had the dog since he was only a pup, so I suppose it was probably that much harder for her.

re: Pet Loss Support/Memorial Thread


By xdancer4lyfx


Comments: 611, member since Sun Jan 22, 2006

On Wed May 10, 2006 12:01 PM


my guinea(sp) pig wallace died about 5 years ago he was only 7 weeks old and i had only had him for 2 weeks when he died!x:(

he was the best but now i've got a lovely lil bouncy rabbit in his place

re: Pet Loss Support/Memorial Thread


By leppydancer05



Comments: 402, member since Sun Aug 21, 2005

On Wed May 10, 2006 02:32 PM


my puppy finzel died september 5th. she was the cutest thing ever. she was a mix between a black lab and a dashound(sp?), she was only 20 weeks old when she died. we got her in july from a farm family for free, they didnt have the puppies de-wormed, so when we got her she was infested with worms. she had to have 2 blood transfusions the first weekend we had her because she was so sick and lathargic. she got better after that, but no matter how much she ate, she wasnt getting the nutrition because the worms had done so much damage to her already. luckily she went in her sleep. she was the cutest thing and such a playful puppy while she was alive. my sisters and i are still trying to convince my parents to get another dog, after we pay off all the vet bills. ::crosses fingers::, i hope we can convince them soon.

re: Pet Loss Support/Memorial Thread


By ChoCho




Comments: 4151, member since Fri May 13, 2005

On Sun May 28, 2006 10:18 AM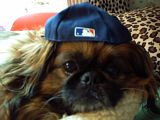 I lost my adorable 6.5 year old Pekingese named Gizmo last Friday, May 26, 2006. This was two days ago. I am so upset. Gizmo was the sweetest, happiest little dog in the whole world. Here is a little story about him so you can all get to know him a little bit.
On November 19, 2002, my family and I adopted the 3.5 year old Pekingese named Gizmo at a local shelter. Originally, we wanted a Bichon Frise from the same shelter, but another woman got that dog. So the shelter told us that we could take Gizmo. I was so happy because Gizmo was my first dog. Before we took him to his new home, we bought him a bed, food, and some toys. His favorite toy was his chicken. It used to have a beak and hair, but he eventually chewed them off. Gizmo quickly made our house his new home. He no longer slept in his bed at night. He made himself perfectly comfortable on my parent's king sized bed. One day Gizmo had a seizure (sp?). The shelter did not know this, but Gizmo had a seizure problem. We took him to the vet, they gave us medicine, and from now on he would take it every day so that he wouldnt have seizures. Then about a year later he became anemic. He had to have a blood transfusion. We thought that would be the end to his little life. But he survived and came home a happy little dog again. But now he had even more medicine to take everyday. This medicine made him gain weight. He went from a 13 pound Pekingese to a 22 pound Pekingese. He was heavier, but I still loved him just as much. There were so many things that I enjoyed doing with Gizmo. I would fight with him, play fetch with his chicken, go for walks, give him belly rubs, give him huge hugs, kiss him all day, and just enjoy his company. He was just like a teddy bear that you wanted to run up to and give a big hug. I thought we would have him for many more years, probably after I left for college. But then one day, he started having a problem with his back left leg. He would still walk on it, but he would have a hard time and would fall all the time. When he went outside to go to the bathroom I had to walk behind him the whole time and pick him up so he could keep walking. We took him to the vet, and he said that Gizmo was only having a problem with his knee, and that he would see if it got better. He didnt have any other problems at that time. This was two weeks ago. Last week he became very sluggish, and he didnt even bother to get up. He really only wanted to sleep. Last Wednesday after school, I came home and he was coughing up water. It was coming out of his nose too. My mom had just gotten home at that time too, but my brother was home and said that he had been doing that for a while. My mom and I were thinking that he had just had too much water, because lately he had been drinking a lot of it. After about an hour I got really worried and I begged my mom to bring him to the vet. We went, and the vet wanted to keep him over night so that he could give Gizmo medicine to get the liquid out, because he had water around his lungs. The next day I stayed home from school because I was too worried. My mom and I went to the vet and they got all of the water out from around his lungs, but he said that Gizmo was having heart problems and he had brain damage. I didnt want to believe it. But all he wanted to do was sleep, and now his tongue was hanging out of his mouth. That is how they figured he had brain damage. The vet told us that he would have to be put to sleep the next day. My dad was on a business trip at this point and he wasnt going to get back until later that day. So we stayed with Gizmo for a while and decided to come back with my dad and brother later that day. We did, and we decided that we would either put him to sleep the next day (Friday) or Saturday. We came back with my dad and stayed with Gizmo for a long time. My dad hadnt seen him since before he got very sick. It was very hard seeing Gizmo like that. His eyes were open, but we could tell that he was having a hard time. It was getting late, so we had to go home. I said goodbye to Gizmo and kissed him and hugged him, but I thought I would get to see him the next day before we had to put him to sleep so I didnt say a long goodbye. Well, when I woke up the next day, I got half way downstairs before my parents came and told me that Gizmo had died in his sleep that night. I broke down. I couldnt believe it. I got to say goodbye, but it wasnt a final goodbye that I had always thought I would give him. I wanted to say goodbye again but it was too late. I guess it was better that he passed away on his own, but it is really hard. I just cant believe it. He was only 6 and a half years old. I just cant stop saying that I wish he would come back. I want him to come home and play with his chicken and lay in his bed again. I want him to run into our sun room when I am doing homework and look at me and then run away again like he would always do. It just will never be the same without him. Rest In Peace Gizmo. 5.26.06
If you just read Gizmo's story, then I am sorry to go on like that. But Gizmo's story is a long one and I wanted to tell it to you guys. It made me happy to write it, but I had to stop once when I started to say he got sick and twice when I wrote that he passed away, because it was just too hard.
There is a little bit more to the ending of his story. The night that he died, I had a dream that I came home from school and he was laying in his bed in our sunroom. So this made me even more upset when I found out that he died. But my parents told me that this was actually Gizmo in my dream saying goodbye. It makes me cry everytime I think about this, but it makes me happy too. And I believe that this was actually him, because my dad said that the night that he died, he felt a tingling feeling. And he felt the same thing when my grandpa died. So that was Gizmo saying goodbye to my dad.
And yes, that picture is Gizmo. He was such a cutie. I just want him to come back so I can give him a huge hug again. And by the way, he is wearing his New York Yankees cap. He was a huge Yankees fan!
Again, I am sorry that this was so long. But I loved Gizmo so much and he doesnt deserve to have his long story shortened.
And to all of you who lost a pet: I am so sorry. I know exactly how you feel. I wish I never had to use this thread, but I am glad that it is here so we can all share our wonderful pet stories.
re: Pet Loss Support/Memorial Thread


By villian_f


Comments: 430, member since Thu Jan 06, 2005

On Wed Jun 21, 2006 11:50 PM


The neighbors found a little kitten(so small,taken from her mom..she drank from a syringe)Anyway,the neighbors weren't taking care of her, so I took her in, and stayed with me for 2 weeks...She was doing fine and there was pogress,yet today when I woke up,I found her dead..I was heartbroken.I fell in love with it,and I was so proud there was progress.
Reply
Send
Watch
Draw