Forum:
Arts / Pets

re: Pet Loss Support/Memorial Thread


By Stacey




Comments: 4618, member since Tue Jun 04, 2002

On Fri Mar 28, 2008 11:36 AM


My cat Cuddles has been losing weight over the past month, just this past Wednesday night she began having diarrhea and today she started vomitting bile. She is unable to control her bowel movements and refuses to use the liter box.

She is 14 years old.

My aunt came over and we all agreed that her time has come. My aunt phoned a vet who is 3min drive away and our appointment is for 3pm, only 1hour and 30minutes left with her,

The above photo was taken of her 10minutes ago.
re: Pet Loss Support/Memorial Thread


By KangarooPaw




Comments: 2463, member since Wed May 18, 2005

On Tue Apr 15, 2008 10:30 PM


My family's beloved daschung, "Matilda" aka "Tilly"
She was 7 and a half years old.
She was old, but did not pass away from age. Our neighbor was zooming up the road one day [there was really no reason to do this, we live on a small, narrow, dead end street!] and was not paying attention. Tilly was out front, and she broke off her lead and got in the road. Our neighbor did not slow down...she was going about 35mph, and the limit on our small road is 25. She hit Tilly and she died instantly.


re: Pet Loss Support/Memorial Thread


By Caffeine



Comments: 3194, member since Wed Aug 08, 2007

On Mon May 12, 2008 09:48 PM


Edited by haematite_dancer (183827) on 2008-05-12 21:54:32


Meet Redmond: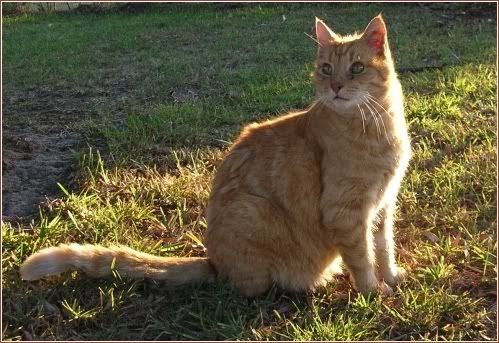 Red was the neighbourhood cat, officially owned by the family next door, but belonging to everybody. He had such a beautiful nature - always a chirrup and a purr when he saw you, running down the drive with his tail high. Sunny afternoons would find him sprawled beside me in the garden, asking for a belly-rub, his incessant purr the soundtrack for the afternoon. But the last 12 months have been hard on him: he never really recovered from being trapped and taken to the shelter, and over the months he grew thinner and more mangy-looking. His fur became matted. Battle-wounds never fully healed. And so on Sunday, he had a stroke, and it was the kindest thing to have him put to sleep.
He was about 17 or 18, and a part of my life for four.
It seems silly to be so upset over the death of the neighbourhood stray... particularly as we all know he's better off and in no pain. But still... I'll miss him.

re: Pet Loss Support/Memorial Thread


By houndrfriend



Comments: 636, member since Mon Aug 16, 2004

On Thu May 15, 2008 11:56 PM


I just replied but it got lost in the computer somewhere and I had to log in again.It is very annoying.Anyway in summary,pets die,just be happy while you have them.I will write about my goldfish later.They are a pet that you can leave for weeks and they should be allright when you see them again.In the case of a dog,some vetinary hospitals have a chart you can read to put their age over to human years.For example a certain breed of dog may be 6 years old.You multiply that by maybe 9 and you get54,and that is what it would be if the dog was a person.
re: Pet Loss Support/Memorial Thread


By IrishLizzy



Comments: 3559, member since Wed Jul 28, 2004

On Wed May 21, 2008 09:13 PM


Maybe it's just me, but I thought your post, Rottihound, was pretty insensitive.

I love all animals and I definitely believe that my two dogs are a huge part of my family. Yeah, I am happy that I've been blessed to share time with my pets but to say "just be happy while you have them" is so callous. People mourn the death of their pets - they are a part of someones family and to be so nonchalant about it is cruel.

Yes, pets do die but that is not something you get over the next day! I have had to put down two amazing dogs in the last five years and I still cry whenever I think about them.

And your whole 6 x 9 = 54 thing is false. It's 7 years for a dog.

re: Pet Loss Support/Memorial Thread


By Brittany




Comments: 15182, member since Thu Aug 22, 2002

On Mon May 26, 2008 01:58 PM


Meh, ignore Rottihound.

Anyways...

I was at home a few weeks ago. Like 2 weeks ago. And I was standing in my bathroom which is right near one of Lucky's spots..and our other cat came around the corner. I could have *sworn* she was Lucky even though they look nothing alike.

*sigh* He died November 13, 2006 and it still sucks.

re: Pet Loss Support/Memorial Thread


By PinUpGirl




Comments: 25878, member since Tue Jul 16, 2002

On Thu May 29, 2008 03:10 PM


I lost Dodger last night. He was a 16 year old black cat. I've had him since I was 7. I thought I was ready for his death as he's been failing for a while. I guess the reality of it actually happening is what's hitting me.

We're having him cremated and we should have him back sometime next week.

re: Pet Loss Support/Memorial Thread


By lottiekins


Comments: 701, member since Sun Jun 03, 2007

On Tue Jun 03, 2008 11:02 AM


My dog died today.

Technically she wasn't my dog, she was my auntys but we looked after her too.

She was my nannys dog, and sort of the last thing left of my nan as she died a few years back.

She was old though, 16, which I believe is very old for a Yorkshire Terrier.

SO BIG HUGS TO ANYONE WHO LOST A PET.

I would also like to add I had to sit a final exam half an hour after I found out


re: Pet Loss Support/Memorial Thread


By JoyNoelle



Comments: 3864, member since Fri Feb 04, 2005

On Thu Jun 26, 2008 12:49 AM

IrishLizzy wrote:

Maybe it's just me, but I thought your post, Rottihound, was pretty insensitive.
It's definitely not just you. Just ignore rotti...
And your whole 6 x 9 = 54 thing is false. It's 7 years for a dog.
Actually, it varies depending on the size/breed of the dog. The larger the dog, the shorter the lifespan, so the greater the "human" years. For example, my beautiful Freddie--a Great Dane--turned 9 in March, but in people years he's 90.
Anyway, the whole reason I popped in here is because I had to have my cat, Maggie May, put down today;
here's a thread
about her.


re: Pet Loss Support/Memorial Thread


By Believe




Comments: 1855, member since Sat Oct 14, 2006

On Mon Jul 07, 2008 02:16 AM


My Mum hit a cat two hours ago when we were speeding to get to work. I can't stop shaking, and crying. When we were driving back down our street, the cat wasn't where we had hit it. We had definitely hit it, though.
That makes me sick- I was hoping the cat would've died a quick painless death, but I'm not so sure now.
I really hope he or she is not suffering.

-Ashleigh.

re: Pet Loss Support/Memorial Thread


By rach_no1_dancer



Comments: 3731, member since Tue Mar 14, 2006

On Fri Aug 29, 2008 06:59 AM


my Rabbit died a few weeks ago
weve had hip for 5 years and a bit
he died while we were on holiday
we think some sort of animal got him while he was out
next door was mortified because he was looking after him
i cried for a few days after
its hard to loose a truley loved pet
R.I.P fudge x
love Rachel x x x

re: Pet Loss Support/Memorial Thread


By emilytheprincess


Comments: 1208, member since Thu Jan 12, 2006

On Tue Sep 02, 2008 07:31 PM


In June, we had to put our golden retriever down. She had bone cancer, and it progressed to quickly. I loved her more than I have loved anything in my life. I still do love her. I miss her terribly. She was such a sweetie and did silly little things that I thought were so funny. It makes me so sad to think that she is gone. =[ It is such a hard thing to get over.

RIP Princess Jasmine of Skip Hill (She was a breeding dog before we got her, thus the long name. We didn't name her!)
re: Pet Loss Support/Memorial Thread


By dawgdancer Comments: 38, member since Mon Mar 17, 2008

On Sat Sep 20, 2008 12:19 AM


Three weeks ago, I had to have the love of my life put down. Linus was 15 years old when he went into liver failure. You can tell in the picture, he was a rather large cat. He was half that size when he finally gave up.

My entire family took it pretty hard. My dad and I were closest with him so it's ten times harder for us. I got a tattoo of his paw prints the morning we took him to the vet. I don't have a picture of it or else I would post it. =\

I miss you, boo boo. It's not the same without you here. I'm not the same without you here.
re: Pet Loss Support/Memorial Thread


By divadancer6

Comments: 126, member since Thu Aug 03, 2006

On Mon Sep 22, 2008 06:18 PM


My beatiful little jack-russel terrier Tammy was put down a couple of weeks ago after an amazing 15 years of life! She is dearly missed!

re: Pet Loss Support/Memorial Thread


By Miyuki_chan




Comments: 1496, member since Fri Dec 03, 2004

On Sat Oct 04, 2008 10:15 PM


We just put my 14 year old Black Lab/German Shepherd mix Bosco down at 11 AM today. Yesterday he had what we suspect to have been a seizure of some type, and passed a kidney stone at the same time. He hadn't been acting right since we'd brought him home from the vet after the incident yesterday, and this morning he lost function of his hind legs, which is common for German Shepherds, so we called the vet and she said to bring him back in. The funny thing is..we got to the vet, he jumped out of the car and walked around like there was nothing wrong with him. The vet said that we could try antibiotics and pain meds to see how he reacted to it, but we decided that since he was suffering, that it'd be best to let him go be on the Rainbow Bridge with Maggie May (whom he had a huge puppy crush on)..and his brother boo-boo, our 2nd cat who passed 2/14/2001.

re: Pet Loss Support/Memorial Thread


By elaina16




Comments: 901, member since Mon Aug 14, 2006

On Sun Oct 26, 2008 02:04 PM


It is so sad to read all these stories.

My youngest daughter just lost her hamster Panda this month, he was 4-1/2 years old, she played with him before she went to bed like she always did, and when she woke-up in the morning he had passed away. It really hurt her hard, she still cannot remove the cage from her room.
re: Pet Loss Support/Memorial Thread


By Emily2009 Comments: 22, member since Mon Mar 09, 2009

On Thu Mar 12, 2009 12:19 AM


Edited by Emily2009 (208721) on 2009-03-12 00:23:34 *Misspelled a word*


I am so sorry for you all that lost pets. I know how hard it is to loose a loved one. I lost my dog Wiggy on 11/26/08. I didn't eat right for 5 days. I sat and cried over him. He was 9 years 2 months and 16 days old when he died. He was born September 10th 1999. I was 4 years old when I got him, and he died when I was 13. I had him his whole life. He was the best dog ever. He would listen to voice commands. He would herd up goats and put them in their lot. He was so smart. I didn't know he died until 5 days later. He died on a Wednesday. I noticed he was missing, but I thought he was just out rabbit hunting. Then after he didn't come back I knew something happend. So I asked my mom what happend to him and she told me and I started crying and she hugged me and cried with me. Wiggy was a Chihuahua, Beagle, & Chow mix. He was black with a white chest.
*Emily~. ~*~R.I.P Wiggy~*~

re: Pet Loss Support/Memorial Thread


By RealDealTrebler

Comments: 254, member since Thu Mar 22, 2007

On Tue Apr 28, 2009 07:58 PM


We have to put my dog down very soon. She's had cancer for a while, but we've been giving her painkillers. However, I can tell she's suffering a lot more now and the tumor (on her leg) is getting bigger and she's limping more. She's been such a great, sweet, lovable dog and we've had her since I was 6(?).

she's a black lab and I don't know how I'm going to deal with it when we put her down. It's going to be very soon. It's the first death of someone I was really close to. My grandpa died in 2007, but he had a stroke a while ago, so I don't remember him before he had the stroke.

*sigh*

re: Pet Loss Support/Memorial Thread


By Brittany




Comments: 15182, member since Thu Aug 22, 2002

On Tue May 05, 2009 12:29 PM


Edited by Brittany (36942) on 2009-05-05 12:33:25
Edited by Brittany (36942) on 2009-05-05 12:33:43


My dad had to put one of our boxers, Allie, down about 5 months ago due to cancer.

Today I have lost my sweet boy Vincent to cancer.


re: Pet Loss Support/Memorial Thread


By BooPops



Comments: 960, member since Thu Aug 16, 2007

On Sat May 16, 2009 08:29 AM


My baby kitten died yesterday, he was only a year old. He just dropped dead, it was so sudden and we are all devastated.

My family have all been dog people, but my dad is allergic to dogs. We decided to get two cats last year, even though I can't stand them. We got a brother and sister; the girl (Merry) was ginger with huge round eyes and the boy (Pippin) was like a blonde tabby with almond shaped eyes. I wasn't interested to start with, but eventually they became a huge part of my life, Pippin in particular. He used to watch me do my teeth at night and then he'd come and join me on my bed, sleeping on my chest. He would wait for me to come home and run down to my drive when he heard my car. He was the most loving and gorgeous kitten I have ever seen.

He used to sleep with his feet curled up in the air, and he had a great long foxy tail. He had lots of fluffy bits coming out of his ears.

He was also very clumsy, and once he fell out of my bedroom window two stories up, but he was fine! When he used to jump down from chairs or my bed he would fall over. Merry, his sister, was completely the opposite and she was always out hunting birds and exploring. She was like a proper cat, whereas he was more like a dog.

Yesterday, my mum called me when I was at my boyfriend's house. She told me Pippin had died and we were both sobbing. I cried non-stop all evening. It was so sudden. My next-door neighbour had just found him in her garden. I went to see him before we said goodbye, and I told him I loved him. My dad buried him in a really nice spot in our garden underneath a beautiful tree.

I am so shocked and upset and I hate that my gorgeous kitten has been taken away from me. I'm trying to make a fuss of Merry so she doesn't feel lonely or left out, but it's difficult. I can't believe he's gone


re: Pet Loss Support/Memorial Thread


By Believe




Comments: 1855, member since Sat Oct 14, 2006

On Sat May 16, 2009 03:11 PM


Our neighbour's dog was run over for the fifth or sixth time a few days ago, and couldn't be saved.

It makes me angry that they didn't care about him, and the SPCA didn't do anything about it, and now it's too late.

Rest in Peace, Ben. I bet you're happy to be running around with Braydon up in doggie heaven. (:
re: Pet Loss Support/Memorial Thread


By Dancingstep Comments: 22, member since Thu Mar 19, 2009

On Sat May 30, 2009 06:00 AM


:) I have a guineapig about 5 years old
Lately I've noticed I find her sleeping more, guess she's getting kind of old:( I hope I'll feel peaceful about her when she passes away too:)

re: Pet Loss Support/Memorial Thread


By Brittany




Comments: 15182, member since Thu Aug 22, 2002

On Sat May 30, 2009 06:41 AM


And it's the last of my dad's three dogs. He lost Allie (boxer) about 5-6 months ago, Vincent (boxer) early this month, and now sadly Sampson, our beautiful old chocolate lab has passed.

My dad's best friend's wife got pregnant with triplet girls (and already had two other girls) decided to give their dog to my dad. They didn't really give him the attention he really needed so he was way shy at first. But within a year, he was so warm to people and loved people.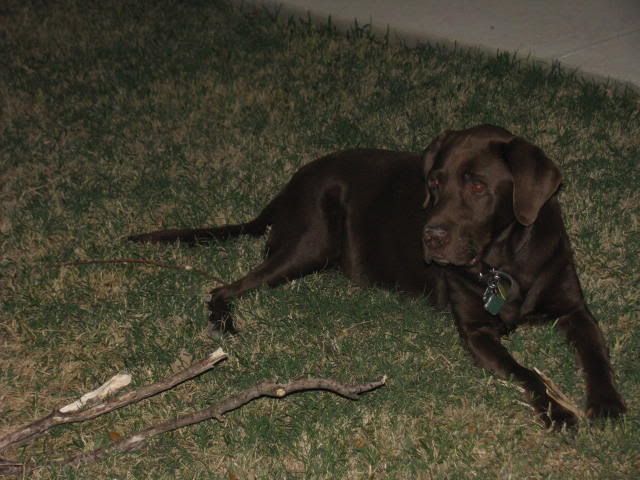 RIP baby

re: Pet Loss Support/Memorial Thread


By Orion



Comments: 2706, member since Sun Feb 24, 2008

On Fri Jul 10, 2009 02:08 PM


We had to put my cat, Mew, to sleep. He's been sick for a few weeks, and they didn't know what was wrong. He was miserable, though. Yesterday they apparently found a lot of tumors in his stomach, which was making it so he couldn't eat or drink or go to the bathroom. But it kills me that I didn't even know until after they'd already done it. I got home from dance and my parents told me. But I didn't get to say goodbye! I didn't get to be there with him. It's so selfish, but he was MY cat and I didn't even get to be part of the decision. I know it was the right choice for him, because there was nothing anyone could do to keep him from hurting. But I wanted my goodbye. I wanted to see him one last time. I didn't want him to just disappear.

And it feels like he's going to be back...the house seems empty. I couldn't sleep last night because my bed felt huge and alone, and it was too quiet because he wasn't next to me hogging the pillow and purring. I feel so guilty, like there had to be SOMETHING I could have done, something I could have seen so we would have known sooner. It kills me that the last time I saw him, he was laying in the kitchen mewing and looking so sad. i miss him. Our other cat misses him. She's been in my room crying because he's gone. I don't know what to do. I just want him back. He was my baby...I had him since I was 7, I can't even imagine our house without him there. And there's no closure! I feel like he's going to come back any minute now. Like he'll come sit on my computer keyboard so I can't type anything, because he wants attention. I'd never complain about that habit again. I miss him.

re: Pet Loss Support/Memorial Thread


By Fayet



Comments: 2836, member since Fri Jun 09, 2006

On Thu Nov 19, 2009 06:54 AM


My mom just called me and told me that my beautiful wild black cat was found dead by my dad this morning. We don't know what killed her, it might have simply been age. She was around 15 years old, we weren't sure as she was a stray cat.

She lived with my parents since I moved to university, and was a real wild country side cat. She always battled with the other cats, had already lost her right ear and her tail was crocked. She was really tall for a girl, and pitch black. A real personality, too, wild and free. Never a cuddler, always biting. But when something was off, she'd realize it and come, purring, to warm you up and make you feel better. I loved her so much.

I can't belive she's gone. I feel so stupid sitting in my office and crying, and hoping that noone will come in and laugh at me.. :/ But she was a huge part of my life, essentically my cat. I found her nearly dead when I was thirteen and put her back upon her feet with lots of care.

Rest in peace, Pfote.

And since I generally don't do good with animals, that was probably the last pet I've ever had.
Reply
Send
Watch
Draw