Forum:
General / Room Salutes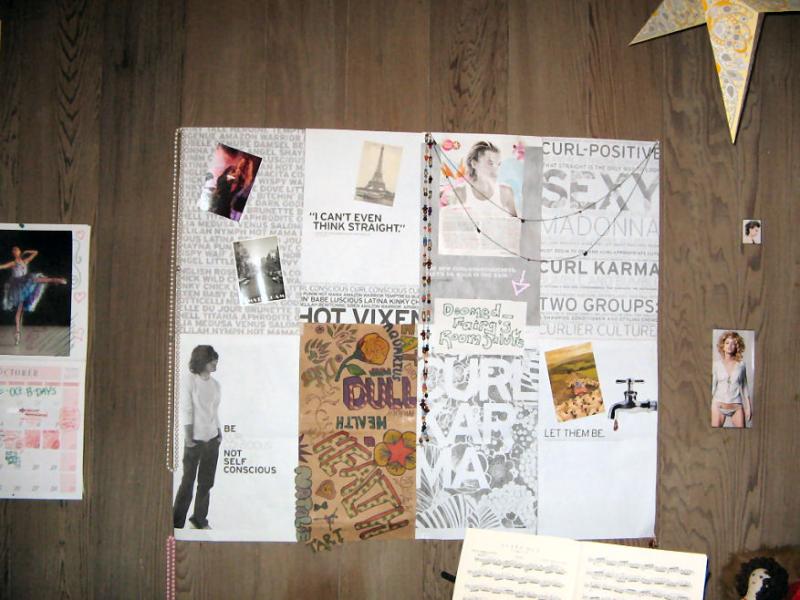 Yay for room saluting...well, WALL saluting, anyway. ;-)
By
doomed_fairy



On Tue Nov 01, 2005 06:48 PM

Edited by doomed_fairy (117963) on 2005-11-01 18:50:03

I got all those big papers from my hair salon; Bumble & Bumble has a newish line of curl products and I thought the ad bookie thingie would make cool posters. I've got all my long necklaces (with the exception of the purple one I'm wearing) hanging off the thumbtacks, and postcards from friends taped on. I've got the ballet calendar, of course (yeah, I went over it with Sharpie...that dancer could have been better), and my cello sheet music. The brown paper with doodles was my Health book cover. Oh, and say hi to Susie, my rag doll.

3 Replies to Yay for room saluting...well, WALL saluting, anyway. ;-)

re: Yay for room saluting...well, WALL saluting, anyway. ;-)
By
candykisses


On Sun Nov 06, 2005 07:07 PM

Oh, I love your ballet calender, i've had those kind for the past 4 years. Very cool.
-Candy
re: Yay for room saluting...well, WALL saluting, anyway. ;-)
By
Tiny_Dancer_33
On Thu Dec 08, 2005 07:01 PM

Wow i love the calander i have like 3. What is with it though... More Pictures would be nice. But i do like that one pic.

Katie
Reply
Send
Watch
Draw