Forum:
Sports / Sports Photos - Misc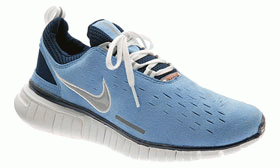 My new shoes!- Nike Free 5.0
By
harmmac
On Fri Dec 23, 2005 08:58 AM

I just got these shoes and they're really cool and comfortable. I couldn't find a picture of the exact one I have though.. mine's grey where the blue is, and orange where the darker blue is. The soles are really soft and bendable (kinda reminds me of split sole dance shoes hehe) especially at the toes/ball of the foot area... this is so going to get me running more often again!

Reply
Send
Watch
Draw