Forum:
Skating / Skating Photos - Members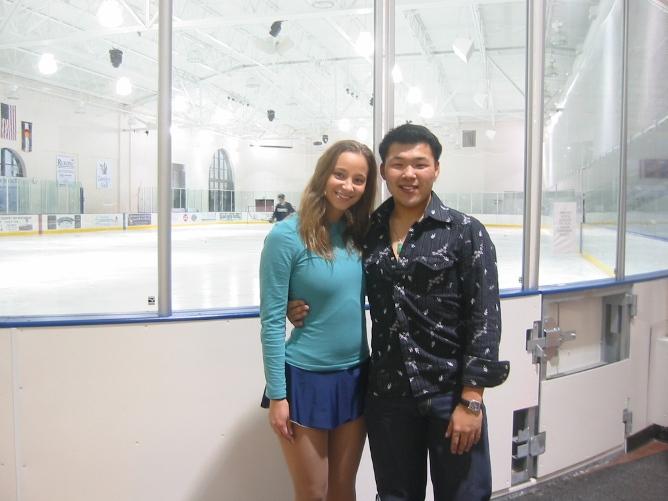 Pairs tryout
By
ballerina84



On Tue Jan 17, 2006 07:54 PM

My old partner, Nick, isn't skating anymore, so I am on the quest to find a new partner. So far it has not been an easy road. I've been fortunate enough to skate with my old partner so I can at least keep it up, but I had my first tryout which I was really looking forward too, but it didn't go very well. I was worried I wasn't going to be as good as him, but it turned out to be the other way around. He tripped on our stroking pattern! He could barely do an axel or a camel spin. He looked pretty unstable on the ice so I was scared to even try any overhead lifts with him for fear of getting hurt. Needless to say, I was very disappointed. And not to mention he was only one inch taller than me! I wish people wouldn't lie in their profiles because when you actually meet in person, we're going to find out if you're really as tall or as good as you said you were.
Ok, enough for the rant, but this is the only pic we got to take during the tryout. I liked it because it showed the rink in the background. It's a brand new rink that I've been skating at a lot lately. I love the big windows! People walking by outside can stop and watch, plus it really lights up the rink. The bleachers are heated too!
8 Replies to Pairs tryout

re: Pairs tryout
By
RodneysGlory


On Fri Jan 20, 2006 08:03 PM

Sounds like a great rink. Too bad about the partner tryout though. It's nice of your old partner to still skate with you. How long have you been looking for a new partner? Good luck!

re: Pairs tryout
By
twinkletoes84



On Sun Jan 22, 2006 08:42 AM

the rink looks ace!! really bright.. just before our old rink got knocked down it was really dull. shame about the partner though... good luck... you look like a really great skater and you deserve a great partner!

re: Pairs tryout
By
etoile_et_lune


On Sun Jan 22, 2006 09:53 PM

wow! You have such a nice rink! My rink is dirty and smelly and dimly lit!!! lol.
That's so dissapointing about the partner though! Are you going to keep skating with him? or get osmeone else? Anyways, I have to try and find the energy to clean the house (my parents get back today). I feel so sick!!!! I'm cleaning hten going to bed! lol! I'm so jelous!!!

re: Pairs tryout
By
Jump



On Sat Jan 28, 2006 07:23 AM

Your rink looks gorgeous! And it's so big. That is nice. Pity about the partner. How did you go about looking for one? Hope you can find someone that you can skate with soon


re: Pairs tryout
By
tribedance


On Sun Mar 26, 2006 12:04 PM

sorry about the partner! thats stinks...however, i love the rink and you look so cute in your skating garb...heated seats oohhhhh i love those!
re: Pairs tryout
By
StarstruckDncr

On Fri Apr 14, 2006 01:44 PM

Good luck finding a new partener. I'm sure He'll be great! Good luck at your skating too!
Love,
Chelsea
re: Pairs tryout
By
icebabe
On Thu Apr 20, 2006 04:56 PM

hey there hope you find a pairs partner a would like to try pairs out a wonder if there is a rink in the uk tht does pairs bubi
luv kirsty(uk)
re: Pairs tryout
By
edancer71
On Sun Apr 23, 2006 10:04 AM

From what I hear, it's hard for everyone. I have two coaches who have been in partner search mode. One was a Junior Pairs competitor, but was trying out a dance partner. The other is a Senior Pairs competitor, and they just recently split, due to height issues. If these two guys are finding it hard, it must be 10x harder for you - just cause you're a girl. So good luck in the quest.

If you are not already posted on the sk8stuff.com partner search, try that too.
Reply
Send
Watch
Draw