Forum:
Adults / Dance Therapy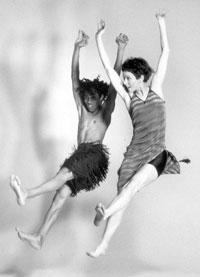 Dance Therapy

What Dance Therapy is... (karma: 19)
By wana_be_a_dancer


Comments: 834, member since Sat Jul 06, 2002

On Mon Dec 09, 2002 09:27 PM


Made sticky by AussieAsherina (19072) on 2003-01-28 06:24:08


Someone asked a while ago "What is Dance Therapy?" The post was too old for me to reply so here goes:

What is Dance Therapy?
The use of dance as a therapeutic tool is founded in the idea that body and mind are completely integrated. While the relationship between the mind and body is constantly being explored, theorised and discussed, the whole area certainly highlights the ingenuity of the creation and masterpiece in the human being.
The theory underlying dance therapy is that body movement reflects the inner state of the human, and that by moving the body within a guided therapeutic setting, a healing process begins. Emerging inner conflicts and issues from the unconscious to the consciousness of the person are addressed on all levels - physically, emotionally, mentally and spiritually. Seeking the full integration of mind and body, and bringing harmony between all the aforementioned levels of the human being is what dance therapy is all about.
Dance Therapy
has its roots in modern dance, from pioneers including Isadora Duncan, Martha Graham and Doris Humphrey (1920 onwards). Their work gave the foundation for expressive dance where spontaneity, creativity and individuality were allowed. Many dancers who were members of these pioneers' companies began to understand the far-reaching benefits of dance as a form of personal expression. In addition, the work of Rudolf Laban was prominent in the area of movement analysis and movement expression for both the artist and everyday worker in industrial settings, respectively. Laban worked specifically with artists, enabling them to understand how their body worked to express the inner state. He likewise worked with industrial workers during the war to enhance work capacity and efficiency.
During this time (around World War II), the work of pioneers in psychoanalytic philosophy and thinking was also popular - in particular, Sigmund Freud and his followers, Alfred Adler, Carl Jung and Wilhelm Reich. Their work had a major influence on the understanding of the mind and emotions, and the different levels of consciousness in which these exist.
These three areas
-
modern dance, movement analysis and psychoanalytic theory - formed the foundations for dance therapy processes.
Marion Chace is seen as the founder of dance therapy. She began her career as a dancer and choreographer, and studied in New York in the 1920s with Ted Shawn and Ruth St Denis at the Denishawn School of Dance. While she was primarily a performer, she launched into teaching and found that dance was meeting a far greater need than performance. She continued to teach within schools and hospitals, and learnt through trial and error the benefits of dance and expression for people who had certain needs. Her work within the hospitals was gaining reputation as professionals watched the positive effects of her work. In the 1940s she began giving lectures and demonstrations. In the 1960s she founded a training program for dance therapists at a music school based in New York. In 1966 she assisted in the establishment of the American Dance Therapy Association, and was the first president. Chace died in 1970.
Chace's theory was that dance was a form of communication which fulfilled a basic human need. She believed that every person had a desire to communicate, and sought to assist her clients in finding a way to communicate. Chace made unique contributions to the understanding of the therapeutic movement relationship, the use of ongoing verbal narration as a form of reflecting the group and individual process, the use of rhythmic movement as an organising and clarifying force, and the use of dance as a cohesive group process.
The field of
Dance Therapy
has since developed in its theories, models and approaches, and is practised all over the world. Becoming a dance therapist requires postgraduate training in the area, with already established qualifications and experience in the dance and social sciences. There are many courses from which to choose to embark on such training, especially in the United States. In other countries, such as Australia, where the profession is still new, opportunities for study are limited but available. Institutions such as Wesley Institute for Ministry and the Arts, where courses cover theoretical and practical studies in psychological theories, dance and movement studies, dance therapy approaches as defined by the pioneers and current practitioners, and dance therapy for a variety of client groups. Students are involved in weekly placements supervised by the faculty within a psychiatric placement, a disability placement and another placement of their choice. Students are trained intensively in how to operate as a professional, learning guidelines and protocol in meetings and client reviews, report writing, program design, implementation, assessment and evaluation, and issues of accountability and confidentiality.
Although the profession is still growing and gaining community awareness in each country, there are opportunities for work. As organizations become aware of the benefits of dance therapy, ways are being created to open doors to graduates for employment.
All Dance Therapy graduates are employed in the field, either full-time or part-time. Some have been given permanent positions in client service organizations (disabilities, mental health), while others have chosen to work in private practice gaining contract work with individual clients and/or large organizations such as educational facilities, community centres and corporate businesses.
The community at large is becoming aware of alternative means towards good health and wellbeing, and dance therapy makes a valuable contribution to people of all ages, backgrounds and cultures. Dance has a place in everyone's life, and for it to be utilised as a promotion for good health is indeed a worthwhile venture.
A career in dance therapy is gratifying to the therapist, as they watch with expectation a positive change in the people who are receiving it. A dancer's career does not have to end at
25 or 30 years of age
. The knowledge one has gained through dance training, dance performance and dance teaching all contribute to a wealthy foundation towards the pursuit of an even more challenging and rewarding career in dance therapy.
Author
Evelyn Defina
Head of Dance
Wesley Institute for Ministry & the Arts
Hope that answered your question.

Luv Jess

52 Replies to What Dance Therapy is...
re: What Dance Therapy is... (karma: 1)
By lolabunny

Comments: 86, member since Mon Jul 29, 2002

On Sat Dec 21, 2002 12:29 PM


Hey! That was very informational; thanks for posting.
re: What Dance Therapy is...


By dance_bum


Comments: 323, member since Fri Dec 06, 2002

On Wed Jan 01, 2003 04:53 PM


Hey!! Thanks SO much for posting that!! Im still making the magazine for my english class and i was planning on doing an article on dance therapy. BUT i couldnt find anything Thanks again! Im going to rate you up now, and go write my artical

THANKS *hehe*

dance_bum

re: What Dance Therapy is...


By DancinDiva5678


Comments: 811, member since Tue Mar 26, 2002

On Sun Jan 05, 2003 01:29 PM


Thank you for posting that! Very informative and thorough. Dance therapy is a career field that I have been wanting to know more about for awhile now and is something that I'm seriously considering entering. Thanks again!

re: What Dance Therapy is...


By DazzlinDancer86


Comments: 1993, member since Fri Aug 09, 2002

On Fri Jan 10, 2003 08:26 PM


Thank u soo much Jess! I just discovered this forum and was about to post hoping someone could fill me in! Uve been very informative and helpful!
Thanks so much!
*Kristie*
re: What Dance Therapy is...


By PointeNBallroom

Comments: 61, member since Tue Nov 05, 2002

On Fri Jan 17, 2003 07:55 PM


great post!
re: What Dance Therapy is...


By tapcat601


Comments: 1480, member since Mon Dec 30, 2002

On Sun Jan 19, 2003 07:44 AM


great post who wants to make it sticky so more peoplecan read it?

re: What Dance Therapy is...


By SLBdancer



Comments: 2129, member since Sat Jul 20, 2002

On Wed Feb 19, 2003 03:35 PM


THanks so much! I have seriously been thinking about becomeing a dance therapist when i get older becuase its sorta in between dance and medicine.


re: What Dance Therapy is...


By Jenna




Comments: 3017, member since Thu Feb 27, 2003

On Fri Feb 28, 2003 10:09 AM


Wow, great information! I had a rough idea of the whole dance therapy thing but that article really helped! Thanks!
Jenna
re: What Dance Therapy is...


By BeliLoveWan Comments: 2, member since Tue Mar 11, 2003

On Tue Mar 11, 2003 05:52 AM


Thanks for this grate information! I am a international student major in Psychology. I'm dreamimg to become a dance therapist. Could some body give me any advice?
re: What Dance Therapy is...


By anairdamoon

Comments: 79, member since Sat Mar 22, 2003

On Thu Mar 27, 2003 11:30 PM


Great info, thanks!!
re: What Dance Therapy is...


By MukCheerChick

Comments: 182, member since Sun Apr 20, 2003

On Sat Apr 26, 2003 01:55 AM


Awesome post!! Thanks for the info!

re: What Dance Therapy is...


By Amy90



Comments: 255, member since Sun Apr 20, 2003

On Mon May 05, 2003 09:11 PM


Great post, thanks for the info
re: What Dance Therapy is...


By dizzy_dancer23


Comments: 1846, member since Sun Dec 22, 2002

On Mon Jun 09, 2003 10:34 AM


Awesome post! It's great to know what Dance Therapy is!
thanks!!


By sheila315 Comments: 30, member since Tue Apr 15, 2003

On Tue Jun 10, 2003 04:32 AM


I learned a lot.More power!!!! Keep on posting interesting informations about dance therapy.
re: What Dance Therapy is...


By PointeYourToes


Comments: 158, member since Fri Jun 13, 2003

On Fri Jun 13, 2003 03:14 PM


Very informative. Interesting avenue of therapy that I didn't even know existed specifically for dance.

Thanks,

*Carrie*

re: What Dance Therapy is...


By kaffykatherine


Comments: 113, member since Thu May 22, 2003

On Sun Jun 15, 2003 12:00 PM


Thanks!!!
re: What Dance Therapy is...


By maddox Comments: 34, member since Wed Jun 11, 2003

On Sun Jun 15, 2003 08:46 PM


thanks for that post! very informative, very helpful.
re: What Dance Therapy is...


By dancinprincess2

Comments: 51, member since Thu Aug 02, 2001

On Sun Jun 22, 2003 10:08 PM


Thanks that really helped me because i've been thinking that being a dance therapist is something I really would enjoy!Great Post.

*Anna*
re: What Dance Therapy is...


By DancingT

Comments: 721, member since Sat Aug 18, 2001

On Tue Jul 01, 2003 01:23 PM


Thanks for posting that, hopefully it will help people on this board learn that dance therapy is not about how to become more flexible or deal with injuries from dancing!

re: What Dance Therapy is...


By WestCoastDreamin


Comments: 889, member since Tue Jul 08, 2003

On Thu Jul 24, 2003 06:11 PM


Very informational. Thanks for posting.

love dance therpay


By Sherry116 Comments: 1, member since Fri Aug 01, 2003

On Fri Aug 01, 2003 05:00 PM


Edited by Sherry116 (70635) on 2003-08-01 17:01:15 spelling


Dance is alot of stress as well as time and effort. In order to be the best dancer you need to feel comfertable about yourself ans try to have as much therpay as possible to prevent injuries. That's why dance therpay works.
Very Informative


By boyet69 Comments: 2, member since Sun May 11, 2003

On Thu Aug 21, 2003 03:52 AM


I encourage you to share your knowledge its really informative and many will be grateful ,and Im one of them

re: What Dance Therapy is...


By Kelly2003



Comments: 1603, member since Sun Jan 12, 2003

On Thu Sep 04, 2003 12:33 PM


WOW! Thats really good to know!! Thanks alot! I was going to ask what it was but I dnt think I need to bother now!

Very good post!

Loadza luv 'n' hugs!

Kelly 2003 xxxx
re: What Dance Therapy is...


By coogi Comments: 24, member since Mon Sep 22, 2003

On Mon Oct 06, 2003 07:53 PM


Thanks so much for the info.
Reply
Send
Watch