Forum:
Gym / Gym Photos - Members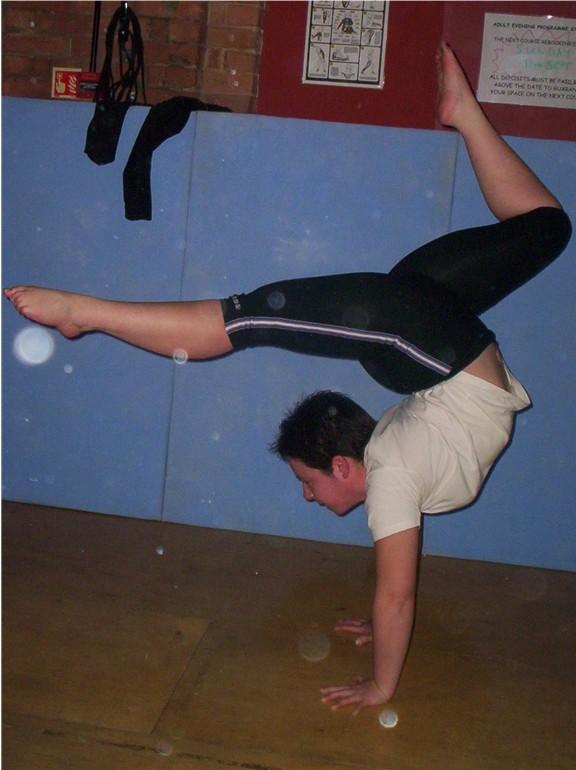 new photos of fiona!
By
snoopyjot



On Fri Jan 27, 2006 04:58 AM

some new photos of me. they were taken after training last night. sorry that they are a bit 'spotty'- i need to clean the camera lens! i'm pleased with the chest stand- it was the first time i was able to lift my chin high enough off the floor to see the person taking the photo!
any suggestions/ comments/ critique?
fi xx
11 Replies to new photos of fiona!

re: new photos of fiona!
By
tumblebug



On Fri Jan 27, 2006 07:12 AM

Great pics! Looks like you have been improving! Great job.

re: new photos of fiona!
By
AnjieAngel


On Fri Jan 27, 2006 10:08 AM

You have great back flexibility as always, but there is one thing about your stag handstands I would like to comment. I know I'm a perfectionist when it comes to lines etc., but just stretching your feet/toes a bit more would make the position even more beautiful. Have you tried doing the stag handstand on your underarms as well? It might be easier to control for you, and since you are able to do the regular handstands, I think you could control your back easily, while showing off that back flex even more.


re: new photos of fiona!
By
snoopyjot



On Fri Jan 27, 2006 06:28 PM

do you mean elbow stands, where i take my weight on my fore-arms? if so- they are dead easy, i just felt in the mood to do handstands when i took the photos!

and i apologise for my lazy feet! its a bad habit for me- in fact, i developed my contortion act so i would be able to flex my feet instead of point them! (im a spider character and flexing my feet seems to make the moves fit the character). when i do remember to point my toes, i have a decent point..... i just forget! and the 1st photo was taken as i kicked up into the handstand and so i wasnt quite in position. the shin of my top leg becomes parallel with the floor and i drop the extended leg and my chest closer to the floor to make the bend tighter! i couldnt retake any photos as my camera batteries died!

but thanks for the critique- i'll make sure i point more often!!

fi xx

re: new photos of fiona!
By
birthdaycake


On Sat Jan 28, 2006 02:44 AM

When i first looked at your pictures the toe thing is the first thing i noticed. It would lengthen your lines so much if you just pointed your feet. I could do the pointed foot part but theres no way my back could bend like that. Well done.

re: new photos of fiona!
By
AnjieAngel


On Sat Jan 28, 2006 12:17 PM

I was talking about elbow stands, yes. It's much easier to show off great flexibility on them

It doesn't matter if they're easier, you know, as long as it looks more painful.. Muahaha!

re: new photos of fiona!
By
snoopyjot



On Sat Jan 28, 2006 06:01 PM

i agree! some of my 'best' moves (ie the ones that get the biggest reaction from the audience) are actually my easiest ones!
and everytime i see my handstand photos i feel ashamed! there is no reason why i should forget my toes like that. totally unforgivable! if my coach saw the photos she'd be so angry!

fi xx
re: new photos of fiona!
By
ritmic
On Sun Mar 26, 2006 07:05 AM

wow u look very nice ehhe good flexibility

re: new photos of fiona!
By
danca1991

On Tue Apr 04, 2006 09:14 AM

Removed by Etoile_Filante (19013) on 2006-04-06 10:20:35 do not use netslang please

omg ur wicked at gym how old r u?
also i was tryin to do one of those chest stands but didnt quite manage it lol ill post it when i get the pictures from my friends computoe we took them yetserday.

re: new photos of fiona!
By
hamfist



On Wed Apr 05, 2006 05:53 PM

Great to see more of your photos Fiona.

Best regards, Ian
Reply
Send
Watch
Draw