Forum:
Advice / Recitals & Performing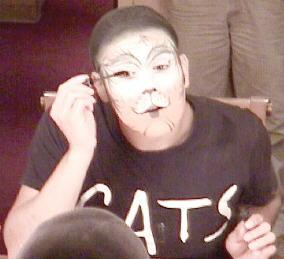 Recitals & Performing

The How To Apply Stage Make-up Guide (karma: 12)
By xSupastarx



Comments: 1469, member since Mon Aug 16, 2004

On Sun Jan 29, 2006 10:43 AM


Made sticky by Theresa (28613) on 2006-03-12 18:00:27


I came across this guide on The Stage's website,

www.thestage.co.uk

, and thought I would share it with you all. It was written by Paul Vale. I only decorated it, harder than it sounds once again, as I've recently mastered the 'url' thing! Enjoy

Paul Vale was the Make-up Consultant for Charles H. Fox Ltd. for nine years and is a columnist for Make-up Artist Magazine in the USA.
Why you need to know
In an age when film and television dominate the market it is no wonder that little time is given in Drama Schools to actors working with make-up. Few books exist on the subject and yet the many actors entering the industry for the first time have little or no knowledge of how to use make-up. It is true that careful casting and huge advances in lighting have practically eliminated the need for heavy make-up, but character roles, glamour roles, musical theatre, pantomime, opera, ballet and fantasy shows often require make-up and this page is designed to offer insight into this fascinating world.
The advice given here is designed as a rough guide to a natural look for performers on stage. You may well often hear this called a 'straight' make-up but this tends to be something of a misnomer and I would prefer to call it 'corrective' make-up as may well be correcting your skin tone or correcting your eyebrow or lip line.
Know your face!
Most make-up an actor will apply is generally to enhance their looks rather than alter them. The lighting for a stage production will wash out many of the natural shadows that the face has creating a very flat, lifeless image. For an actor making-up, knowing where these shadows and highlights naturally occur is of vital importance. Check out your face in a mirror and study how the basic features are split into blocks and planes of light and shadow. There is no real need for the actor to dwell too deeply on the subject of facial anatomy but knowing your own face can be as important as knowing your lines!
Preparation!
In the 21st Century it is unlikely you have reached the age of 18 without realising that your skin needs to be taken care of. Dry skin, combination skin, oily skin are all quite normal and any high street chemist will be able to present you with products to counteract any imbalance. When your job requires you to apply make-up every evening then you really have to prepare your skin. Avoid moisturisers before applying make-up as they relax the skin and the oil or water content may well affect the make-up you apply. Ensure the face is clean and dry then apply a light astringent. This has the effect of closing the skin pores offering extra protection from the products. Should men require a shave, do so as early as possible as shaving invariably irritates the skin and it is unwise to apply anything too soon afterwards.
Skin tone
There are plenty of ways to take care of the skin but the hazards of daily life will affect it in different ways and the ideal we are trying to create on stage is that of a normal, healthy skin tone. The product you use for this is called foundation and it is usually the starting point in your make-up. There are several different products available and they tend to fall into two catagories - oil or grease based foundations (which require setting with a translucent powder to achieve a matte finish and a cold cream to remove them) and water based foundations (which dry with a matte finish and require no setting and are washable with water). Other foundations exist where the pigments are suspended in alcohol or silicon but these tend to be for specialist make-up artists and have different uses.
Foundations are available in many forms; fluid, dry cakes, wet cakes, paint sticks, creams and are best applied with a small sponge. The trick is to choose a colour to suit your basic skin tone or at least a shade down from this, to allow for stronger lighting if necessary. A good sales assistant in a help theatrical make-up shop should be able to help you with this. Apply a little product to a sponge and begin to blend it in around the face, into the eye sockets, around the nose, mouth, forehead and temples in smooth strokes until an even skin tone is achieved. Remember the ears need cover too and blend carefully into the neck line - you are not creating a mask! Take time over the foundation as it is the base for the rest of your work. Keep checking in the mirror to ensure you have not missed any areas.
The effect of the applied foundation is to give a good basic skin tone but it does flatten the features to a certain extent and these now need to be rescued.
Eyes, lips and cheeks
To begin with ensure that the eyebrows are clearly visible. Using a liner pencil carefully stroke a little colour onto the hair. Be aware that you are aiming for a natural look, so don't attempt a heavy application, just gentle strokes that gradually darken the hairs. Usually a black or brown pencil should suit but pencils in many other colours are available.
Some eyes will benefit from a touch of mascara and/or eyeliner although, badly applied this will often have the effect of making the eye smaller, which is to defeat the object. Eyeliner is available in three basic alternatives: liner pencils, cake eyeliner and liquid eyeliner.
Ladies may wish to apply false eyelashes to supplement their own but if you are aiming for a very natural look on a small studio stage, settle for a natural colour mascara, closest to your hair colour.
Pressed powder colours are the simplest solution to the eyelids and cheeks. You will find they come in many, many different shades including matte finishes, UV colours, metallic finishes and pearlised finishes. For a fashion or fantasy look any of these are superb but for a natural look avoid anything other than the matte colours. To keep to a minimum of kit you should be able to work around three colours. A highlight to lift shadows on the eye and accentuate the brow bone; a shadow, several shades below your foundation colour to accentuate the socket line and a rouge to re-colour the apple of the cheeks and add touches of warmth to the foundation. The choosing of these colours will vary, depending on your skin tone or foundation colour.
Lip colours can make or break the whole look so choose them very carefully - especially men. Ideally it should be applied with a brush to aid precision. You may like to use a liner pencil in a matching shade to create a richer curve to the lip and then fill in with colour. Again opt for matte colours and apply, blot with a tissue, powder using a translucent powder and then repeat the procedure. This will ensure maximum staying power, especially in singing roles. A touch of clear lip gloss can be added if necessary.
Brushes & Applicators
It was once a fact that the best brushes you could possibly buy were made of natural hair but today, advances in technology have created superb synthetic hair brushes that it now boils down to a case of personal preference. Ideally you should have at least an eyeliner brush (to apply cake eyeliner), a lip brush (for the lips), a rouge/blusher brush (for dusting on pressed powder rouge), a powder brush (for dusting off excess powder), a socket brush (for shading into the eye socket line) and two quarter inch contour brushes (to apply highlighter and eye-shadow). A velour powder puff can be used to fix and matte oil based foundations.
Extras
These are the basics of your performers make-up kit. Some of you may not need all these things and others will want to add to their kit as their roles dictate. Here are a few extras you might like to consider:
Concealor creams
- heavily pigmented to cover pigmentation anomalies such as dark circles under the eyes or thread veins.
Anti-shine creams/powders
- popular for matting the skin, when you intend to apply little or no make-up.
Tooth enamel
- usually used as a special effect it is available in a range of colours including ivory to lighten the appearance of teeth. Its use is not recommended on caps or dentures.
The 'B' palette
- a 12 colour palette of either grease or waterbased make-up invaluable to most media make-up artists. This range of colours is ideal for character work.
Books
I have only included two books here as the literature available simply for performers is minimal - they are all intended for make-up artists or specialists.
Stage Make-up: Step-by-step (Stage & Costume) by Rosemarie Swinfield.
A useful introduction with clear images and diagrams.
Stage Makeup by Richard Corson.
A little heavy going for a performer but probably the only book an actor would ever need. Written with actors in mind as well as professional artists.
Products & Suppliers
Charles H. Fox Ltd.
- probably the oldest theatrical make-up shop in the UK with a wide selection of colours available. There is a great brush selection here.
Screenface
- a store in the West End as well as Notting Hill. A great selection of skin tones available here.
MAC
- known for their fashion ranges and making headway in the theatrical market. If possible head for the MAC Pro Store off Carnaby Street.
Profile Aesthetics
- particularly good colour range for Asian & Black Skins.
23 Replies to The How To Apply Stage Make-up Guide

re: The How To Apply Stage Make-up Guide


By dust2dust



Comments: 4464, member since Wed Dec 07, 2005

On Tue Feb 14, 2006 03:52 PM


Wow this must have taken forever to make. Should be a sticky.
re: The How To Apply Stage Make-up Guide


By two4joy



Comments: 305, member since Fri Nov 11, 2005

On Tue Feb 14, 2006 03:54 PM


Great Job.
Should be a sticky.
Thanks.

re: The How To Apply Stage Make-up Guide


By snoopyjot



Comments: 722, member since Wed Feb 04, 2004

On Sat Feb 18, 2006 04:04 PM


wow, thats a fab post and i also agree that it should be a sticky!

all the info is dead useful!

thanks!
fi xx

re: The How To Apply Stage Make-up Guide


By Dancin_Maniac

Comments: 69, member since Sun Sep 25, 2005

On Tue Feb 28, 2006 05:20 AM


Me too, I also agree this should be a sticky. Thanks for sharing!

re: The How To Apply Stage Make-up Guide


By dust2dust



Comments: 4464, member since Wed Dec 07, 2005

On Sun Mar 12, 2006 05:53 PM


Ummmmm.... helloooo ! Why has this not been sticky-fied yet?

re: The How To Apply Stage Make-up Guide


By mandarina


Comments: 1278, member since Sun Jul 31, 2005

On Sun Apr 02, 2006 07:21 PM


Great post

thanks soo much for sharing this information!! Karma!

re: The How To Apply Stage Make-up Guide


By ciar579

Comments: 124, member since Mon Mar 20, 2006

On Sat Apr 15, 2006 08:58 AM


Edited by ciar579 (154088) on 2006-04-15 09:00:36


really cool post its so brilliant im going to use it at my next recital

re: The How To Apply Stage Make-up Guide


By sotash

Comments: 62, member since Thu Apr 20, 2006

On Fri Apr 21, 2006 11:08 PM


Oh my goodness, I think I love you!

This works for pageantry PERFECTLY.

Stage Make Up


By BalletAlyssa

Comments: 140, member since Sun Apr 30, 2006

On Mon May 01, 2006 08:26 PM


Thank you very very much for posting this stage makeup guide. I will be performing in less than two weeks and I never properly learned how to do proper stage make up! Thanks again!
re: The How To Apply Stage Make-up Guide


By susan93 Comments: 3, member since Sun Jun 10, 2007

On Sun Jun 10, 2007 07:42 PM


this must have taken a lot of time.. thanks!
re: The How To Apply Stage Make-up Guide


By balletcrazy_33

Comments: 57, member since Sat Apr 28, 2007

On Mon Dec 17, 2007 03:50 PM


Thanks so much for posting this!!

This is soooo helpful!


re: The How To Apply Stage Make-up Guide


By dancingirl988

Comments: 92, member since Wed Jan 02, 2008

On Sat Jan 05, 2008 11:02 PM


Why isnt this a sticky???

re: The How To Apply Stage Make-up Guide


By ghilliegirlan


Comments: 373, member since Mon Jun 18, 2007

On Tue Feb 26, 2008 02:33 PM


not use moisturizer before applying stage makeup? are you crazy!?! I mean I guess it would also depend on what brand of makeup you are using but if you don't use moisturizer before hand your gonna break out big time! all of the other information in this post is very useful and informative though, I've seen some REALLY bad stage makeup both in dance and acting and this can really help people with doing it correctly.
re: The How To Apply Stage Make-up Guide


By Elizabee Comments: 33, member since Tue Nov 27, 2007

On Fri Jun 27, 2008 12:20 PM


Wow, that is a great post. Thank you so much for sharing!

re: The How To Apply Stage Make-up Guide


By pointe92



Comments: 807, member since Fri May 25, 2007

On Tue Jul 01, 2008 11:22 AM


great post! good info!
re: The How To Apply Stage Make-up Guide


By jacque_curran Comments: 40, member since Sat Aug 02, 2008

On Tue Aug 12, 2008 01:44 PM


i have one question:

is it better to come to a recital or comp with
make & hair done? or do it there?

re: The How To Apply Stage Make-up Guide


By followthesmile

Comments: 69, member since Sat Sep 06, 2008

On Fri Nov 07, 2008 05:02 PM


Thank you so much for your hard work! I would give you karma but I'm new here.

re: The How To Apply Stage Make-up Guide


By isiscloud Comments: 47, member since Thu Mar 26, 2009

On Sun Apr 19, 2009 07:25 PM


Thanks for the tips!

This year I was in 5 numbers but didn't know their exact order until only a few days before the show and each one had its own look.
Soft for ballet - first show
Glittery for hip hop - first show
dark for belly dance - second show
more muted for tap - second show
"full glamour" for jazz - second show

Thankfully, the dances with the darkest makeup were all in the second show so I didn't have to start over.

A friend who was in three #s - 2 belly dance, Africa and ballet had very dark and exotic in all of hers no matter what she did, but she has a darker complexion so it works for her. A lot people could use a primer on makeup application.

re: The How To Apply Stage Make-up Guide


By dancegal2002


Comments: 924, member since Tue Feb 11, 2003

On Sun Jun 21, 2009 07:23 AM


Thankyou


re: The How To Apply Stage Make-up Guide


By luvxx2xxdance


Comments: 1174, member since Thu Mar 05, 2009

On Fri Jul 24, 2009 12:37 AM


This is so useful. Thank you!! =]
re: The How To Apply Stage Make-up Guide


By Izzyballerina


Comments: 56, member since Sat Jan 12, 2013

On Wed May 01, 2013 08:40 AM


Thank you so much, I have never been able to do stage makeup correctly and now hopefully it will look better

my recital is in a month, so I can practice lots before then!
re: The How To Apply Stage Make-up Guide


By JPA

Comments: 18, member since Tue Aug 01, 2006

On Mon Jul 31, 2017 10:23 AM


Thank you for this post!

re: The How To Apply Stage Make-up Guide


By Theresa




Comments: 34923, member since Wed May 22, 2002

On Tue Aug 01, 2017 09:27 AM

jacque_curran wrote:

i have one question:

is it better to come to a recital or comp with
make & hair done? or do it there?
Ok, I know I'm quoting a way old reply, but just in case anyone else out there is wondering this:
Come with it mostly done. There's never any guarentee of how much dressing room space you'll have, so you have no way to know if you'll have the room you need to be able to do it. Plus, almost every competition I've ever gone to has run ahead, and so you're not really getting there as early as you think.
Besides, if it's an early morning and you stop for McDonald's breakfast on the way and you're wearing full lips? You're just eating the lipstick, and that's gross.

That said, I come with my sons hair completely done and put his makeup on in the venue, but his makeup routine is a fraction of what a girls is.
Reply
Send
Watch
Draw