Forum:
Folk / Polynesian Dance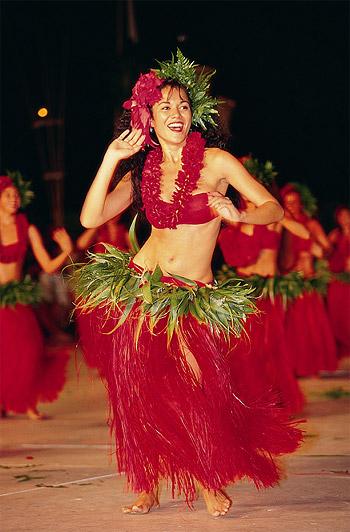 Tahitian hip band
By
cleoNY


On Sun Feb 26, 2006 07:24 AM

Hello all! Does anyone here know how to make those leaf/ fern tahitian hip bands? Or, if you cant make it, is there a person to call. Below is a picture of what im talking about... Hope everyone is well!
5 Replies to Tahitian hip band

re: Tahitian hip band
By
doomed_fairy



On Thu Mar 02, 2006 12:38 AM

I've never made one. I borrowed someone else's for the only performance I was in.

I'm sure you could easily fake it, though, for your purposes and just put it together so it looks relatively like that.
re: Tahitian hip band
By
No_Longer_on_DDN



On Tue Mar 14, 2006 07:43 PM

Aloha!

I think those are big ti leaves. The hip band is actually really easy to make. You just shred the ti leaves and then braid it into the raffia. It's really hard to explain on-line but I'll try my best. There's a short cut way which might be easier for me to explain. (If you're interested in making one out of fake leaves, I suggest using fake palm leaves because it's very diffeicult to find fake ti leaves but when using plastic leaves, palm leaves look the most similar).

So you take raffia and make a braid that is long enough to wrap around your hip. Then you take the individual leaf, lay it on top of the braid so that the braid in directly in the middle. ( so braid is this way - and the leaf is this way /)Then you take one strand of raffia and wrap it around once and continue this until the entire band is finish.

I hope it's clear enough. I'm so sorry that I can't be more descriptive...it's really hard to do on-line. If you need any further help, let me know and maybe I can try to be more descriptive.

Celena Kaleonahenahe

re: Tahitian hip band
By
cleoNY


On Fri Mar 17, 2006 09:56 AM

I love you, and thank you soooo much. Ill order some leaves right now, and then get back to you if I have any further questions. You are such a great help! Mahalo...
re: Tahitian hip band
By
No_Longer_on_DDN



On Tue Mar 21, 2006 03:28 AM

thanks...i'm glad i could be of some help = )

I'm so sorry though...i forgot to tell you...

FRESH ti leaves can last you a few weeks...sometimes even a whole month...if you take care of them correctly. after you finish your hip band...wrap them up in towels soaked in cold water and then put them in the fridge. after a few weeks...the ends will sorta brown or yellow. just though i should let you know so you know how far in advanced you can make the band for whatever event you're using it for.

hope it's coming along well!!! = )

re: Tahitian hip band
By
doomed_fairy



On Thu Apr 27, 2006 10:06 PM

We faked raffia hip bands for our performance (
www.youtube.com . . .
)
You know those "hula" costume sets you buy at the store? We bought those, chopped the skirts short, and added in the chopped-off raffia the same way the rest of the skirt was made, in-between the pre-existing knots (obviously, we aren't machines, though, so ours stuck out a lot and looked poofy). So they turned out really good!

Reply
Send
Watch
Draw