Forum:
Gym / Gym Photos - Members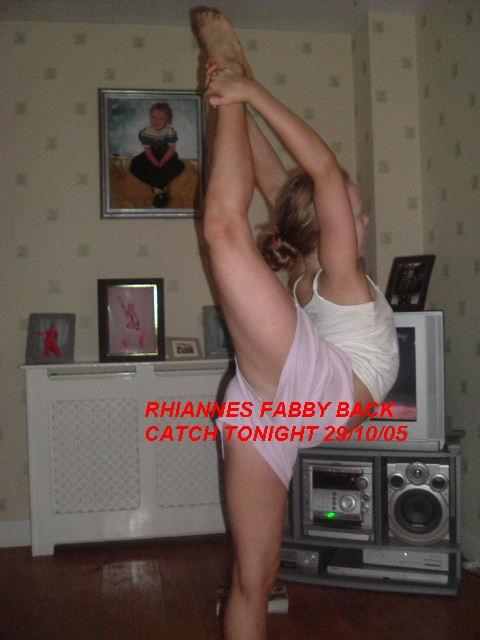 Rhiannes Backcatch
By
Boogiebabe




On Fri Mar 17, 2006 04:08 AM

Edited by Boogiebabe (63129) on 2006-03-17 04:09:29

Hi

We are new to this board, my daughter is 10
and has just started Rhythmic gymnastics
and thought we would share some pictures
with you all.

Rhianne also does disco dancing at championship
level.

This is a picture of her backcatch, looking for
advice on getting it straight.

Hope you like the picture

Luv lesley & Rhianne
xxx
xx
x
5 Replies to Rhiannes Backcatch

re: Rhiannes Backcatch
By
Jamie_Steptoes




On Fri Mar 17, 2006 04:17 AM

Heya Lesley and Rhianne,

WOW Rhianne your backcatch is AMAZING!
Its so close to being straight!Have you tried moving your hands a bit further down your leg.! You probably know me from the disco boards, my teacher always makes us get our hands as far down our legs as we can because its much easier to pull straight.

Hope ive helped even a little!!

Jamie

re: Rhiannes Backcatch
By
savoydancer



On Fri Mar 17, 2006 07:00 PM

Your backcatch looks great but please if you are going to take a picture like that please take from the side and please wear some leggings maybe. I see that you tried to coverup with the letters but it is still borderline not proper.


----savoydancer

re: Rhiannes Backcatch
By
BeckyMason



On Fri Apr 28, 2006 06:59 AM

wow
riannes back catch is amazing
love becky

x

re: Rhiannes Backcatch
By
tribedance


On Fri Apr 28, 2006 05:33 PM

Edited by tribedance (151268) on 2006-04-28 17:34:33

try to point your toe/foot a little more and work on getting your leg straighter...otherwise it is amazing!!!!! great work!
Reply
Send
Watch
Draw