Forum:
Highland / Highland - Hornpipe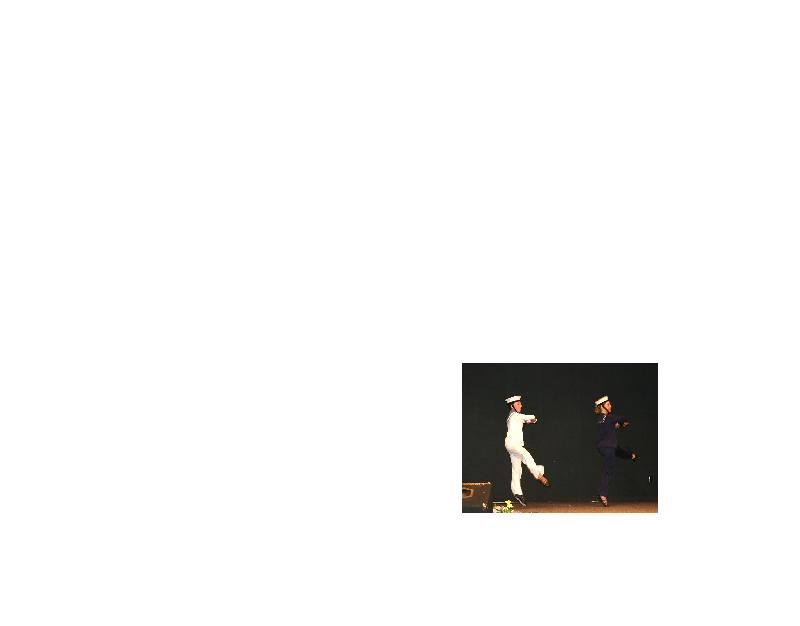 Hornpipe costume and photo (karma: 1)
By
TheHighlander


On Tue May 02, 2006 07:55 PM

My daughter and her teacher danced at the annual recital. My daughter is in white, the teacher in blue
I made the outfit in white because I was crazy.....no because as you can see, it is easier to see her while on the stage. When the kids dance the Hornpipe they usually (Winter games) dance it in-doors on a stage and as you can see the blue costumes are hard to see.

My thoughts for making the costume are.....

When you add the trim get a double shank needle with a wide width, as wide as your trim. To sew the whole thing in one pass.

Apply fabric glue to your trim to hold it down.

Make a small facing and tack it down inside.

Make an adjustable waist band for the pants to make it easier to get in and out of for quick costume changes.

Make sure that you measure for the arm length so that the end of the arm comes below the wrist to the where the thumb starts . They are not so picky on that point but it looks funny to see and arm when they are saluting , so leave bending room.

Good luck
The Highlander's MOM
5 Replies to Hornpipe costume and photo

re: Hornpipe costume and photo
By
highland503

On Tue May 02, 2006 08:05 PM

Karma to you. Those instructions don't come with the pattern, and I only have so much patience for sewing

re: Hornpipe costume and photo
By
macthistle

On Tue May 02, 2006 10:55 PM

AWESOME TIPS!!! Another is to add a small piece of thin round elastic to the inside of the cuff seam,the dancer can use this as a finger loop(ie like wedding gown) so the dancers sleeve stays down.This works if you have a dancer who hates rising sleeves!

re: Hornpipe costume and photo
By
wordsupply


On Fri May 05, 2006 10:46 AM

OK Now you've done it...My daughter was pretty sure she wanted a navy blue hornpipe outfit because of the cleaning factor until we discussed your thought that the white stands out better than the navy. Now she's undecided, and I need a decision because she'll probably be ready for it in October.

I asked the girls in the older class that meets after she has a private and they all got used costumes, so they didn't have a choice or a preference.
hornpipe tips ...
By
KSMom


On Fri May 05, 2006 05:35 PM

Let's see, I already do the small facing on the inside.

I put in an invisible zipper into a center front seam - makes getting in and out of quite a bit easier!

I use buttons - one on each side - to fasten the dickey.
For the bow - I tie the ribbon in advance and tack it in the tied position. I sew small snaps on the end of the ribbon tie, and have them snap at the shoulder seams.

I like the tip about a wide double-needle - if I can find such a needle, i'll do that!

Hornpipe costume and photo
(karma: 1)
By
TheHighlander


On Sat May 06, 2006 02:30 PM

Reply
Send
Watch
Draw