| | |
| --- | --- |
| | |
Forum:
Arts / Body Art

Body Art

white tattoos


By flingafe



Comments: 548, member since Mon Jan 05, 2004

On Tue May 30, 2006 03:30 PM


i love the idea of a white tattoo but had no real idea what they look like

so i searched for some pic of them but could only find these ...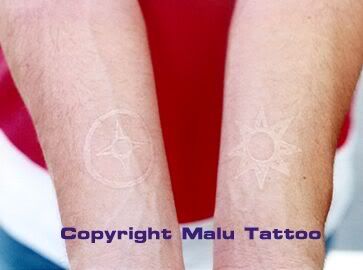 these are sooooooooooo beautiful!!!!!!
feel free to add some more
hugs
21 Replies to white tattoos

re: white tattoos


By Aya




Comments: 3884, member since Mon Jun 16, 2003

On Tue May 30, 2006 06:15 PM


Edited by Aya (67212) on 2006-05-30 18:30:11
Edited by Aya (67212) on 2006-05-30 18:31:01 added a picture, made it work!


My tattoo is all white. Let me tell you, those are quite unusual for white tattoos, because they're large and filled. The Yoda one is poorly done, or is mid-healing, or is just a bad photo; it should not be so yellow-toned (makes me think there's still puss in the tattoo itself). Simple linework will be almost invisible when healed. I cannot see my tattoo at all unless I bring my foot up to my face, and since that's what I was going for I'm pleased with it.

I have never met another person with a tattoo that uses white, let alone one who has all white. It's not a common ink colour.

ETA: The one on the left is from shortly after I had the tattoo done in January. The one on the right I just now took. Same camera, same everything. The picture is clickable for full size.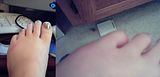 re: white tattoos


By Amber82



Comments: 773, member since Wed Mar 24, 2004

On Wed May 31, 2006 03:22 AM


I wanted a large all white tattoo on my back between my shoulder blades, but i was told by my artist that they could not do one as white ink does not take well and the body kinds of rejects it ( dont really know how to explain it!

) And in the future it would look like scar tissue???
Anyone know if there is any truth in any of this as i still would really like one!
xx

re: white tattoos


By Iridescence




Comments: 1686, member since Thu May 20, 2004

On Wed May 31, 2006 03:33 AM


I always thought that the white would be as bold as any other coloured ink... because I was going to get a white frangipani on my nape. Maybe yellow instead, if white can't be that bold?

re: white tattoos


By Aya




Comments: 3884, member since Mon Jun 16, 2003

On Wed May 31, 2006 08:39 AM


White really isn't bold. It's a good choice if you'd like to flirt of the line of "Do you have something on your [insert body place]...a scar...wait, is that a tattoo?!" but not if you're looking to make a statement or have something others can see. It's been great for me, because I got my tattoo for myself and didn't want to have people comment on it, but I know I'm in a tiny, tiny minority. Tattoos, remember, go into the part of your skin that continually regenerates; they have many layers of skin above them that they have to show through. The darker the ink, the more clearly they will show through. Lighter inks--some pale pastels and white especially--can end up matching the tone of the skin and therefore not really showing up at all (see my picture if you don't believe me--while I can see it in person, the difference in shade between the ink and my natural skin is so minute that it does not photograph).

Amber, your artist was lying on a general level. White ink does not reject any more often than any other colour (it's always a possibility), and since it often looks like scarification anyway that's really no worry. However, they might not do white because their brand of ink is quick to reject, or they just don't like doing it. White ink is more difficult than many other colours because as the artist works and you bleed, it completely obscures the design he's already done.

re: white tattoos


By TwinPeakes



Comments: 2410, member since Mon Dec 05, 2005

On Thu Jun 01, 2006 03:23 AM


They're gorgeous. And great if you don't want something that's going to be really noticeable either. I think they're great. I actually had never even thought about getting a tattoo done in white. Thanks for reminding me

Now all i gotta do is convince the parents...

re: white tattoos


By dance4lani




Comments: 6238, member since Fri May 02, 2003

On Thu Jun 01, 2006 10:15 PM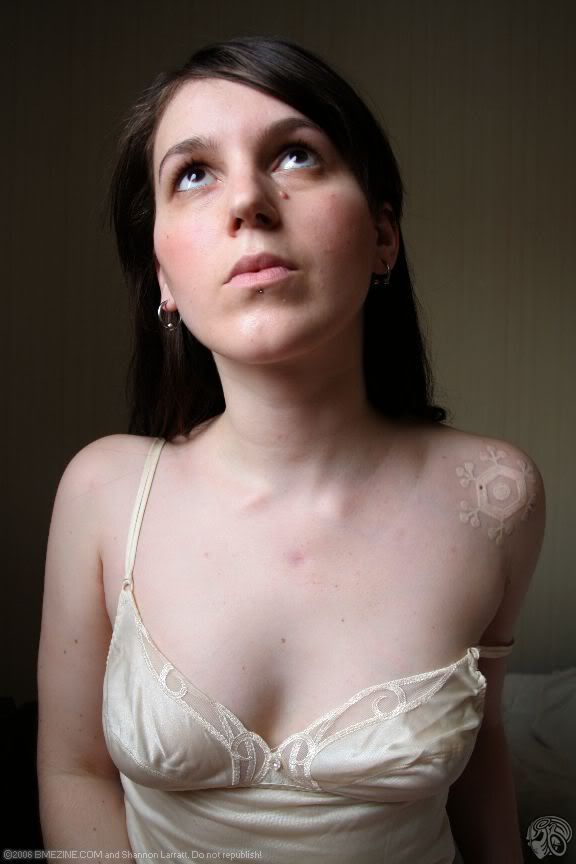 I love white tattoos. I think they look very elegant and pretty. (most of the time)
I love this photo (from BME)
Lani

re: white tattoos


By Pongo




Comments: 6747, member since Sun Oct 19, 2003

On Sat Jun 03, 2006 08:52 AM


do they show up more if you have darker skin?

re: white tattoos


By Aya




Comments: 3884, member since Mon Jun 16, 2003

On Sat Jun 03, 2006 10:16 AM


No. The paler you are the better they show up. Like I said before, ink has to show through many layers of your skin. Skin that has less melanin (the pigment that makes your skin brown--a lot of melanin means darker skin, less melanin means paler skin) means there is less interference in seeking the ink through the skin. Skin with more melanin has more interference and thus less ink shows through. This isn't a problem for bright colours or dark shades, because they have more vibrancy and thus show up well on most anyone (some of the prettiest tattoos I've seen have been on very dark skinned people with blue-black ink; the tone-on-tone look is so gorgeous!). White ink gets sort of...cancelled out by the pigment naturally in the skin if there's much of it at all. Because I'm wearing sandals a lot, it's more difficult to see my tattoo than a month ago (when it was fully healed, but I was still mostly wearing shoes). I've gotten a slight tan on my feet, and that kind of covers up the white.

re: white tattoos


By Heidi2



Comments: 1689, member since Mon Jul 16, 2001

On Tue Jun 06, 2006 03:49 PM


Theyre so unusual, I love them!!!

re: white tattoos


By panther1999

Comments: 57, member since Sun Nov 09, 2003

On Fri Jun 09, 2006 06:03 PM


Those are awesome! That is something I never thought of before. I love tats that don't have black outlines (although all of mine do-go figure!!) The girl in the big pic is so pretty-her ink complements her well. Two of my tattoos have white and it is quite vibrant whether I'm tan or not, but then again I totally slather my tats with sunblock before they are exposed (there's a pale outline around all of them!). I really think my yellow stands out the most, but it doesn't look that great when I'm not tan!
re: white tattoos


By duct_tape_dancer



Comments: 2559, member since Wed Jul 31, 2002

On Tue Jun 13, 2006 08:31 AM


I love the idea of a white tattoo. I think they look beautiful on the right skin tone, like the girl in the picture dance4lani posted. I have a similar skin tone to her so I think it will show up well but not be overally obvious. I want to get a crescent moon and star tattoo (not because of its significance in Islam, but because it represents a tradition at my school where you become part of the sisterhood of all the graduates before you and all the graduates to come) but I also want a professional career as a ballet dancer. White would be very easy to conceal wouldn't it?

re: white tattoos


By DarkIvy



Comments: 6601, member since Mon Feb 04, 2002

On Wed Jun 14, 2006 09:49 PM


Wow, I really like the snowflake tat. Definitely not something I've seen before!

re: white tattoos


By HighlandHottie05



Comments: 3003, member since Sat Jan 22, 2005

On Thu Jun 22, 2006 09:59 PM


I LOVE THE LOOK OF WHITE TATTOOS!!

They kind of look like lace
I have really olive/tanned sking, and i plan on getting a celtic knot on my right hip thats white and lacy.. It should look good!

re: white tattoos


By Aya




Comments: 3884, member since Mon Jun 16, 2003

On Fri Jun 23, 2006 05:06 AM


Good luck. I've never seen a white tattoo turn out on anything except pale skin. The melanin in the skin seems to override the tattoo ink and you can't see antyhing.

re: white tattoos


By TwinPeakes



Comments: 2410, member since Mon Dec 05, 2005

On Wed Aug 02, 2006 02:06 AM


I found some more designs...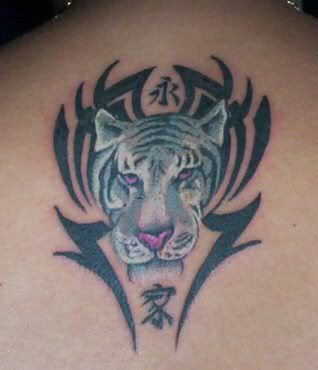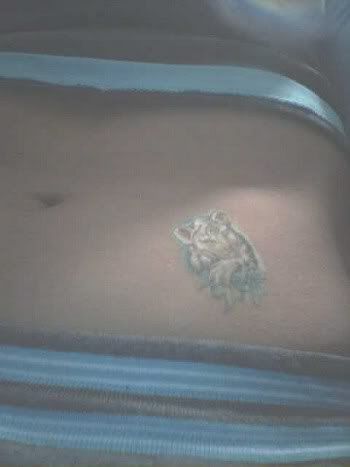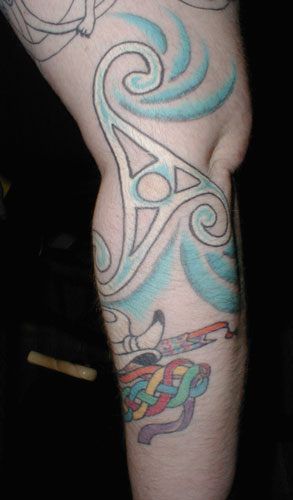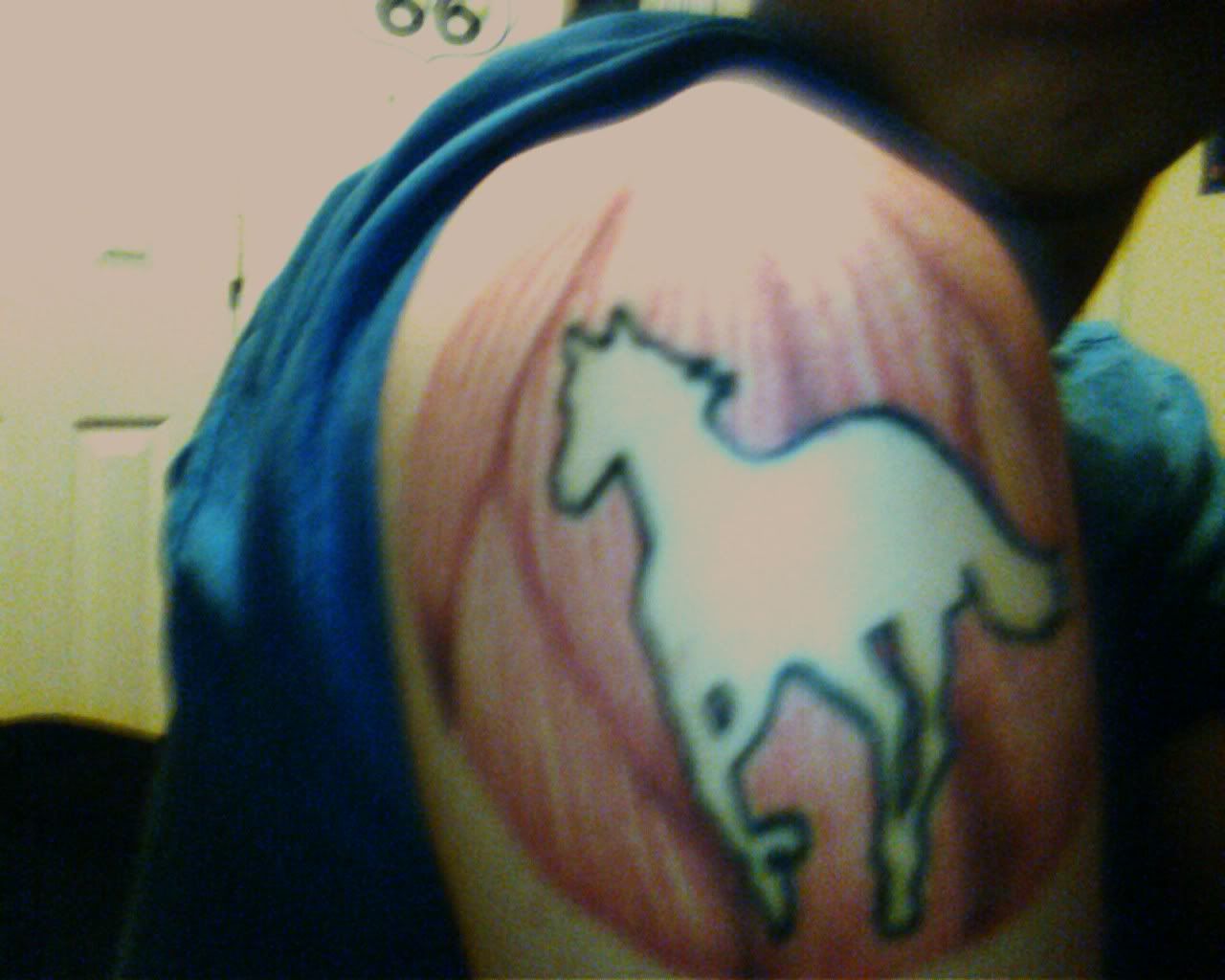 re: white tattoos


By Aya




Comments: 3884, member since Mon Jun 16, 2003

On Wed Aug 02, 2006 03:36 AM


Just obligatorily pointing out that they all have other colours in the tattoos, as well. Having an outline in another colour really seems to improve your chances of the white showing up.
re: white tattoos (karma: 1)
By VTAA

Comments: 62, member since Mon Jul 10, 2006

On Tue Sep 26, 2006 07:47 AM


Some tattooists will lie about white tattoos, as they are hard to do and some people just can't confess their lack of skill.

As well, a white tattoo yellowing doesn't neccessarily mean something was done wrong on the part of the artist. Many, many, many white tattoos yellow. Even on the portraits on my arm, there are some white highlights that have yellowed slightly, while other are bright white.

As well, the bmezine.com photos in this thread are copyrighted and if the site's owners do see them here, they will ask them to be removed. Please do not post them, instead perhaps link to the site.
re: white tattoos


By xxTxx



Comments: 243, member since Sun Mar 06, 2005

On Tue Sep 26, 2006 09:06 AM


heya im dark skinned wel actually mixed race black, and white:D, i have white on my tattoo which is posted on this board if you can find it, its on my foot. its now gone a peachy colour. im thinking about having it refilled but it wil just end up the same so i may have a purple colour put in its place. i wish i could have a all white tattoo they look beautiful on pale people! xx

re: white tattoos


By HollieErin


Comments: 3422, member since Tue Feb 19, 2002

On Tue Sep 26, 2006 04:03 PM


A girl that I work with has a nautical star that is white as well as a dark felsh-tones coloured. She got it done shortly before she came with me to get my tattoo. The white ink became very badly infected and scarred quite a bit. The tattoo artist that was working on me said that the white ink was over-worked. He also said that it is a commmon mistake for artists to make.

re: white tattoos


By Oranges




Comments: 4291, member since Wed Jun 23, 2004

On Tue Sep 26, 2006 06:25 PM


I like the idea and the look, but I would worry about the color changing or the artist over-working the ink in. I had looked into this for my next tattoo, but I dont want the chances of it changing colors on me. lol

re: white tattoos


By Aya




Comments: 3884, member since Mon Jun 16, 2003

On Wed Sep 27, 2006 10:24 PM


It's been about 7 months after mine was done, and it's definitely not white anymore. My skin tends towards yellow undertones, and the tattoo (when I can see it, ha!) looks more ivory/yellowish than white. I still love it, but most people would probably be disappointed. And yet, I'm considering more of the same. Clearly I'm mad.
Reply
Send
Watch