Forum:
Folk / African Dance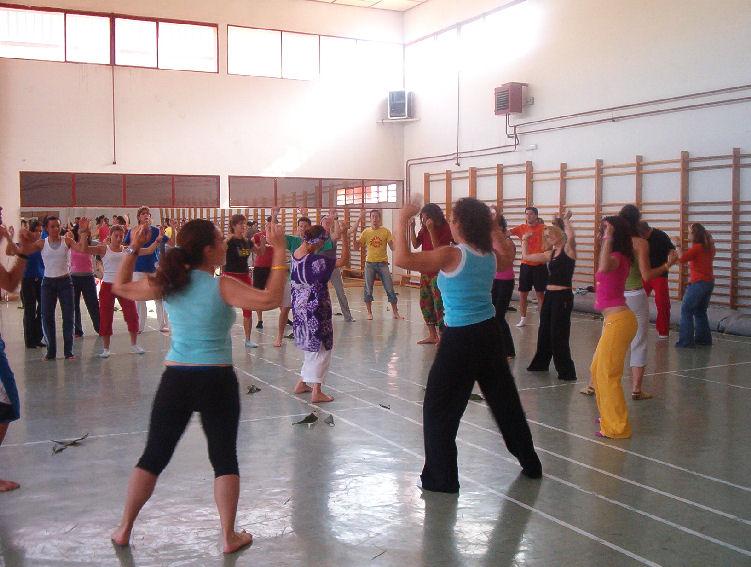 African dance course 2005
By
bailarina12

On Thu Jun 15, 2006 06:29 AM

HELLO EVERYONE,
that´s a picture of a dance course i assisted last year, one of the classes they offered was african dance, and as you can see there are fig tree leaves on the floor, the teacher is the one that is in the middle of the group in purple. We used the leaves for warning up, it was really funny, she invented a dance with the leaves for warning up, i love that woman because she is really positive, and it´s not only dance what she teaches, she gave us cultures and values in few hours.
it was the second course i did with her, and in the first one, she was also so original. Meanwhile we were dancing she left some pieces of paper on the floor, she said the when we felt it we had to grab one and read it. In those pieces of paper she wanted to show the sad face of Africa, cause they were news form the continent, and she explained that we didn´t have to forget what is happening there, so we had to learn the good, that was the dance, and the pain they are suffering in some parts of there. She is great, i could tell more but it woul be a too long post. i hope you like the picture
1 Replies to African dance course 2005
re: African dance course 2005
By
selormculture

On Thu Jun 15, 2006 12:43 PM

That picture looks great. And I'm touched by the message of the teacher concerning Africa. The great continent with potentials but plagued with all the negative things that make life not easy at all.

We hope, that gradually and one day things will change for the better in Africa.

I wish you all the best.
Reply
Send
Watch
Draw