Forum:
General / Jazz / Jazz Photos - Members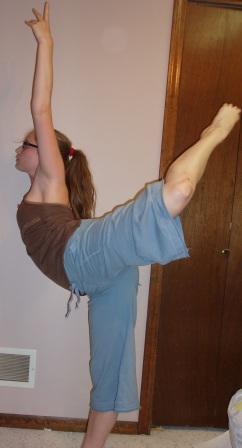 "Before" pictures
By
danceandrockduh



On Wed Jul 05, 2006 08:46 PM

So just like everyone and their grandmother, I've decided to working on improving myself over my break from dance. I've decided to focus on strength since I'm more likely to work on flexibility than strength while i'm in session at the studio.
So here we go...
Before pictures:
Right tilt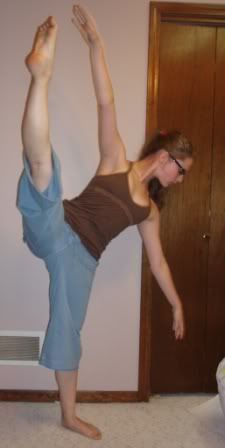 Left tilt
Right developpe in second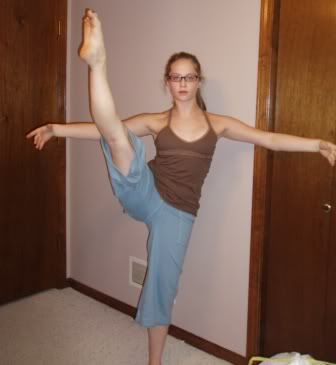 Left developpe in second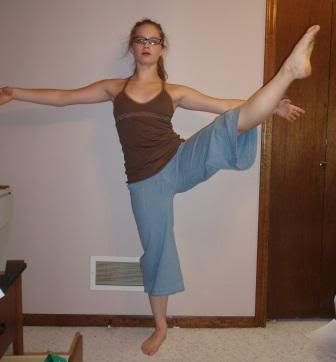 Right developpe devant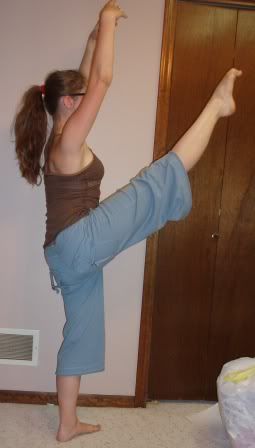 Left developpe devant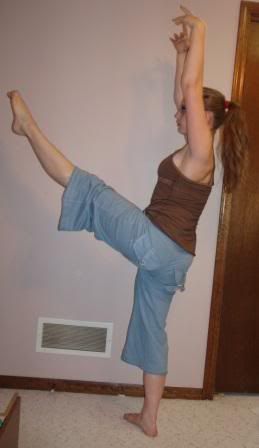 P.S. Critiques are VERY welcome! ...I don't just want them higher, i want better technique with that!
P.S.S. Please ignore my crazy hand in the main picture I'm not sure what it was doing! ...I kinda just took that picture for fun... hehe
Thanks.
~kits
10 Replies to "Before" pictures

re: "Before" pictures
By
Terpsi


On Wed Jul 05, 2006 09:34 PM

You have very great height. I can see why you don't need to work on height, just technique. Make sure you really point your toes. Don't just point the toes, but point through your whole foot. It kinda looks like your sickiling right now. Also in the main photo, your attitude is fantastic, but your letting your back fall. Even if your foot is not as high, the back up straight and tall looks so much better.

re: "Before" pictures
By
lovindancin887

On Wed Jul 05, 2006 09:50 PM

honey make sure that you straighten that bottom leg!!!! your extensions are beautiful and i love your attitude!!! you are gorgeous, just remember that straight legs are happy legs!!!


re: "Before" pictures
By
danceandrockduh



On Thu Jul 06, 2006 05:08 PM

Ahhh poop I really shouldn't've worn those pants! You can't tell which pictures i'm actually not straightening my knees and when its just the pants. ...but I'll definatly think about it!

Thanks
~kits

re: "Before" pictures
By
FeelTheArts




On Thu Jul 06, 2006 05:10 PM

Hey,

nice flexibility!
The only thing i noticed is to becareful not to curl your toes.
I only noticed it because my ballet teacher spent hours with me to fix that! think of pushing your heel into your calf instead of pointing the top of your foot.
Also, if you work in barefeet (even in ballet) you notice it easier and are able to correct it. Atleast thats what my teacher had me do!
Awesome work though!
re: "Before" pictures
By
Kim_12dance
On Thu Jul 06, 2006 08:31 PM

have you ever done oversplits?? They are killer but they increase your flexibility alot. Just get a couple pillows and stack them on top of eachother, put one leg on them and do the splits. Also try the concept of oppositional pull: Push as hard as you can into the floor while reaching to the ceiling with your neck and pointing to the ceiling with your toe! Just stretch everything in the direction it is headed if that makes sense! Well thats my best tips! Let me know if they help!!
Kim H. from AZ

re: "Before" pictures
By
Ariel




On Thu Jul 06, 2006 08:35 PM

Wow those are awesome pictures,im so glad that you(over your brake from dance)decided to practice even more,now thats a true dancer

-
Pretty_Pointe33
re: "Before" pictures
By
chaine_boi



On Thu Jul 06, 2006 10:43 PM

Well, you look like you are a well trained dancer, but there are some things.

First, it's awesome that you are commited enough to work on dance over summer break (hopefully you will relax and enjoy the vacation too).

Second, yes your toes have been addressed several times. But yes, you need to not scrunch your toes and make sure that you: pointe ankles then toes and; don't sickle.

Third, your back attitude is nice but you probably do want to make sure you life your back more (even if it means a lower attitude) as the other poster said.

Fourth, make sure to turn out your supporting foot on your devellope a la seconde, and bring the working leg out to the side. That way, you know you are really in second. And you can also do a straddle with a sidebend on the floor if that helps with hip flexibility, but you look like you probably have enough.

Fifth, I never usually do tilts facing the front, but rather from the side. I guess I should try that. Yours looks pretty good actually, for it being facing the front. Keep it up!

Sixth, it's amazing that you are working on both sides and haven't fallen into the trap of being a one-sided dancer! That really shows that you care and don't dance just to show off. Good work.

Anyways, have a nice summer!
re: "Before" pictures
By
Hollie16
On Fri Jul 07, 2006 12:13 PM

You are really good. I can some of that as good as you can.

hollie
re: "Before" pictures
By
wildcatqt2889

On Fri Jul 07, 2006 04:54 PM

everything looks really nice, just make sure u are pointing through the ankle. i had that problem all through last year, but at camp they really helped me, make surefeel it in ur ankle
Reply
Send
Watch
Draw