Forum:
General / Hip Hop / Hip Hop Photos - Members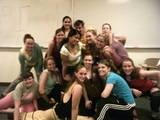 Hip Hop Photos - Members

City streets


By KrissiSue03


Comments: 97, member since Tue Aug 16, 2005

On Mon Oct 09, 2006 10:09 AM


This is from the spring performance of 2006. the whole piece was called City Streets, but there were 5 songs all together that we did (one right after another nonstop).

1. mix that i made (I choreographed it with my friend Alisa)
2. pump it (my friends Jess and Renee choreographed)
3. mix of "he lives in you" and missy elliott (lisa, amira, robert, and athena choreographed- it was like a battle between modern dance and hip hop)
4. Shake (friends Sarah and Maddie choreographed)
5. Toxic (besties Sarah (different sarah then above) and Tara choreographed)

the whole thing was like 9 min.
4 Replies to City streets

re: City streets


By tribedance


Comments: 679, member since Thu Feb 09, 2006

On Thu Oct 12, 2006 11:45 AM


sounds like you guys had tons of fun!! do you have any pictures?

re: City streets


By Dancingdevil1


Comments: 217, member since Wed Oct 11, 2006

On Fri Oct 13, 2006 11:08 AM


Wow it must have been hard work but i bet it was really fun too!!!! Good luck in the future.
re: City streets


By CaliforniaVhhd05 Comments: 20, member since Mon Oct 16, 2006

On Mon Oct 16, 2006 01:30 PM


Thats coo. Some of the costumes look aight. Good job thow keep up the good work.
Re:


By MLBmanager Comments: 14, member since Sat Oct 14, 2006

On Fri Nov 03, 2006 11:19 AM


Do you have it on tape? I would LOVE to see it!

I am looking for choreographers if you're interested but I'll need to see some work first,

Reply
Send
Watch
Draw