Forum:
Advice / Stretching Photos - Members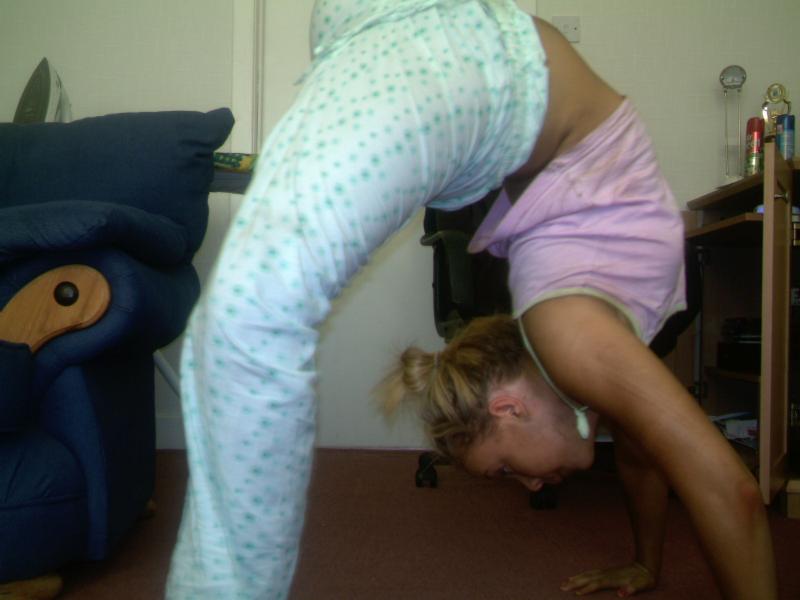 !***!My Back Bend!***!
By
Dance_baby_2005



On Tue Sep 11, 2007 03:27 AM

Edited by Dance_baby_2005 (119466) on 2007-09-11 04:58:33 Spelling ..x

Hi
This is my back bend today

I'm so happy because i never thought i would be able
to do this as i hurt my back at the start of this year
and though i would have to stop bending it all together.
What other sorts of stretches can i do to help my back ??
Much love
Rebekah

4 Replies to !***!My Back Bend!***!

re: !***!My Back Bend!***!
By
PerfectAttitude




On Tue Sep 11, 2007 03:33 PM

Hey,

wow your backbend is great! To improve it some good stretches are basically just things like birdges and bridges on your knees. Also yu can do the upward facing dog ( its a yoga position ) and arch your back to try and get your head on your thigh. If you dont know what i am talking about when i say this
stretch you can PM me and i will send you a photo of the stretch done properly.

xx
Nicole

re: !***!My Back Bend!***!
By
hamfist



On Tue Sep 11, 2007 03:36 PM

You have a very flexy back and I have no doubt that your flexibility could be improved by exercises.

When doing back exercises have a trainer/teacher give exercises that will be right for you.

Ian (Trainer of contortionists)
re: !***!My Back Bend!***!
By
MisterMister




On Fri Sep 14, 2007 01:06 AM

You have a great back-flexibility!

MisterMister
Reply
Send
Watch
Draw