Forum:
Gym / Gym Photos - Members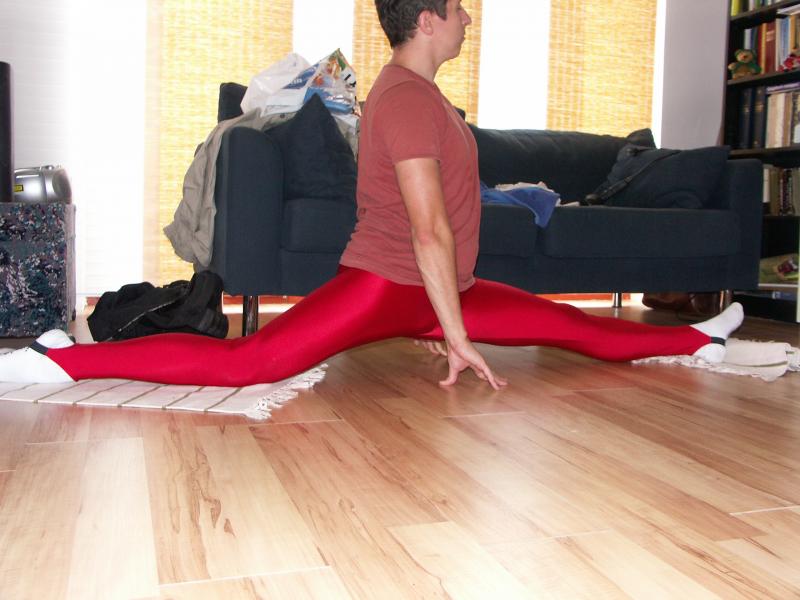 Splits training
By
balettos


On Sat Nov 17, 2007 09:50 AM

Please give me some advice to improve my splits.

Thank you: Balettos
7 Replies to Splits training

re: Splits training
By
dancer_meggs

On Sat Nov 17, 2007 06:55 PM

honestly they look pretty good, try to do heel hold (cheer leader thing) you sand you (or you can sit) and you grab your heel and stretch it until it's as clase to your face as possible. oh and definetly do what iI like to call fold overs. It's just where you sit down put your legs together point them and touch your toes, if you can fold over you should. Oh and you might want to move your post to the stretching board under advice under dancers.


re: Splits training
By
danzfanatik


On Mon Nov 19, 2007 11:22 AM

put something under your front foot to raise it just a small bit. Gradually over time add more height. Also, when you sit in your splits, sit up straight for 30 seconds, lean over for 30 seconds and sit up with your head looking up at the ceiling for 30 seconds. But looking good so far!
re: Splits training
By
baljazrez
On Wed Nov 21, 2007 02:37 PM

Keep it up....Stretch twice a day..
re: Splits training
By
Dream_chaser



On Fri Nov 23, 2007 07:31 AM

When you are warmed up very well, hold your split for 3 minutes, no less. Do that in each position daily and you will be amazed!

The first minute it's tight, the second it burns, the third you will see the muscles and tendons relaxing.

They look darn good.
re: Splits training
By
indigo_dancer


On Thu Jan 17, 2008 11:17 PM

You have to do some exercises to open your hips as well. As the hips become more loose it will be easier for you to get into the splits. Easy stretches like lunges and sitting in butterflies will help. For leg stretches toe touching is also great as well and also grab and reach your toes when you are sitting down while counting a slow 5 can help. After you have warmed up it will be the time to do your splits.

re: Splits training
By
Laura__x


On Sat Feb 02, 2008 10:00 AM

When I was working on getting my splits I think I did something similar to what JLL has described and that seemed to work. I tensed my muscles in my legs, but not tensing them so that I come up higher (you'll know what I mean when you try it, some people find that when they tense it makes them want to go up higher but you souldnt do that) then hold that for about 30 seconds ish and then relax. You should go down slightly further, repeat this a couple of times and regularly. Regular, sensible stretching is the way to get your splits

hope ive helped, Happy stretching!
Love Laura__x
Reply
Send
Watch
Draw