Forum:
General / dance.net sightings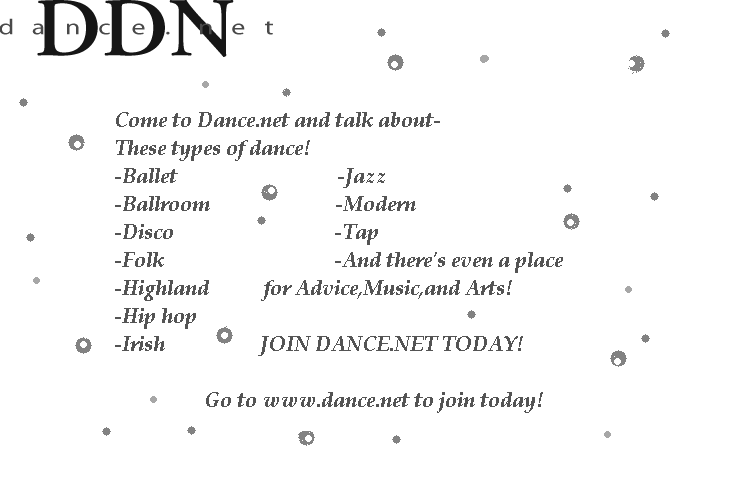 dance.net sightings

My flyer!


By Becca


Comments: 1120, member since Wed Feb 07, 2007

On Wed Dec 12, 2007 03:04 PM


Hey there,

My flyer won't let me do colors, so I hope this is ok!

(ps.s I still have to post on other places, so I'll post the rest later!)

#1.go here to see it!

forums.dancemedia.com . . .
5 Replies to My flyer!

re: My flyer!


By Becca


Comments: 1120, member since Wed Feb 07, 2007

On Wed Dec 12, 2007 03:21 PM


re: My flyer!


By Becca


Comments: 1120, member since Wed Feb 07, 2007

On Wed Dec 12, 2007 03:43 PM


re: My flyer!


By Becca


Comments: 1120, member since Wed Feb 07, 2007

On Wed Dec 12, 2007 03:49 PM


Hiya,

If you could review this and tell me if it works for a premium membership,I would be much obliged!

Thanks in advance!

Becca ♥

re: My flyer!


By danzadancer2285


Comments: 1030, member since Wed Jul 11, 2007

On Wed Dec 12, 2007 04:56 PM


First off, I think the contest ended in November or December so I don't think this will get you a premimum membership... Sorry!

Secondly, you want to try not to reply to your own post. It is called star farming and it is highly frowned upon on DDN. I know you are curious but just be a little bit more patient.

I'm sorry you took all that time out of your schedule to make this flyer only to find out it might not be qualified to get you a premimum membership.

DanzaDancer2285

re: My flyer!


By Becca


Comments: 1120, member since Wed Feb 07, 2007

On Thu Dec 13, 2007 10:27 AM


Edited by reelirishgirl23 (173504) on 2007-12-13 10:28:34 :)


Oh sorry! I didn't realize that it had already ended! (I didn't have anything else to do, so I didn't use up any of my valuable time!!)

Reply
Send
Watch
Draw