Forum:
Arts / Image Editing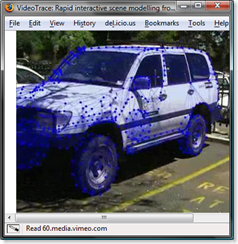 Create 3D Models from Video
By
panic




On Tue Feb 12, 2008 04:08 AM

If you do any 3D modeling or video editing, check this out. I so want it. Of course, it'll probably cost like $100,000 but I can dream, can't I?
Anyway, this program lets you build 3D models directly from existing video. If that doesn't make sense to you, just watch the clip. Super cool.
www.vimeo.com . . .
Reply
Send
Watch
Draw