Forum:
Arts / Crafts & Hobbies

My jean purse :)


By BeautifulMistake



On Mon Jul 07, 2008 10:58 PM

Edited by BeautifulMistake (174058) on 2008-07-07 23:01:45 Didn't show picture.

I just made it today and JUST finished. It's plain and I was trying to think of stuff to add, but whenever I got an idea I figured I was just too lazy to do it. lol I already did enough sewing today (made a shirt and 95% done a dress)
If anybody has any ideas of anything I can add, let me know. Maybe someday when I'm not so lazy I'll do it. lol
I still need a closure for it though. A button or zipper or something. o_O
Ignore the messy sewing table. lol I need to clean it again...
Hmm...viewing it won't show the picture, but I zoomed in and it showed...
And just in case...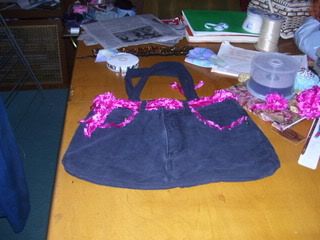 3 Replies to My jean purse :)

re: My jean purse :)
By
Talieps



On Wed Jul 09, 2008 11:05 AM

nice!! i should have done mine that way too, with the straps i mean.
i dont really like the pink stuff on it

maybe add buttons or sequins?

re: My jean purse :)
By
BeautifulMistake



On Fri Jul 11, 2008 01:48 PM

I don't really like sequins and I don't have any buttons that would look good. And the closest place around that MIGHT have any crafty stuff for me to use is an half hour drive.
Reply
Send
Watch