Feature:
Ballet / Pointe - General

Get the Pointe – The DDN Ballet Interview, Issue #32 (karma: 1)
By smileywoman




On Wed Apr 29, 2009 07:08 PM

Edited by smileywoman (141214) on 2009-04-29 19:12:10 ..
Edited by smileywoman (141214) on 2009-04-29 19:13:41 ...
Edited by smileywoman (141214) on 2009-04-29 19:49:27 hypo-extended not hyper-extended
Edited by webheadmaster (251) on 2009-04-29 20:09:11 Make feature

Meet ballet_babe_1 a dance student who has been dancing since she was 5 years old. Ballet is her main focus, but she also loves modern and lyrical.
DDN Name:
ballet_babe_1
Real Name:
Marcie
Member Since:
June 18, 2008
Age:
14 (15 on May 12)
Years Dancing:
10
Hi Marcie! Welcome toGet the Pointe - DDN Ballet Interview #32.
The Basics
I understand that you study more than one style of dance. What are the styles of dance that you study?
This year I'm only doing ballet and pointe, but I usually also do jazz, tap, lyrical, and modern. (I had to cut back this year due this being my first year of high school, and taking almost all honors classes).
Why study more than one style of dance?
I think studying more than one style is important because it makes for a well rounded dancer, and it could definitely come in handy in an opportunity in the dance world. I also think that studying styles other than ballet can sometimes help you to become more expressive with ballet, because we often become so concerned with technique that expression can be hard.
What do you like about each style of dance that you study?
Ballet is definitely my favorite because I love how soft and graceful it is, and it just comes naturally to me. I like lyrical because it's kind of similar to ballet in some ways, but in others it's looser and I love how it's so emotional and expressive. I like modern because you can really just let go, and there isn't a certain way the steps have to look, it's more about the way they feel. It's cool because you can even invent so many steps in modern. I like jazz because it's fun and upbeat. Tap has never been my favorite, but I think it's awesome how you can make beats/rhythms with your feet!
Do you prefer classical ballet or modern choreography?
I really like both a lot, but I like classical more. I like classical because many of the variations are a so much fun! Also, classical is so elegant and really beautiful to me. What I like about modern is the ability to experiment with many new and different things.
If someone asked you, "Why Dance?" what would your answer be?
Dance is something I need to do, it's something I love! I can't even imagine my life without dance. It's just something I really enjoy, and it's nice to be able to go to class after a hard day and just forget about it all, and just dance! Some people love basketball, soccer, gymnastics, etc., but for me, its dance.
Memories
How old were you when you began dance (was ballet your first dance style)?
I was five when I started dancing, and yes, ballet was my first style (and itÂ's still my favorite today!).
Did your parents make you start dancing?
My parents didn't "make" me start dancing, but my mom did sign me up for classes once I decided I didn't like gymnastics.
Was your mom a dancer?
My mom wasn't a dancer, nor was anyone else in my family.
Did your mom push you to go further and do better with dance?
My mom has always left it up to me, about how much I want to do with dance. Although she doesnÂ't push me, she does encourage me a lot, and she is very supportive of my dancing.
Do you have a favorite ballet-related memory that you can share with us?
My favorite ballet-related memory would probably have to be when I got my first pair of pointe shoes. I was SO excited to go to my first fitting, but it was POURING rain outside and storming so badly! I thanked my mom
so much
for driving 40 minutes through the weather to take me to my first pointe shoe fittingÂ…she just knew how excited I was! I also remember being surprised at how weird it felt to stand en pointe for the first time, and surprised that it kind of hurt, but I didn't care!
Is there an embarrassing ballet-related moment that you'd like to share?
Once at a competition, I decided to enter for the chance to become "Miss Junior Dancer." I performed my solo, (which was a variation from
Paquita
) and everything went well. Then, everyone who entered the competition had to stand on stage to be asked an "interview" question. When it was my turn,
I thought
the judge asked me, "What do you do when you're dancing?" I was kind of surprised by the question, and not quite sure what she meant, so I said, "Well, I just really try to do my best and have fun." Then she said, "Ok, I'll repeat the question once more. What do you do when you're
not
dancing?" [Turns out I'd mis-heard her]! I was so embarrassed!
Class and Training
Describe a typical day in your life.
I wake up at 6 oÂ'clock a.m., and get ready for school. Then school starts at 7:35 a.m., and I'm there all day until 2:20 p.m. After school, I go home and get ready for ballet class (trying to squeeze in any homework that I can before I have to leave for ballet). Then I go to dance class which is generally about two hours. After class, I go home and do the rest of my homework, take a shower, and go to bed.
How much time do you dance during the week? (ballet and other dance forms)
This year I only dance about 9 hours a week (give or take a few). I had to cut back on my dancing some this year, because it's my first year of high school, and I'm taking all honors classes. Although I definitely want to take more dance classes next year! My dance classes this year include ballet (both
Cecchetti
syllabus and non-syllabus), pointe, leaps and turns, stretch, and floor barre.
I understand that most of your ballet training has been Vaganova, and that you recently started studying the Cecchetti method. Would you please describe the differences that you find between the two methods?
From what I've found so far, it seems that
Vaganova
is more expressive with the head and arms, and the arms in
Vaganova
are more flowy and graceful.
Cecchetti
seems to be a bit more structured. I've also found some positions to be different, as well as more inclining to the head in
Cecchetti
. In
Cecchetti
there is also a
demi-seconde
position, in which the lower arm is usually in (i.e.
croise devant
). Some steps also have slightly different names, and some arm positions are different. For example,
ecarte
is a little different. There are also many other small differences.
What do you like about each method and why?
I like that in the
Vaganova
method, I can let go a little more and be a little more expressive with my head and arms. I also like the variety in the different combinations that we do each week. ItÂ's nice to mix it up a bit. What I like with the
Cecchetti
method is that each week that I go to my
Cecchetti
syllabus class, we always have the same combinations. This means I can really focus more on my technique and less about remembering the combinations.
How do you prepare for class? (i.e. stretching, conditioning, mental techniques, etc.)
I generally get to class 10-15 minutes early and I start stretching gently in the hallway. Then, I go into the studio and warm up a bit before I stretch a bit deeper.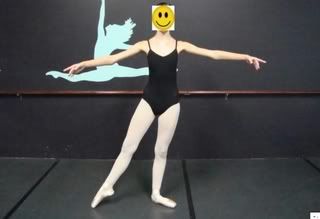 What part of ballet class is your favorite (barre or center work)?
My favorite part of class would probably have to be combinations across the floor (center work). Usually they include large jumps and waltzes, which are my favorite. I like jumps because jumps come more naturally to me, and large jumps are really fun for me to do! They almost create a feeling similar to flying!

Waltzes are great too because they are so graceful, and they flow together so nicely. I LOVE the expressive arms that we usually use with waltzes.
What part of ballet class is the most difficult for you?
Adage
is definitely the part of class that is the most difficult for me. My extensions are pretty weak, and I don't have much flexibility, so I have to work a lot harder on them.
What does it mean to you to get corrections in class? What are the most common corrections you get in class?
I think that corrections mean that my teacher cares about me and my improvement. She sees the potential in me and gives me corrections that I will try and fix whatever I need to. When I go a class without corrections, it makes me kind of disappointed, and I feel that maybe I didn't work hard enough to get noticed. My new teacher this year has been really on me about getting my weight more forward, which is proving really hard for me to change (my old teacher never mentioned it). I am also often told to stretch my knees more (they're hypo-extended), and to keep my shoulders down. Also, I get told to lift my chin a lot and spot my head quicker and sharper.
As a dancer, what do you prefer, critiques or compliments?
Compliments are great, sure, but I prefer critiques because those are what help me become a better dancer. They also show that my teacher wants me to get better, and sees potential in me, which is encouraging. Without critiques, I would never be where I am today!
Do you like jumps? If so why? And what is your favorite jump?
Yes, I do like jumps! I've been told I'm more of a natural jumper. My favorite jump would probably have to be
grande jetés
because they're so powerful, and I feel like I'm flying through the air.
What's your favorite? Adagio or Allegro and why?
Definitely
allegro
! As I mentioned before,
adagio
is my worst nightmare because I have long legs (no excuse, I know!), I'm not very flexible, and my extensions need major work.
Allegro
is much more fun for me, and it comes more naturally.
After you've had a bad day, what motivates you to go to your ballet class? Does it lift your spirits?
I go to ballet class because I want to improve, plus, I love it and its so much fun. So going to ballet makes my day better because ballet usually lifts my spirits, and it takes my mind off of things that went on during the day.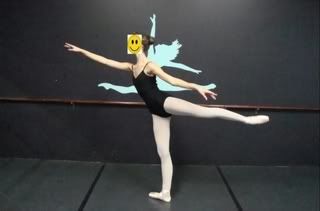 Have you gone to an SI before?
Yes! Summer of 2007 and 2008, I went to
ABT Detroit's Summer Intensive
(which was so much fun and a great experience too)! This year I'm really looking forward to going to the
Cecchetti Council of America's
Summer camp at Hope College (in Holland, Michigan).
What sort of things do you do at home that help your dancing?
I don't have a studio at home, so I basically practice wherever I find room!
I try to stretch each night (or at least as much as I can). I also do sit-ups often.

I also practice combinations for my
Cecchetti
syllabus class, and sometimes I put on my pointes and do
relevés
,
échappes
, etc.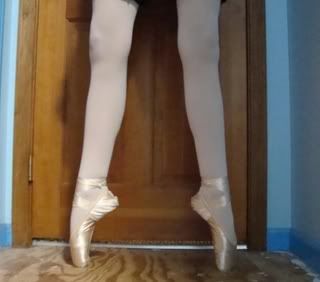 What's in your dance bag? Can we see a picture?
My dance bag currently includes: a pair of broken-in pointes (Grishko 2007s), a pair of just about dead pointes (Bloch Suprimas), a pair of demi pointes, a pair of leather ballet flats, a pair of canvas ballet flats, ouch pouches, toe spaces, toe tape, mesh pointe shoe bags, lambs wool, bobby pins, hair clips, hair elastics, hairspray, shoe spray, water, deodorant,
Cecchetti
Syllabus books, foot thongs, jazz shoes, a notebook, pen, breakable ice pack, a knee brace, a chiffon black skirt, "pirouette socks", a ballet fan, 2 pairs of pink legwarmers, knit shorts, a tank top, and dance capris.
What was the biggest obstacle that you encountered in ballet
The biggest obstacle I think I've had with dance would probably have to be the headaches I used to get (and I still sometimes get them). I have TMJ (the cartilage in my jaw is out of place) which causes me really bad headaches. They're more under control now, but they used to get really bad. On top of that, I sometimes get migraine headaches too. I remember going to many classes with my head pounding (often I'd get them in the middle of class), but I'd just keep going. Sometimes I'd be close to tears and my teacher would ask me if I wanted to sit down, but I rarely did. I think it's helped me to be a stronger dancer because it's helped me be able to handle and dance through more pain when I have to for SI's, performances, etc. especially with blisters, feet pain in pointe shoes, knee pain, etc.
What are your current goals in dance?
One of my main goals with dance is just to be the best dancer I can possibly be. Right now I'm working on my flexibility and extensions which are my two main weaknesses. I'm also trying to work on getting my weight more forward (my teacher has been telling me lately I put too much weight in my heels).
What are your future dance goals?
In the future, I'd love to be a professional dancer, but if that doesn't happen, I'd like to at least teach dance, or possibly provide physical therapy to dancers.
How many pairs of pointe shoes do you have?
Pointe shoes actually last me a really long time, so currently I have 7 pairs, and this is my 4th year en pointe.
What is your favorite brand and style of pointe shoes? Why are they your favorite?
So far my favorite pointes would have to be Grishko 2007s because they feel the best, and look nice too. I can get over the boxes nicely, and I feel secure when wearing them. No they're not perfect, but they're the best I've found so far.
What is your preferred type of padding (if any)?
My favorite type of padding would be
Ouch Pouches
(regular not juniors). I also tape my baby toes, and use a little lambÂ's wool on the tips of my big toes.
How do you break in your pointe shoes? What was the worst method you've ever tried?
I usually use the Lisa Howell method, plus I bang them on the ground to get the sound out. I also do a lot of
relevés
and
échappes
, and I run around on demi pointe. I've never really tried any bad methods.
Performance
What was your first dance performance?
My first performance was a piece in our recital to the song "My Heart Will Go On" (Celine Dion), but the song was a remake with no lyrics.
What is your biggest fear during a performance?
My biggest fear during a performance would probably be forgetting the choreography, and having that mess up the rest of the dancers and the performance. I'd feel
really
bad!
When youÂ're on stage, do you lose yourself in the role? OR are you concentrating on the steps more and overly worried about technique OR do you just say to yourself forget about everything and dance from the 'heart'?
I usually just try to have fun and really enjoy the experience. However, there are usually some thoughts that run through my head at certain parts where I might make mistakes. Sometimes my teacher's voice will run through my head in some parts (reminding me to stretch my knees, etc. whatever it may be at that specific point). I try not to think about the steps/technique too much though, because by performance time, I could probably do the dance in my sleep!
What is the best thing about being on stage?
Being on stage is just an amazing feeling for me. I just get this rush that's like nothing else! The feeling when I'm performing up there is just indescribable. Even during a long performance, when I'm tired or even have a headache, I can get back up there and the adrenaline overpowers everything else.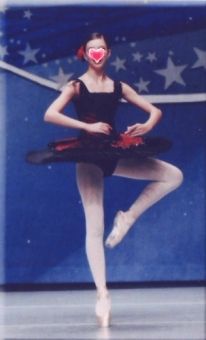 Philosophical Questions
What inspired you to start dancing?
I wasn't necessarily "inspired" to start dancing, because my mom signed me up when I was five. I decided I disliked gymnastics very much, (me + going upside down/flipping and such = no way) and my mom saw that they were offering ballet classes at the gymnastics place, so she signed me up thinking I might like it better. (I went to a regular studio the next year). I bet she never would have thought I'd still be dancing and loving it today!
What sacrifices have you made for ballet?
I've missed out on a lot of school things, as well as things with my friends and family due to rehearsals, competitions, performances, etc. I missed out on many of my friendsÂ' birthday parties. I've also never been involved in anything extra after school, because I'd just never be able to fit it in to my schedule!
What sacrifices has your family made so that you can dance?
My family has been just amazing throughout my years dancing. Up until this year (when I switched to a closer studio), my mom has driven me 45 minutes each way to dance, almost every day, even during the crazy high gas prices. I cannot thank her enough for taking the time out of her busy day to drive me! My parents have also paid tons of money for me to dance, especially when I used to compete. Also, when I went to ABT Detroit for the past two years, I commuted an hour each way, every day, and my mom was willing to drive me! My parents are such amazing and giving people, and I appreciate it SO much! I would have never come this far without their support.
Does dance affect your social life in any way? How? Do your friends understand?
Yes, it definitely does! I've missed out on many things with my friends, especially many birthday parties in the past. Sometimes they'll want to hang out, but I've got dance and I can't. Some of them understand (for the most part anyway), but some of them have gotten frustrated. A few have made comments about me "dancing way too much" and how I always miss their birthday party. I feel bad about missing out on things, but it's something I really love, and it's a commitment I've made! I've got to stick to it!
Who has impacted your dancing the most? Of what profession is he/she?
I think both my mom (who is a secretary for my dad's business) plus my dance teachers have impacted my dancing the most. My mom has just been so supportive of me and my dancing, and she's driven me very far to class for a long time. She's been there for every single performance I've ever done. My dance teachers have helped me so much because they are amazing and so inspiring. Without them I would definitely not be where I am today. They're amazing encouragement and support and corrections have helped me so much.
If or when you have children in the future, would you want them to take ballet (or dance) classes? If not, why?
I would love for them to take ballet, but I'd really have to leave that up to them and what they want. Just because ballet is something I like, doesn't mean my kids would too, and I wouldn't want to pressure them into doing anything they didn't like. If they seemed interested when they're younger I might sign them up, and then see how it goes. If they like it, then they can keep taking classes until or if they lose interest.
What is one tip that you would love to share with other DDNers?
Dance from the heart! I know I personally sometimes get so focused on my technique that I forget to dance from my heart, and I wish it wasn't that way. I think it's a common problem with ballet students, but sometimes I just need to remind myself why I dance, and not everything is always going to look absolutely perfect, and that's okay. When you dance from the heart, it shows.
How does it feel to be featured inGet the Pointe
It feels awesome! I'm honored

It's funny, I almost didn't sign up this time! I saw the sign-up thread one day and thought to myself, yeah, I'll sign up later. Well I forgot for about a week or so and then I saw it again. At first I said no, why bother, it's almost the deadline. But I did anyway, and here I am!

When I got the PM from Smiley I was so surprised and excited! I just hope my interview wasn't too boring for you all to read

12 Replies to Get the Pointe – The DDN Ballet Interview, Issue #32
re: Get the Pointe – The DDN Ballet Interview, Issue #32
By
never_katie




On Wed Apr 29, 2009 07:53 PM

Lovely dancer, and awesome job Smileywoman!

re: Get the Pointe – The DDN Ballet Interview, Issue #32
By
Grins



On Thu Apr 30, 2009 02:39 AM

Great interview, lovely dancer. Perfect!

re: Get the Pointe – The DDN Ballet Interview, Issue #32
By
nycsylph




On Thu Apr 30, 2009 03:21 PM

Smileywoman -

Fabulous!!! Fabulous just like you!!!

Great questions!!!

Love it!!!!

XOXOXOXOXXOXOXOXXOXOXXOXOXXO

Karma for you!!!!!!!

re: Get the Pointe – The DDN Ballet Interview, Issue #32
By
smileywoman




On Thu Apr 30, 2009 03:30 PM

Glad you liked the interview. This is the longest interview that I have ever done for
Get the Pointe
.
Bravo to Marcie for her wonderful input!

re: Get the Pointe – The DDN Ballet Interview, Issue #32
By
imadancer2



On Thu Apr 30, 2009 07:00 PM

Great interview Smiley!!!

I love it! And good luck with everything Marcie!

~Madison

re: Get the Pointe – The DDN Ballet Interview, Issue #32
By
pasdeblake

On Thu Apr 30, 2009 07:10 PM

Thanks smileywoman! These interviews are one of my favorite things about DDN

re: Get the Pointe – The DDN Ballet Interview, Issue #32
By
ballet_babe_1


On Fri May 01, 2009 12:49 PM

Thanks everyone!

The interview was a lot of fun to do!
re: Get the Pointe – The DDN Ballet Interview, Issue #32
By
iluvdance6

On Fri May 01, 2009 01:59 PM

Great interview! Is there anyway to look at previous DDN Ballet Interviews?

re: Get the Pointe – The DDN Ballet Interview, Issue #32
By
ballerina6043


On Wed May 27, 2009 07:10 PM

Great interview, and very interesting!
re: Get the Pointe – The DDN Ballet Interview, Issue #32
By
petalsandposies
On Wed May 27, 2009 08:14 PM

What true words to really dance from the heart!

re: Get the Pointe – The DDN Ballet Interview, Issue #32
By
dancethemomentX7

On Fri Jun 05, 2009 02:06 PM

I'm going to Hope College this year too! Its lots of fun! Maybe i will see you there.
re: Get the Pointe – The DDN Ballet Interview, Issue #32
By
mynameisxena

On Wed Jun 17, 2009 04:00 PM

what a great interview! Sometimes these types of things can be a boring read, but I read every word and enjoyed every bit of it. Excellent job all around! Kudos to you both!

Reply
Send
Watch