Feature:
Ballet / Pointe - General

Get the Pointe – DDN Ballet Interview #35: Meet BerensDancer! (karma: 1)
By smileywoman




On Sun Nov 01, 2009 05:34 PM

Edited by smileywoman (141214) on 2009-11-01 17:36:20 ...
Edited by webheadmaster (251) on 2009-11-01 22:19:21 Make feature

Get the Pointe – DDN Ballet Interview #35: Meet BerensDancer!
This interview was conducted by AlwaysOnStage
[AOS]
AOS is ill at the moment and asked that I post her interview. She did a WONDERFUL job.
Photo edits and interview cover design by smileywoman
DDN Name:
BerensDancer
Real Name:
Gwen
Member Since:
Tue Nov 01, 2005
Age:
18
Years in Dance:
actually, this month is my 4th year anniversary!
Basic Information and Early Training:
My early training was very informal/recreational. Then I started spending summers with KCB [Kansas City Ballet] and now IÂ'm dancing with UMKC

At what age did you begin dancing, and what was the first style of dance you studied?
I started when I was 14, and I began studying ballet
What inspired you to continue your training as a dancer?
I was fascinated by how complex ballet was. Everyday I came to class; I learned something knew about ballet or ballet history, or a new step, a new feeling, a new improvement, etc. I just think itÂ's so cool that no matter how hard we work, we will never reach balletic perfection. I love that I have to come to class and kick some serious tail everyday to reach my goals!
What forms and styles of dance have you taken throughout your dancing career? What styles do you currently study?
IÂ've taken ballet of course, jazz, modern, lyrical, tap, hip hop, and contemporary

I am currently studying ballet and Horton, and a little contemporary.
What have been your favorite styles of dance and why?
Ballet is always my favorite. I could be in ballet class all day long and I wouldnÂ't mind at all. But I love every other form of dance for the same reasons; because they aren't ballet,. The other forms of dance are awesome because they give me an opportunity to dance and train in a different way that balletically. I love to let loose and really dance, like in hip hop and jazz. Ballet makes me feel tall and strong, and beautiful, but dancing in jazz and hip hop class make me feel confident, and they are so much fun!!
Has ballet always been an important part of your life?
Explain to us why or why not. Yes, of course. Ballet class is where I feel at home. I walk into class every morning at school, and I immediately feel better. Ballet class just clears me of all my toxins and is a great stress reliever. (Because thereÂ's too much to think about in class to let your mind think about anything else!!)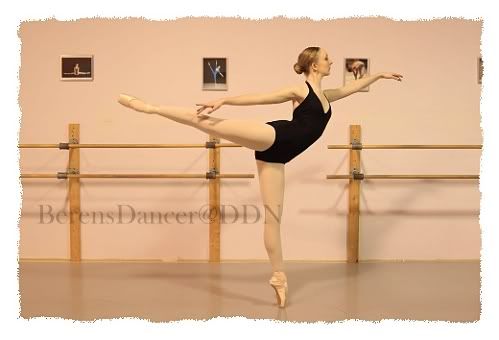 Current Training:
How much time do you spend dancing in an average week?
Right now I am dancing about 24 hours a week.
What is in your dance bag?
Oh gosh...! 3 pairs of pointe shoes, my ballet flats, my theraband, about a million tampons, scissors, my water bottle, a granola bar, my pointe-toe-protecting-fixings like band aids and toe pads and such, my skirts, and alignment belt, and sometimes my jazz shoes

What do you normally wear to class? What are some of your favorite dance accessories (leg warmers, wrap skirts, etc.)?
The dress code at school is black leotard and tights, so thatÂ's what I am wearing all the time

my favorite accessories are my alignment belts and my short wrap skirt!
How do you typically prepare for class? Do you stretch or warm up, possibly with fellow classmates? Do you mentally have to get into "the zone" of dancing?
Before class starts, I usually do a few easy, gentle stretches, to open up my hips a bit and loosen things. I also do some small leg swings, and a ton of abs. I try not to get to crazy before I do anything to get warm.
What is your favorite part of class (any exercises at the barre, adagio, allegro, etc.), and why?
I love the tendu warm up at the barre, because it just feels great! I love the adagio at the barre and in the center, because adagio is my biggest strength and I always feel so pretty during adagios! When we do anything from the corner, especially leaps (any sort of leaps) are my favorites!
Do you have favorite steps that you look forward to practicing in class?
IÂ'm beginning to really like pirouettes! Anyone who knows my dancing could tell you I suck at pirouettes. But lately, at school, IÂ've been learning new tips about turns, and they have really been improving! I really like double pique turns en pointe, and multiple pirouettes from fifth en pointe, and my all time favorites are saut de chats and grand jetes

How do you feel when you are dancing? Does coming to class help you to escape your troubles and put you in a good mood?
Most definitely, like I said earlier, ballet class is like my toxin release. When IÂ'm sick, going to class always helps. When IÂ'm mad at my boyfriend Colin, ballet class always puts me in a pleasant mood. I love class so much, it makes me so happy!
How do you treat your body after a series of hard classes? What do you do to give back to your body?
Really long hot baths and showers! In the summer when IÂ'm dancing at SIs, I sleep in icy hot. I try to drink a lot of water and stay away from sugar when I have a lot of dancing to do, just because sugary things always make me feel crummy

Can you share with us one or two of your favorite class experiences?
They all revolve around feeling new things in my body. I have a great day if I made a new discovery about my pirouettes or about arabesque turns.
Do you practice at home as well? Do you stretch or do any other exercises on days that you donÂ't have class?
I havenÂ't lately, but yes I usually do releve presses at home and stretching at home and at work, choreographing at work...
How many pairs of pointe shoes do you have? What are some of the brands and styles you have used, and which have been your favorites?
Right now I have 3 pairs in rotation, but I donÂ't even know how many IÂ've gone through!! IÂ'm wearing Grishko elites, and Bloch axiom and Suprima. IÂ've had Gaynors and Freeds and Chocottes and such in the past.
What are your current goals as a dancer? (Would you like to develop stronger legs, get higher jumps, or receive a spot in a ballet company?)
Short term goals are: to listen to my pirouettes and perfect them, to get clean triples, to get clean double inside turns, to listen to and perfect my arabesque and attitude turns, to get cleaner quicker petit allegro, and to get stronger endurance.
My long term goal would be to get into a company and to be a teacher!
Where do you see yourself in the future regarding your dancing?
Hopefully in a company, dancing contemporary ballet!! After that, IÂ'd love to be a teacher at a college or in a company or something; that would be so cool.
Performing:
What are some of your favorite things about performing?
I love how beautiful I feel when IÂ'm doing well on stage. I really love the feeling I have after I dance on stage. I just feel accomplished and proud and excited because of all the adrenaline.
Before a performance, how do you prepare yourself to perform for an audience? Do you ever get nervous, and if so, how do you calm the nerves?
I do lots of abs!! You can never be too centered to dance on stage or in the center. I try to do lots of grand plies and tendus, stretch a ton; I go over the piece a few times to make sure I wonÂ't forget anything. I do totally get nervous, but I try to use it as power on stage. When IÂ'm really feeling confident in the choreography, the nerves are an awesome way to really bring out the character of the piece.
Describe to us how you feel after a performance.
Like I said above, I feel so proud and confident about myself, and it always makes me so incredibly happy. ThereÂ's this like this 30 minute after-dancing-high that I get every time I dance on stage!
What has been your favorite role to portray in a performance?
I did a piece to this Romanian music once, and I got to be fiery and flirty, and it was so much fun!! That was by far my favorite solo IÂ've done in the past couple of years. I like to be sassy characters, but IÂ'm a lot better at being sad, adagio characters,.
Do you have any favorite performance memories? What was the performance, and what makes the memory so great? Tell us at least two.
My first (sort of funny) was with my first studio, we had a little mini-Christmas performance at a mall in Missouri somewhere. This mall had a stage that was quite small, really meant for like musicians and singers to stand still on, that was surrounded by water. So not only were we dancing on like a 12x12' stage, it had its own moat!! So as you can probably guess already, someone fell in the water.... It wasnÂ't me, although I sort of wish it could have been. What an awesome story that would have made, haha! That was my very first performance on a stage I had ever done. That small awkward stage moment has a little place in my heart!
Another one of my favorites was with my first studio too. They had been able to rent out the Lyric Opera House in Kansas City, which is a really big recital hall; all the big companies like KCB perform there all the time. So when I got on that stage to start my dance, I just couldnÂ't help but feel amazing. I was dancing on a stage where amazing local ballerinas had been dancing!! That was one of my favorite performances, because we got to dance on such an amazing stage.
Final Remarks:
Do you have any books/movies about ballet that you would like to share with us?
I really like reading my classical technique book (what a ballet nerd...) because all the dancers in the book are amazing, and I love looking at their perfect technique. I heard Gelsey KirklandÂ's books are really great, and they are next on my reading to-do list!
Finally, briefly explain what dancing means to your life.
Everything! Dance is all that I need to be happy. Without dance in my life, I donÂ't know what I would do with myself!
Can you offer any inspirational personal dancing experiences to motivate fellow DDNerÂ's? Did you overcome an obstacle, such as an injury, or reach a milestone in your dancing career? Tell us the story.
I would say, donÂ't ever give up. There will always be a place for every dancer. Maybe not at NYCB or ABT, but there will be a company or a school or a studio looking for a dancer or a teacher! I was a late starter; who started when I was 14, and IÂ'm
never
going to stop! I want to be a dancer in a company, and gosh darnit, I am going to be one before I die! Of course there have been injuries and setbacks, but none of that matters. Don't ever let silly, trivial things like that get in your way of achieving your dream.
Do you have any advice that you would like to offer fellow DDNerÂ's?
I would say, always dance like you are on stage, in full make up and with tutu. When you dance like you are always performing, it becomes second nature for one, and it makes you shine in class!
12 Replies to Get the Pointe – DDN Ballet Interview #35: Meet BerensDancer!
re: Get the Pointe – DDN Ballet Interview #35: Meet BerensDancer!
By
miraclefrmheavn




On Sun Nov 01, 2009 07:53 PM

YAY congratulations Gwen! I'm so happy you made it to be interviewed. What a wonderful interview it was too. Thank you to Alwaysonstage for a beautiful interview. I hope you will be feeling better soon.
Smileywoman, thank you for posting this as well. *HUGS* to you all.
Sincerely,
Smile_when_dncng (formerly Rainbws_Watrflls)


re: Get the Pointe – DDN Ballet Interview #35: Meet BerensDancer!
By
luvdance17


On Sun Nov 01, 2009 08:54 PM

I'd just like to say thanks for posting the interview, because I started ballet at 14 too and this is really encouraging (I've been trying to break the habit of beating myself up for not starting earlier)! It really shows you've put in a huge amount of work to dance so beautifully


re: Get the Pointe – DDN Ballet Interview #35: Meet BerensDancer!
By
iDancer518



On Mon Nov 02, 2009 10:58 AM

I've been waiting for the next issue of Get the Pointe. And it's finally here!!!
I must say that I wasn't disappointed at all. I loved the interview. Very inspirational. The pictures were beautiful too.
Thanks AlwaysOStage (Hope you feel better) and SmileyWoman and Berensdancer. Fantastic job!!
Bravo


re: Get the Pointe – DDN Ballet Interview #35: Meet BerensDancer!
By
J_dances

On Mon Nov 02, 2009 11:04 AM

I loved it!

Good luck on the goals. Great issue.

re: Get the Pointe – DDN Ballet Interview #35: Meet BerensDancer!
By
Attitude1407


On Mon Nov 02, 2009 09:43 PM

Wow, Gwen, you are sooo beautiful!!

I started four years later than you did, and January will be my third-year anniversary, but it's still inspiring to read your interview as a fellow late-starter. I wish you lots of luck and success! Keep on dancing, always from your heart.

re: Get the Pointe – DDN Ballet Interview #35: Meet BerensDancer!
By
imadancer2



On Tue Nov 10, 2009 07:27 PM

Aww Gwen! You're such a fantastic role model~
And I still can't believe you started dance when you were 14! It's absolutely amazing! You were born to dance girl!
Keep up the amazing work!

~Madison
re: Get the Pointe – DDN Ballet Interview #35: Meet BerensDancer!
By
danaelovesballet


On Thu Nov 19, 2009 10:56 AM

I loved this. Thank you for the inspiring words and I loved looking at the pictures. I started when I was 15 so this gives me some hope. Thank you again!

re: Get the Pointe – DDN Ballet Interview #35: Meet BerensDancer!
By
Piano_on_Pointe



On Fri Nov 20, 2009 06:25 PM

Congrats on making the issue!
Seems to me that having only 4 years of dance, you have an amazing natural talent! Something you should definitely share with the world!

-Madison.

re: Get the Pointe – DDN Ballet Interview #35: Meet BerensDancer!
By
Armwarmer




On Mon Dec 28, 2009 03:22 PM

Gwen you seem like such a happy ballerina, I love that! This was inspiring as always, I really enjoyed reading.

Ash
re: Get the Pointe – DDN Ballet Interview #35: Meet BerensDancer!
By
thefonz1
On Wed Jan 20, 2010 01:20 PM

Fabulous Gwen love to be able to dance like you.Well done on the training it must be hard work,I hope my daughter would reach to your high standerd wishing you the best of luckxx

re: Get the Pointe – DDN Ballet Interview #35: Meet BerensDancer!
By
ballerinepetite


On Wed Jan 20, 2010 08:09 PM

thiss by far one of my favorite get the pointe interviews!
I always love someone until I read an interview by them, and then end up hating them.
is it weird to say that I don't know you but your interview makes me love you?
late-starter extroardinare! An inspiration to us all

you will go places, I'm sure of it.
Reply
Send
Watch