Feature:
Ballet / Ballet - Adult Dancers

Get the Pointe #40: Special Issue / Featuring Adult Ballet Dancer cmsnifer


By smileywoman




On Mon Jan 17, 2011 06:12 PM

Edited by smileywoman (141214) on 2011-01-17 18:14:22 ..
Edited by smileywoman (141214) on 2011-01-17 18:18:27 ...
Edited by webdeadmaster (251) on 2011-01-17 19:00:29 Make feature

Get the Pointe Special Issue Interview #40 Featuring Adult Ballet Dancer cmsnifer
Interview by Maria aka smileywoman a 50 year old adult ballet dancer and long time DDN member.
Meet DDNer – cmsnifer
cmsnifer is an adult dancer who has been dancing on and off for 20 years. In this interview you can read pretty much anything and everything that you might want to know about her dance life.
BEGINNING
Q: What was the spark that keyed your interest in dance, and where / when did you begin to study?
A: I remember the day that I started ballet very clearly. I was 6 or 7 years old. I was sitting in the living room at home and my mom came up to me and asked if I would like to take ballet or piano lessons. I chose ballet right away. I began dancing at a small local studio called Dance Makers and I danced there until the studio closed when I was about 12 years old. Interestingly, I did finally study piano when I got to college.
Q: Were you a "natural"?
A: I suppose that in some ways I was a 'natural.' I've always been told that I have 'good presence' and 'nice feet' and 'nice proportions' for ballet. I have a great photographic memory for combinations and movements. Also, I've always had a passion to dance which I think is important in being considered a 'natural.' In a lot of ways, though, I'm not a 'natural' for ballet. I've never been naturally flexible. I'm a bit dyslexic too, so that makes things difficult; you know the whole 'left' instead of 'right' cliché, yeah that's totally me.
Q: Have you danced all along? Or did you start / stop / re-start like many of us adult dancers?
A: Start/stop/re-start for me. After my original studio closed I didn't dance again until high school. I danced a bit in high school for PE credits. When I got to junior college, I thought it was really cool that you could just take whatever classes you wanted so I took a whole bunch of dance classes. My second two years in college I didn't take really any dance classes except during Summer. When I graduated, I started dancing again at a local studio and then stopped again for a couple years. I just started back again last January.

Q: Has ballet continued to be a lifelong passion?
A: Absolutely. No matter how long I'm gone or what I do, I always seem to come back.
ROUTINE
Q: What motivates you at 8 a.m. on a Monday morning?
A: Not a whole lot motivates me at 8 am. I'm not a morning person at all. Really the only thing that motivates me before 10 is coffee or doing something that I've been looking forward to.
Q: What is your daily routine?
A: During the week I'm usually up at around 6:30 or 7 for work. I work for 8ish hours. Then depending on what I have going on after work I'll either go home or go to dance class. Then there's the whole hanging out with the husband, eating and sleeping thing. On the weekends there's class, chores, church and occasionally relaxing.
Q: Ballet is a never ending quest for perfection. What parts of your technique are you most satisfied with? What parts are you least satisfied with and how do you work on your technique to improve it?
A: Are any of us ever really satisfied? I guess the thing that I'm the least not satisfied with would be my arms, head and upper body. I'm SO not satisfied with my flexibility and extensions. That's my latest project.
Q: Do you workout in a gym? Or have other forms of exercise/condition besides ballet?
A: I'm not really a gym person. I hate running and spinning. I really like Pilates and Tai Chi. Pilates is really great for flexibility and core strength while Tai Chi is great for balance as well as being very relaxing. I'm also pretty outdoorsy. I like hiking and swimming, etc.
Q: How do you prepare your pointe shoes?
A: Wow. There are so many things that I do to my pointe shoes, but I'm pretty sure that anyone who uses pointe shoes can say the same thing.

I order them online so when I first get them, I put them on to make sure that they fit correctly. When I'm sure they fit, I tighten the drawstring, tie it off and clip the ends. Then, I wiggle the shank a little bit (not bending it, just moving it enough to loosen it up at the arch). After that, I squeeze and flatten out the box just a little. I sew the elastics (criss-crossed) and ribbons on from back to front. Once the elastics and ribbons are on I usually wear the shoes around the house a little to break them in more. The floor at my studio is really slippery, so lately I've been experimenting with de-slip methods. Right now I'm adding suede tips, but I'm thinking about learning how to darn them. Yuck

Q: Do you have a 'signature step' – one that comes naturally to you?
A: Not really one specific step. I really enjoy the big jumps, but I have really long legs so I need lots of room to do them in.
INFLUENCES
Q: Do you dance any other style other than ballet? If so, how does the other dance discipline influence your ballet dancing?
Please elaborate on type, differences, why you do?
A: Aside from ballet, I've also done jazz and modern as well as ballroom. I also enjoy a little line dancing from time to time.

I really love classic Broadway style jazz. I feel like studying other forms of dance definitely influences my ballet. Jazz and modern help me to be less stiff, and it also helps when learning more contemporary ballet pieces. Ballroom helps with some elements of partnering and with upper body strength. Line dancing is just fun, but I'm pretty sure that if you can learn one of the more complex line dances you can learn ANY ballet combination.
PERFORMANCE
Q: When did you go onstage for the first time? Can you tell us about it?
A: My first stage experience would have been either The Sound of Music or South Pacific at my first studio. Yeah, the studio owner liked to turn musicals into ballets. I remember that for South Pacific the costume had a one shoulder leotard that I felt like was too low cut. I spent the whole performance pulling it up.
Q: What roles have you danced and what are your favorite roles? Why?
A: I really haven't danced too many roles in ballet. I did get the opportunity to do Arabian last year for Nutcracker. That's probably been my favorite because it was my first PDD piece.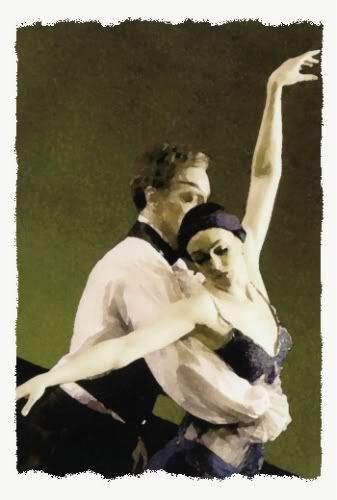 Q: Was there a role that you danced or will dance this year that you are looking forward to?
A: We just recently finished doing Alice in Wonderland. I was the Caterpillar and also the Frog Footman, Rose Painter, and Card Soldier. I really liked being a Painter because it was more of a goofy character role; and I had to dance in flippers for the frog which was pretty challenging. The next show that the studio owner wants to do is Babes in Toyland and I'm excited to see what that will be like.
Q: What thoughts or feelings do you have when you perform?
A: Right before I go onstage I get pretty giddy and nervous, but after I've been dancing for a few seconds the nervousness goes away. I'm always side-stage WAY before I need to be because I'm petrified of missing my cues!
Q: What does your warm-up consist of before a performance? Other preparations?
A: Well, my instructor always does a warm up class before we go onstage to mark and do any final rehearsals pre-show. Other than that, I have a really hard time staying warm because I can't really sit still and focus while I'm waiting for the show to start. I really have to force myself to make sure that I stay warm. I also always make sure that I eat something before the performance starts since after it starts I wouldn't have the chance. I'll usually eat a banana and maybe some trail mix or something. Plenty of water!
Q: Is performing different as an adult than when you were younger? Explain.
A: Yes. I have to work harder at everything. Also, sometimes I feel a little silly being an adult and dancing in a ballet performance that's not a professional show, but I always get over it. Sometimes I wish that I could go back and perform the same thing when I was younger.
Q: Do you do pas de deux? If so, what do you like in a partner?
A: Yes. Not a regular class, but I partner for performances. I wish that I could take an actual class all the time though. I've only ever had one official partner, so I don't feel like I can really say too much about what I like and don't like in a partner. I guess when I think about it, my ideal partner would be taller than me (I'm 5'10" standing flat). Once I tried doing finger turns with a guy who was just slightly shorter than me and it was actually really difficult because I have super long arms. He would also be confident and assertive when partnering, but also listen to what I have to say about things. It would also be nice to have someone who didn't talk too much or over-analyze when I'm learning something that he already knows how to do. I understand and appreciate that communication is really important when partnering, but when I'm learning something new I have to think about it and process it quietly before I can actually do it. So, some quiet time while rehearsing is helpful.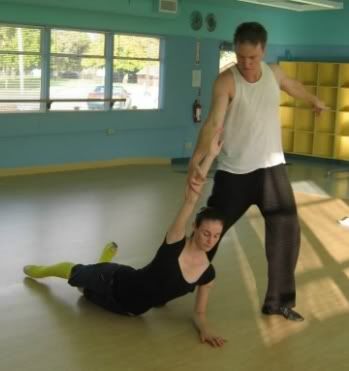 Q: Can you remember a funny story, blunder, something that happened to you in the middle of a performance that you'd like to share with our readers?
A: Yes, actually, I have the perfect story. During our recent performance of Alice in Wonderland my partner and I took a big spill while going off stage. I had my arms around his neck and was leaning on him and he was dragging me off-stage and he tripped backwards over the fog machine and where was a huge crash and we ended up in a heap on the floor. Fortunately, neither of us was seriously injured (although there were quite a few bruises).

Everyone in the audience heard the crash and my family members asked about it afterwards.
Q: Most dance pieces are with other dancers. Have you done solos, and if so do you have to change your technique when you are on stage alone?
A: I've done a couple of solos. In addition to making sure that you look really good when you perform and that you don't forget any of the steps (since you're the only one that the audience is looking at), you also definitely have to fill out the stage more with your movements. When you're dancing in a group you have to worry about spacing and all that, but when you're by yourself you can just focus more on the actual dancing.
Q: What kind of dance do you respond to most strongly now?
A: Ballet. It will always be my greatest dance love.

Q: How do you think ballet (uniquely) communicates as an art?
A: Professional ballet dancers can use their bodies in a way that I don't think can be found in any other dance form. The discipline and strength and grace that it takes to perform ballet creates an atmosphere and aura in ballet performances that doesn't happen at other types of dance performances. I think now more than ever---because of new cross-training techniques and sports medicine, etc---ballet is reaching farther and farther as an art form. That's really exciting. I hope that doesn't sound too arty-farty.
Q: What professional dancer would you most like to dance with (why?) and what would you dance?
A: I would love to dance the Thas PDD or Lady of the Camellias with Cyril Pierre, and if I could look like Lucia Lacarra while doing it that would be even better.

I think you only have to watch the videos to understand why. Sigh.
www.youtube.com . . .
www.youtube.com . . .
Q: If you could dance anywhere in the world (not only in a theatre), where would you dance?
A: In Russia or Paris; somewhere with a very rich ballet history.
INSPIRATION
Q: Who inspired you to dance?
A: I guess it would be my dad. He used to dance around the house with me when I was a baby, so now I can blame it all on him. He's the one who started it.
Q: Who are the three people in dance that have inspired you most?
A: I've never been the type of person to be 'inspired' by specific professional or famous people. There are so many incredible dancers out there, and so many inspiring stories. When it comes down to it, the people who inspire me the most are the other adults/people who I dance with in class every day.
Q: What has been the high point of your 'career' as a dancer, so far?
A: Definitely beginning to dance en pointe, which I'd been waiting for pretty much since I was seven. After that, being asked to partner for the first time was really exciting.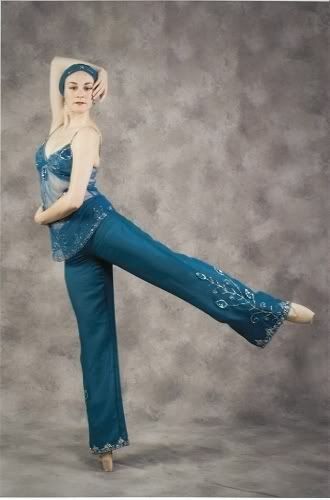 Q: What is your best piece of advice?
A: Am I old enough to give advice? Try to live without regrets: if you have an incredible dance opportunity (or just life opportunity), take it and just make it happen because things like that don't happen twice. If you don't reach your goal the first time, keep trying. It's okay to be imperfect. Everyone else is.
CHALLENGES
Q: Can you tell me about any challenges that you have faced as an older dancer and what you have done to overcome them?
A: Everything is challenging as an older dancer, and I'm not even that much 'older' yet. I work every class to overcome these challenges.
FUTURE
Q: What is your feeling/thinking about your future as an adult ballet dancer? Goals? Retiring? etc.
A: I plan to keep dancing as much as I can for as long as I can. My studio owner is in the process of applying for grants to start her own company. She wants to start a company for high-caliber adult dancers who, for whatever reason, ended up in different careers. If it ever gets off the ground, I'd be really excited to be a part of it.

Q: How do you see the future of the world of dance?
A: Well, I think it's an exciting time for dance but also kinda a scary one (at least in the US). Cuts in funding are making it harder and harder for kids who are interested in the arts to have the opportunity to be educated in the arts. Any type of arts discipline; not just dance. Although, I feel like out of all of the arts disciplines, dance is the most vulnerable. It's not considered important and it's stigmatized in so many ways in our society.
Q: What advice do you have for younger dancers?
A: Aside from the advice already given above, make sure that you keep yourself healthy. Eat healthy. Do cross-training. If you have a minor injury, make sure you get it taken care of right away before it gets worse. And yes, it WILL get worse.
FOR FUN
Q: If you were asked to design your own ballet costume, what would you create?
A: A fabulous and gorgeous tutu. It would be yellow. There aren't enough yellow tutus out there.
Q: You can ask six famous people to dinner - who would you invite and why?
A: I'm just gonna assume that I can invite dead people too. Anne Hathaway because I think that she just seems like a really cool person. Mikhail Baryshnikov, for obvious reasons. Nelson Mandela because I find him to be a really interesting historical figure. Frederic Chopin because I love his music. Queen Elizabeth I, but she would have to consign herself to eating with commoners. Finally, Lewis and Clark, who I'm counting as one person.
Q: What would surprise people about you?
A: Well, I'm a bit of a science nerd. I love a nice plate of steak and potatoes. I can touch the tip of my nose with the tip of my tongue. I worked at a Boy Scout camp for 11 summers. I like my chocolate chip cookies crunchy, not gooey. I grow orchids. When I was younger, I was definitely a tomboy. Finally, I can type at a rate of 70 wpm.
Q: How do you feel about being interviewed for this special issue of Get the Pointe?
A: I think it's cool. I'm looking forward to reading about all of the other adult dancers on the site. We have such a mix of people on DDN!
8 Replies to Get the Pointe #40: Special Issue / Featuring Adult Ballet Dancer cmsnifer

re: Get the Pointe #40: Special Issue / Featuring Adult Ballet Dancer cmsnifer
By
adultbeginner


On Mon Jan 17, 2011 09:25 PM

You look beautiful! Those pictures are really amazing. I really enjoyed the interview and you sound very nice. Thank you to both Smileywoman for organizing these interviews and to you cmsnifer for sharing your story, I really appreciate it!
re: Get the Pointe #40: Special Issue / Featuring Adult Ballet Dancer cmsnifer
By
miraclefrmheavn




On Mon Jan 17, 2011 11:43 PM

Nice interview cmsnifer and Maria. Thank you for sharing with us.

In regards to my feature that would eventually be put up, I have told Maria not to put it up, as I am not dancing any longer and I really don't want it put up anymore.

Good job Maria and cmsnifer. *HUGS* and *love* to you both!

re: Get the Pointe #40: Special Issue / Featuring Adult Ballet Dancer cmsnifer
By
hannica


On Wed Jan 19, 2011 09:18 PM

That dance company sounds awesome. I myself would love to audition for it, when I get better that is!

re: Get the Pointe #40: Special Issue / Featuring Adult Ballet Dancer cmsnifer
By
nycsylph




On Sun Jan 23, 2011 06:43 PM

Another fabulous job, Maria! Great interview.

cmsnifer -

You're gorgeous! Reading your words rekindled the spark of why I love ballet so much. And I love see your photos. So beautiful.

Thanks both of you. I look forward to the next one!

re: Get the Pointe #40: Special Issue / Featuring Adult Ballet Dancer cmsnifer
By
Attitude1407


On Sun Jan 23, 2011 07:14 PM

I really enjoyed reading this! You sound a lot like me - I, too, have a photographic memory and a bit of dyslexia, am not the most naturally flexible person, and I prepare my pointe shoes the same way you do.

I wish I had your gorgeous lines, though! You are beautiful!


re: Get the Pointe #40: Special Issue / Featuring Adult Ballet Dancer cmsnifer
By
cmsnifer


On Sun Feb 27, 2011 11:13 PM

Hey,
It's so nice to come on to DDN and find so many encouraging words.

Thanks you guys for all of your kind comments and compliments! Hope that I get to read interviews from some of you in the future.
Attitude1407 - We're like dance twinsies! Looks like from your picture that you're wearing GMs. I tried those, but the pair that I had ended up being just a bit too short and then I never went back to that brand. I'm thinking switching from my 2007s and trying GMs again though, for budgetary reasons and foot health. Then we can be even more like dance twins.


re: Get the Pointe #40: Special Issue / Featuring Adult Ballet Dancer cmsnifer
By
Attitude1407


On Mon Feb 28, 2011 10:08 AM

Ah! We sound even more like twins already! My first pair of Gaynors turned out to be a half-size too short, and I ended up wearing 2007's for a long time until that became too expensive, so I got refitted for the Gaynors.

Reply
Send
Watch