Forum:
Arts / Diaries

re: Planting an Appleseed


By Caffeine



Comments: 3194, member since Wed Aug 08, 2007

On Tue Nov 11, 2014 07:34 PM


I bought myself a ukulele. I have no idea how to play it - my last guitar lessons were close to 30 years ago - but I am determined to learn.*

M's favourite song is

Riptide

. I must learn to play it. Also, you never know when playing a ukulele may come in handy...

(*note: I have also attempted to learn doumbek in this manner. I'm no drummer)

re: Planting an Appleseed


By Caffeine



Comments: 3194, member since Wed Aug 08, 2007

On Tue Nov 18, 2014 08:34 PM


Last week, I received a phone call from the OB's office, asking me to see my GP and organise a BhCG (pregnancy hormone) test, and then see the OB himself the following week (this week). Strange – I had a scheduled post-surgery follow up appointment booked for December, so why would he want to see me so soon?

I saw the GP, and got the bloods done. The GP was concerned for my stress/mental health levels (with a miscarriage and facing redundancy and no real outlet to talk about any of it save blogging, who wouldn't be a tad stressed?), and offered me counselling if I need it. Hopefully I won't, but I'm kind of glad the door is open to me there.

And today I saw the OB. Things have gone from OK to… interesting. It seems my miscarriage wasn't a run-of-the-mill common miscarriage after all (nyah! told you it was different!), but a more uncommon (0.5-5% chance) Partial Molar Pregnancy. Essentially the baby had too many chromosomes, which triggered too many hormones and placental fun ensues. So really, it was inevitable. And I'm speshul.

I've been put on a register with the Women's Hospital and need to check in with them at regular intervals for monitoring. But all going well, maybe we'll be allowed to start trying again in the New Year.

I'm a firm believer in bad things happening in threes. With the miscarriage and the work situation, do you think this counts as #3, or should I keep holding my breath…?

re: Planting an Appleseed


By Caffeine



Comments: 3194, member since Wed Aug 08, 2007

On Sat Nov 22, 2014 02:48 AM


Note to self: do not give a two year old coffee ice-cream before embarking on a trek through IKEA. Those acres of display furniture are FUN when the floor is lava...

re: Planting an Appleseed


By Caffeine



Comments: 3194, member since Wed Aug 08, 2007

On Tue Nov 25, 2014 03:33 AM


A very large, oddly-shaped parcel arrived for me today. Given I've been online shopping in preparation for Christmas, that's not entirely unusual, but this one had me stumped.

It was BIG, but strangely light for its size. And as I unwrapped the brown paper packaging, I grew more and more perplexed, for inside were several large plastic bottles.

My thought process went something like this:
"What the??"
"Did I win some make-a-christmas-decoration-from-recycled-materials competition?"
"Did I even enter such a competition?"
"Was this sent to the wrong person?"
"No. Each bottle is labelled with my name."

Finally, after unwrapping the bottles, I found an envelope. And things suddenly became crystal clear: the package was from the Womens Hospital, and the next stage of my Very Interesting Journey is about to begin.

When they tell you you need to provide a sample for testing, it's not the wee-in-a-little-jar thing you do for normal pathology stuff. Oh no. This was a four-pack of two-litre (half-gallon) milk bottles, and a sheaf of instructions.

I need to get a chest xray to make sure none of the molar cells went rogue and spread there. We all know pregnancy is still a risky endeavour, even in this day and age, but who knew it could be fraught with so many unexpected complications?

"It's a dangerous business, Frodo, going out your door. You step onto the road, and if you don't keep your feet, there's no knowing where you might be swept off to." (I don't think the great JRRT was thinking of this sort of an adventure when he penned those lines, but it's a dangerous business, getting pregnant...)

re: Planting an Appleseed


By Caffeine



Comments: 3194, member since Wed Aug 08, 2007

On Fri Nov 28, 2014 03:18 AM


This is getting ridiculous. I know all of this is "an adventure", but I am sick of scans, tests and xrays. And I am getting really sick of having to enact emergency "if X happens, call Y" procedures.

I have led a pretty charmed life up 'til now. I don't get sick like this -I'm the one with the robust, obscene good health. I have boring pregnancies, remember?

Well, someone tell my body this. Whatever part of my ego that wished for something dramatic so I could be 'special' (come on, admit it, you've thought that, too) should be taken outside and given a stern talking to. I don't want 'special', I just want to be healthy again. I want whatever passes for normal again.

A major downside of keeping quiet about the miscarriage is the fact I can't talk to anybody about this. I can't have a laugh about peeing into half gallon jugs, but I also can't lament the complications or the constant bleeding, or debrief doctors visits.

So, dear reader, if you're still with me, you're my sounding board for the highs and the lows.

So give me hope in the darkness that I will see the light
'Cause oh that gave me such a fright
But I will hold on with all of my might
Just promise me we'll be all right.

re: Planting an Appleseed


By Caffeine



Comments: 3194, member since Wed Aug 08, 2007

On Sun Nov 30, 2014 06:47 PM


I don't want to jinx things by counting my chickens before they cross the road or anything like that, but I might, might have a job lined up for next year.

The idea of being a stay-at-home-mum was looking kind of awesome, but until N is working, someone has to pay the bills. So the prospect of continuing employment is kind of good.

This restructure has been weird. I received a "thanks but no thanks" response so often that I was seriously considering work outside of this employer. Then on the last day of selection, I receive not just one potential offer, but a cold-call to interview for two positions in another area.

I won't breath easily until I get the paperwork and the ink has dried, however.

Employment will be good. I'll be able to replace my destroyed-by-a-2-y-0 phone and buy Christmas presents without worrying about finances. And have adult conversations that aren't interrupted by "Mum, Mummy, Mum, Muuuum, Mum-mum-mum, Muuuummy!"

re: Planting an Appleseed


By Caffeine



Comments: 3194, member since Wed Aug 08, 2007

On Sat Dec 06, 2014 04:39 AM


Offer of employment received and accepted. I will have a job next year!

And good news on the mole front, too. I had an ultrasound to check out abnormal bleeding: all OK.
I had a letter from the GTD (Gestational Trophoblastic Disease) register, acknowledging receipt of my gallon-jug sample and informing me that my hormone levels are in the safe zone. I still need to send in regular samples for a couple of months for monitoring, but it's highly likely I'm out of the danger period now.
I had an appointment with my OB abot all of this, and he doesn't want to see me again until I'm pregnant again.

What a relief. This means I can draw a big line under all the bad things that have happened this year and be able to start 2015 afresh.

I spent today at a hot springs spa with a group of girl friends. This place is incredible: heated mineral pools set in the side of a hill with views to die for, surrounded by natural vegetation and full of bird life. So tranquil, so relaxing.

re: Planting an Appleseed


By Caffeine



Comments: 3194, member since Wed Aug 08, 2007

On Mon Dec 08, 2014 09:28 PM


We took M to see Santa this weekend. We had Christmas shopping to do, and there wasn't much of a line (thank you rainy days which keep people away from the shops!), so we thought "Why not?"

Despite saying he wanted to see Santa, M wasn't really too sure of it all once it was his turn. Santa expressed concern that M wasn't ready for it, but he was golden. (Actually the photo we have shows the Man in Red looking a bit over it, but my little boy smiling for the camera!)

He had started to develop travel sickness, though, which is a bit disconcerting. Apparently Karma is a bitch, because I was Chucky McChuckchuck when I was a kid, too. No idea what's triggering it in M, so we're going to have to start packing an emergency kit in the car with spare clothes for us all, towels and plastic bags. I hope he's not going to be as bad as I was, because he's in for some very unhappy road trips if he is...

re: Planting an Appleseed


By Caffeine



Comments: 3194, member since Wed Aug 08, 2007

On Tue Dec 09, 2014 09:56 PM


My poor boy was not at all well last night. Who knows if it was carsickness, overheating or a bug? But he looked terrible (probably felt worse!) and we spent a long night having cuddles in the rocker. Poor boy.

N took him to daycare this morning, and by all accounts, he was a bit sad to be left there, but there were no tantrums and tears like there used to be. I think he just wanted to stay home and have cuddles with his dad.

Once M was finally asleep last night, I was up past midnight frantically finishing gifts for the dancers. I made them all a little (and I mean little, inch-tall) amigurumi version of themselves, and the hair would NOT co-operate. I'm still not 100% happy with them (particularly the hair on those with short hair), but it can't be helped when they move our breakup forward a week. I hope they appreciate them!
re: Planting an Appleseed


By Tishwah


Comments: 586, member since Sun May 17, 2009

On Wed Dec 10, 2014 01:01 AM


Sounds like you had a good Santa! I worked one year as a Santa photographer and was amazed (and amused) by how many parents wanted the screaming child photos


re: Planting an Appleseed


By Caffeine



Comments: 3194, member since Wed Aug 08, 2007

On Wed Dec 10, 2014 02:00 PM


The Santa and the photographer were both fantastic. I don't envy people that job of wrangling scared overstimulated kids and having to be cheerful about it! (And who wants photos of a scared, screaming child anyway?!) You need to be a special type of person to work with small children.

Several of my friends work in childcare (I don't know how they do it - one child is trying enough! They say they don't know how parents do it - at least their shift ends!), and one of them mentioned that one of M's educators had transferred to her centre. As a curious parent does, I asked her to find out what the educators REALLY think of M.

Well.

Educator (E) said M was one of her favourites (yay) because he was one of the naughty ones (!). I know he is a handful for me at times, but apparently if he can open it, climb it or get into (or out of) it, he will. E asked Friend if we were clever, because M is about as smart as they come.

I was proud, amused and slightly mortified at the report. While it's embarrassing to be told M is one of the naughty ones, it's gratifying to know he doesn't just misbehave for me! I know a lot of parents think their kids are perfect angels, but I'd rather be told the unedited version of what goes on, if for no other reason so I can address his behaviour at home. Or apologise to his educators. Or have a laugh and commiserate.

I owe his centre a very large box of chocolates for being able to (mostly) keep my handful of a boy in line!

re: Planting an Appleseed


By Caffeine



Comments: 3194, member since Wed Aug 08, 2007

On Mon Dec 15, 2014 05:55 PM


Hello Hand Foot and Mouth. I thought we'd seen the last of you last Summer, but apparently we were such hospitable hosts that you came back for another visit.

I thought M had picked up a cold sore, but thankfully, no - your hallmark blisters on the fingers and toes soon proved us wrong. That would explain why he was feverish last week, then, wouldn't it? At least you're not as big a disruption to the household as last time; your presence isn't a pain for M, who is pretty much over you already.

But really, could you leave me alone, you little coxsackie? I have things to do that don't include being laid up for two days with a raging high temperature, all over body aches and a killer throat.

So begone. Vamoose. Shoo.

On the positive side, I've pretty much got all of my Christmas shopping finished. And I've completed 90% of the toy I'm knitting for M, too. (This is a 'tradition' of sorts: My all time favourite childhood toy was one my mum knitted for me for the Christmas when I was two. I want to do the same for M, and hope it becomes a favourite, too.) With a week to go, it's cutting things way too close for my liking, but things just got in the way earlier.

M helped me make the Christmas gingerbread on the weekend. Doesn't everybody have gingerbread dinosaurs?

And we took him to N's karate breakup last night. As the only non-club member in attendance, I was Wrangler of the Children, keeping M and his cousin S out of mischief while the grownups did their thing. S wasn't too thrilled with me, (because we don't see them that often and I'm a stranger to my niece), but was happy enough playing with M. And M was utterly adorable, watching his daddy doing Kata and trying to copy the moves. <3

re: Planting an Appleseed


By LlamaLlamaDuck




Comments: 7765, member since Sun Nov 21, 2004

On Tue Dec 16, 2014 05:22 PM


uggg all three had HFM during the summer and it sucked... and we only had a mild case. Hope he's feeling better soon!

re: Planting an Appleseed


By Caffeine



Comments: 3194, member since Wed Aug 08, 2007

On Thu Dec 25, 2014 03:03 PM


Merry Christmas to you all! I hope you had/are having a lovely time, celebrating in the most meaningful way for you and your loved ones.

Our Christmas was relatively low-key, but there is still today (Boxing Day) to get through yet. M woke up at the crack of dawn - not to see what Santa left, mind you (he'a still a bit little to understand), but because the summer solstice has just been and it's LIGHT out. After dozing off with cuddles in the big bed we all got out at a much more civilised time.

Have I ever mentioned my boy can sniff out chocolate? Once out of bed for good, he raced to the Christmas tree in his pjs and discovered his presents. Which happened to have a chocolate name tag on them. Forget the toys, he wanted chocolate for brekky!

So the chocolate was a hit. His wooden tool set was a hit. The knitted toy I made him - not so much. Bummer. I hope he'll come around to it eventually. (In the meantime I console myself by remembering he doesn't really play with stuffed animals yet). N liked his gifts, and I was spoiled, too. <3

Then up to my parents place for the day. M was absolutely golden. He had a blast helping hand out the presents and 'assisting' his Pa and Unkie D assemble his Brand New Bike. (Oh the grin on his face when he rode it through the house!)

We stayed later than we realistically should, so M could see the lights on the house and in the garden - dad goes all-out with whimsical Christmas lights every year. And the wonder and awe on M's little face as he explored the glimmering garden was priceless. That's what it's all for.

As I type this, it's 9am and he's still asleep. We will have a quiet day today and do Christmas all over again with N's family this evening.

re: Planting an Appleseed


By Caffeine



Comments: 3194, member since Wed Aug 08, 2007

On Thu Jan 01, 2015 04:06 AM


Happy New Year to you all. I hope 2015 is all that you want and more.

We've mostly got over the insanity that was the lead-up to Christmas, Christmas itself, Boxing Day and a wedding, and are finally able to have a relaxing week together.

We moved M from his cot to a big-kid bed before New Years. He was outgrowing the cot and he's a big kid now.
The first night was bad: finally asleep at 9:30pm, tiptoeing into our room for cuddles at 2:30 before being put back in his own bed, repeat from 3-something to 5-ish, and asleep again at 6:15! I think his circadian rhythm was set to "sparrow".
The second night was better. Still took ages to go to sleep, but at least he slept through. And what a change a full night's sleep makes! Goodbye cranky, grumpy toddler, hello sunny smiles!
Fingers crossed tonight is another good one.

I go back to work next Tuesday, into my new job. It will be interesting to say the least. There was so much I wanted to get done over the two week break, but between the holiday chaos, a two-year-old and the weather, it's been impossible. Maybe N can do the painting once M is in daycare...

re: Planting an Appleseed


By Caffeine



Comments: 3194, member since Wed Aug 08, 2007

On Mon Jan 05, 2015 10:49 PM


So after one night of falling out, M has taken to the big bed like a duck to water. We did two transitions at once: to the big bed, and no more bedtime bottles. Both were taken in his stride, and we haven't looked back. M lets us know when he's awake by tiptoeing into our bedroom for early morning cuddles (or, as in the case of this morning, hunting me down as I got ready for work).

He is warming up to the toy I made him - hooray! - and I hope that he continues to like it as he grows older. His vocab is improving in leaps and bounds (although he still gets frustrated when he can't make his wants known more clearly), he loves reading time, and one day when out for a walk, N asked him "what does D-O-G spell?". "Dog!" chirped my boy. He's a bright one.

He's also figured out how to break into the fridge and raid it, and tries to negotiate for extra treats. He's tempestuous and has a temper and woe betide you if you use the blue cup for his juice instead of the yellow one (learned THAT the hard way last night!). In other words, he's two.


re: Planting an Appleseed


By Caffeine



Comments: 3194, member since Wed Aug 08, 2007

On Wed Jan 14, 2015 10:13 PM


And so ends another era. I've worked in this department 11 years. Seen a lot of ups and downs, staff come and go, but S and I have been the team that weathered it all. Today is my last day. From next week, new department, new team, new job.

I cried when I said goodbye to S (and I made her cry, too) - we've become quite close over the years, and I'm not sure if I'll have that same rapport with my new colleagues. Time will tell.

Today marks the end of another journey, too. I received a phone call from the Women's Hospital announcing the all-clear. Green light. No more monitoring or Sunday wee-runs to get stuff tested. Hooray!

Now we can start looking ahead to the future.

re: Planting an Appleseed (karma: 1)
By Caffeine



Comments: 3194, member since Wed Aug 08, 2007

On Sun Jan 25, 2015 05:57 AM


SO, my first week at my new job is done and dusted. I'm still not convinced it's the role for me, but it's keeping food on the table. There is a TON to learn and memorise, and trying to sound like I know what I'm on about as I'm on the phone to prospective clients and frantically flicking through notes is becoming an art form. We shall see how the next few weeks/months pan out, I guess.

M is back to his old routine: daycare, swimming, etc. If I'd known how happy he would be to get back in the pool, I would have taken him over the summer holidays (instead of World War III every time I tried to put him in his togs to play in the backyard paddling pool).

His vocab is really coming along, and this morning he put together a three word sentence, entirely unprompted. There was a bad smell, and we were discussing who farted. M pipes up with a big grin on his face (because fart jokes are

hilarious

): "Me did too!"

Not bad for a boy who six months ago wasn't saying

anything

.

He's also a budding photographer, as seen below: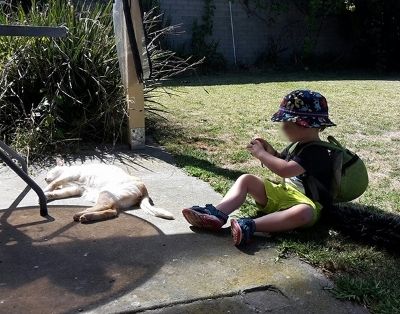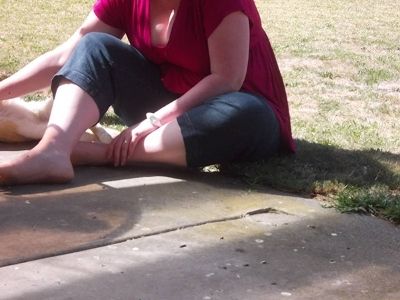 "Portrait of Mum, by M"

re: Planting an Appleseed


By Caffeine



Comments: 3194, member since Wed Aug 08, 2007

On Fri Jan 30, 2015 06:14 AM


Maybe I'm not as OK as I thought I was.

A friend, whose son is 4 months younger than M, posted a pregnancy announcement last week. And while I am absolutely thrilled for them - they have had some truly awful times and deserve a happy break - at the same time, it's gutwrenching. I can physically feel my womb twinge when I think of it.

Jealousy, perhaps? Missing the baby that wasn't meant to be, certainly.

Combination of the two coupled with exhaustion from poor sleep, chaos at work and other dramas? Most definitely.

re: Planting an Appleseed


By Caffeine



Comments: 3194, member since Wed Aug 08, 2007

On Wed Feb 04, 2015 05:03 AM


M is totally his parent's child: at the end of most days at childcare he can be found sitting quietly with his head in a book. Sure he may have run around like a mad thing, but he needs his downtime to himself with a book.

Nature or nurture? We do read with him, as often as possible, but while he is awake we barely have time to sit down and read a book of our own, so it's not something he sees us do.

I love that he loves books. And I hope he continues to love them as he grows up, too.

re: Planting an Appleseed


By Caffeine



Comments: 3194, member since Wed Aug 08, 2007

On Sun Feb 08, 2015 04:24 AM


We had a day out at a large reserve today. N's band was performing, and I figured it'd be a good day for M and I to explore.

M LOVES the music, dancing and conducting his heart out. I swear he is going to be into something musical when he grows up. Then climbing trees, exploring, drawing with chalk, running around with his cousin, gazing with awe at the steam train - this kid was into everything. He had an absolute blast.

Until the last 5 minutes.

The band had packed up their gear, and M wanted to run to N. Downhill. On bitumen. You can see where this is going, can't you? M was hypertired, running too fast, lost his balance and earned a nasty graze down the side of his face for his trouble.

Cue tears. Cue feeling like The Worst Parent in the World because I wasn't close enough to catch him.
I know kids are going to get scrapes and bruises and hurt themselves. I don't want to be that helicopter mother, and don't want to wrap him in cotton wool. But OMG, my heart just about shattered when I saw him fall and slide on his face on the bitumen and couldn't make the "Ouch" go away.

Cue icypole to make him feel better (and hopefully keep some of the swelling at bay). And a nap in the car.

When I was a kid, I fell and scraped my face in exactly the same place - from temple to philtrum - twice. Once simply walking and faceplantng the footpath; the second falling from a moving bus (it's a long story). That's not going to be fun when it heals.

re: Planting an Appleseed


By Caffeine



Comments: 3194, member since Wed Aug 08, 2007

On Sat Feb 21, 2015 08:32 PM


What a difference a week makes. From one ugly scabby bit of road rash all down the side of his face to now: you'd barely know he'd even injured himself. And the way he runs headlong at things, it doesn't seem to have made him any more cautious about tearing about at top speed. Aah, he'll fall, he'll get bumps, bruises and scrapes. And he'll dust himself off and keep playing.

We're beginning the process of potty training M, and all seems to be going well so far, and at the same time, not. He's the type of kid who won't try something until he's 100% certain he can get it right (gee, I wonder where he got that from?!), but I think we made some progress the other day. The problem is, he uses it as a stalling tactic to stay out of bed a bit longer. I'm not going to tell him he can't go sit on the pot, but when it's way past his bedtime, he's visibly exhausted and he's insisting "on one more book, will wee!" it gets old, fast.

And you know the toy I knitted for M for Christmas? He's never really taken to it, and it was discarded yesterday for my old favourite childhood toy instead. Of course. Kids are fickle like that. At least my old toy is being loved again (and I have the knitting pattern in case it looks like it won't stand another 30-odd years of love!)

re: Planting an Appleseed


By Caffeine



Comments: 3194, member since Wed Aug 08, 2007

On Mon Feb 23, 2015 04:21 PM


The things you do for kids.

I scraped my arm pretty badly yesterday while gardening. And because I had forgotten to buy plain grownup bandaids, I had to resort to using one of M's character ones instead. Mickey ones.

First thing he said when he saw it was "Cool!", because I had Mickey on my arm. And he is BIG into Mickey at the moment.

Throughout the evening and into the bedtime routine, he was content to blithely ignore me entirely, but "interact" with Mickey instead: pouring water on my arm so Mickey could have a drink; showing off his toys, and generally responding to what Mickey "said".

I spent half the night repeating myself as "Mickey" in a funny voice, just so we could get stuff done!

re: Planting an Appleseed


By Caffeine



Comments: 3194, member since Wed Aug 08, 2007

On Sun Mar 01, 2015 04:09 AM


I think I'm getting burned out.

Work is simply insane. I work part-time now, and I have had three weeks to complete a project that took me four months full-time last year. And this is on top of New Role's hectic people-focused schedule (that alone is tough for an introvert) and Helping Out Understaffed Area Because You've Had Training In That Area, too. I will be so, so glad when this coming week is over.

And there's no rest for the wicked on the days I have 'off', either. M is a real handful of late, and we are having increasingly frustrating batles of wills, especially over naptimes. If we miss that millisecond window of opportunity, we're all doomed. When he's good, he's amazing and funny and FUN, but when he's sleep deprived (and lately it seems he's chronically so)...

I have a list of things a mile long that I need/want to get done, but the few moments I have at home without a small boy hanging off me I do stuff with N or chores, instead.

Which leaves my downtime as.... the four hours sleep I get before M wakes up and climbs into our bed? I think I'm burning out.

re: Planting an Appleseed


By Caffeine



Comments: 3194, member since Wed Aug 08, 2007

On Mon Mar 02, 2015 01:14 PM


It's hurting again.

My sister in law is pregnant again, and while I am genuinely happy for them, I am also utterly devastated for me. I cried after we left, thinking about the baby that wasn't meant to be, how far along I would have been, and how life is just NOT FAIR.

It seems everyone around me is either falling pregnant or due around the time my litle Mole would have been. And I both want to try for another baby and at the same time am petrified it'll happen again.

I thought I was ok. I thought being pragmatic and treating the molar pregnancy and miscarriage as the illness it was -rather than a lost baby- was helping me get through it. Apparently not.

/end selfish pity wallowing.
Reply
Send
Watch