| | |
| --- | --- |
| | |
Forum:
Arts / Diaries

re: Planting an Appleseed


By Caffeine



Comments: 3194, member since Wed Aug 08, 2007

On Tue Nov 10, 2015 10:52 PM


37+2.

Had my 37 week appointment today. Midwife was somewhat shocked at how low baby is sitting , and between that and the nightly cramps, OB intimated that "things are close".

So I'm guessing that eviction date of the 30th isn't going to be reached. Will pack a labour bag this afternoon to leave by the door, just in case. (I've got the baby bag and the one for the hospital stay all sorted, just nothing for labour itself!)

Otherwise, all is well. My BP is perfect, baby's heartbeat is perfect, we just have to wait.

re: Planting an Appleseed


By Caffeine



Comments: 3194, member since Wed Aug 08, 2007

On Fri Nov 13, 2015 10:00 PM


Started nesting like crazy this week and got rid of 5 huge bagfuls of clothing. Of course, I paid for it that evening, with back pain and cramps, but it was so worth it. There is still more I want to tackle (the Tupperware cupboard is a scary place..), but it's getting more and more difficult getting up off the floor.

I'm over baby getting all stabby on my cervix whenever I stop doing stuff (or when I walk, sit a certain way, breathe), so I hope things will happen sooner rather than later. Given the way my body is generally ramping up (and comparing it to last time), I'm guessing things will, but who knows? I could have another couple of weeks of stabby mc-stabbyson yet!

Spoiler: Show


Evidence of Things Happening:
~ Braxton hickses, lower back pain AND period-style cramps for the trifecta.
~ Baby's head is well and truly engaged, hence the stabbiness.
~ Colostrum starting to come in. I know that's not a reliable sign, but given I had nothing until after M was born, it's a start.
~ Digestive system again up the proverbial creek. Ugh.


So we wait. And potter. And wait some more. And have towels handy, just in case.

I kind of hope it'll happen next week - I've got a dentist appointment on Monday, so Murphy's Law dictates that Things will Happen Monday morning, right?

While we wait, I've been doing Dinovember for M. Last year he was a bit little for it. This year, he loves coming down stairs and seeing what the Dinosaurs have been doing all night. "Oooh! Look! The Dinosaurs are painting/playing with MY ball/reading/etc!" We have a moment of wonder before he picks up a random dino and knocks the tableau over (and reclaims his favourite ball/car/what-have-you). I'm a strong believer in whimsy with kids, so if we can foster that while he's little and have him grow up with magic and wonder, we'll have done something right.

re: Planting an Appleseed


By Caffeine



Comments: 3194, member since Wed Aug 08, 2007

On Tue Nov 24, 2015 09:35 PM


Well, so much for "soon".

39+2 and after my latest OB appointment, it looks like I'm not going to spontaneously go into labour any time soon. Bummer. Bubs is measuring 40 weeks, and the heartbeat was a healthy 139 bpm. Cervix is still long and not very dilated, so the chances of things happening on their own are slim to none. So much for the cramps/back pain/etc doing anything useful!

The plan, therefore, is – unless things go from 0-11 very quickly – is to go in on Monday afternoon to be induced, with baby theoretically being evicted on Tuesday 1 December.

I confess to being somewhat disappointed. Firstly I was convinced this one would be early, like M was. Secondly, I thought everything would happen spontaneously, given that (a) they happened like that for M and (b) I've had one baby so my body should know what it's doing. But they do say babies come on their own timeline.

And so we wait. At least we have an end date to focus on now.

re: Planting an Appleseed


By leogirl



Comments: 637, member since Thu Aug 15, 2002

On Tue Dec 01, 2015 05:03 PM


Caffeine, just wanted to pop in somewhat randomly and say that I'm thinking of you today, on what is possibly your induction day, and possibly the day your Baby will be born. Good thoughts to you, Mama, and to your family!

re: Planting an Appleseed


By Caffeine



Comments: 3194, member since Wed Aug 08, 2007

On Sat Dec 05, 2015 09:40 PM


Thanks, Leogirl

My little girl, Eliza Kess was born at 11:43pm, Sunday 29th November, 2015.
Birth story behind the spoiler
Spoiler:
Show

I had been having period pain and backache for *weeks* leading up to her birth, but at my last OB appointment, my cervix was still long, thick, and not very dilated. The cramps increased in intensity on Friday 27th, when I also lost the mucus plug. Niggling cramps turned to back contractions around 6am on Sunday, increasing in intensity over the course of the day.

Called the hospital at 3pm when contractions were 2 minutes apart and 1:30 average duration. Was advised to come in for monitoring because it was my second bub and could go from 0-100 very fast.

Monitor didn't pick up back labour, so I had to push a button exact time I felt one. Frustratingly, the contractions slowed right down, too, and we waited. And waited. At 7pm, had an internal - only 4cm dilated - so the midwife gave me a stretch and sweep to get things moving.

OB attended around 9:30 pm - was only 5 cm dilated, so used an amnihook to break waters and speed things up. Meconium in the waters. (I do wonder how long it had been there and what would have happened if we didnt break the waters when we did).

Very quickly progressed from there. Laboured as long as possible upright, using TENS and gas for pain relief: on ball (threw up 400ml and glamourously leaked anmiotic fluid everywhere at the same time), on toilet, on knees on bed, but had to lie on my back in the end, as I had no more energy to stay upright. Midwife tried to take the gas so I could concentrate, but "The gas stays!" I kept the gas and N had control of the TENS (full power, boost, could barely feel it).
Midwife tried to slow down the pushing to reduce tearing, but bub was determined and couldnt stop.

After 15 hours of "spurious labour", and an official labour of an hour and a half (!!!), Eliza was born at 11:43pm, with the cord around her neck.

I had a complex 2nd degree tear -Tore through the old M-shaped scar from M, and ripped blood vessels on each side of the vagina. There were fragments of membrane still inside, and I lost about 575ml of blood. Had gas turned up to full while being stitched - one of the strangest sensations ever!

Eliza had her first feed while I was being stitched, then was taken straight to the SCN for oxygen as her levels were really low thanks to being born so fast. N was devastated -he wasn't even able to hold her.

She was released from SCN on day 3 (Wednesday), and we've been getting to know each other since.
She is very much like M -peas in a pod, those two.
M is wonderful with her, so gentle and loving. A naughty defiant 3yo with selective deafness with us, but golden with her.
Now if only she'd stop cluster feeding all.night.every.night so I can get more than 30 mins sleep in a 24 hour period....

re: Planting an Appleseed


By SiyoNqoba




Comments: 7113, member since Fri Aug 02, 2002

On Wed Dec 09, 2015 02:54 AM


Woohoo!

I haven't been on here in ages (we don't have the internet at home), but I randomly thought "I wonder if Caffeine has had her baby..." so I made my phone a hotspot and came on DDN to check. So glad I did!

Congratulations! It sounds like she had a pretty dramatic arrival, I hope you're recovering okay


re: Planting an Appleseed


By Caffeine



Comments: 3194, member since Wed Aug 08, 2007

On Tue Jan 05, 2016 06:04 AM


Thanks! It was a pretty dramatic birth, especially compared to M's, but all's well that ends well. I did have an issue with retained membranes a couple of weeks afterwards, but we got on top of that pretty quickly with my OB, and we were able to fend off any infection before it took hold.

I can't believe it's been 5 weeks already. Time flies when you're endlessly feeding, it seems! She's a pretty good sleeper - as long as she is ON somebody during the day (difficult when one has a threenager!), and has already started what I would consider sleeping through - a good six hour block from 11pm-5am or thereabouts. Mind you, the health nurse has been a little dubious about her weight gain, so we have had to wake her for overnight feeds.

She's had to be weighed weekly because she wasn't gaining consistently at her scheduled MCHN appointments: 75g here, 100 there and so on, and there was a concern that my milk may not have been enough for her. But (a) she looks like she's a fairly petite build anyway (at 4 weeks was only JUST at M's birth measurements!) and (b) she put on a whopping 300g this week, so the nurse is finally happy.

Christmas was awesome. E pretty much slept through it; M was thoroughly spoiled by both sides of the family. He was golden at my parents place, even though he was up very late without a nap and it was a mad overstimulating day. Of course, I think we're still paying for it with his delightful (ha) threenager behaviour.

Photospam: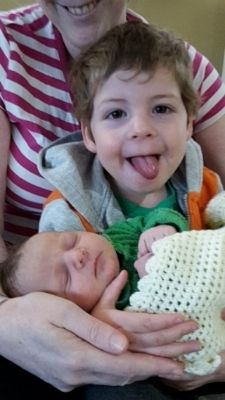 Meeting his baby sister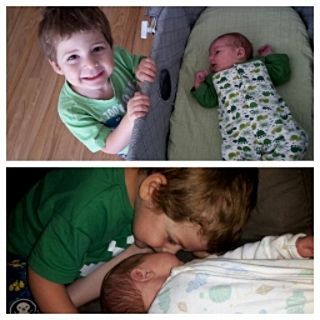 He'll be a good big bro.
5 weeks and ready to take on the world!

re: Planting an Appleseed


By Nyssasistic




Comments: 3643, member since Sat Sep 20, 2003

On Tue Jan 05, 2016 11:17 AM


How did I miss this? Congratulations! She's an absolute doll! M looks like he's a fantastic big brother.

re: Planting an Appleseed


By hummingbird


Comments: 10419, member since Mon Apr 18, 2005

On Tue Jan 05, 2016 12:40 PM


Those are such adorable pictures! She's gorgeous.

re: Planting an Appleseed


By Caffeine



Comments: 3194, member since Wed Aug 08, 2007

On Tue Jan 26, 2016 10:30 PM


Thanks! She is the image of M, with a *smidge* finer features. Pick who is who!

[image]

img.photobucket.com . . .

[/image]

She's been sleeping through the night (mostly), and having a lot of fun discovering what these strange things called hands do. Her favourite game is sticking her tongue out at people.

I had my 6 week checkup with the OB last week. I was curious to know the damage she did to me, but because he flew to my delivery room straight from a conference (and it was almost midnight), he didn't take any notes. Bummer. But all of the external scarring is healing well.

What's not healing so well are my abdominal muscles and the pelvic joint. They are still so very sore. I plan to work on them with yoga/pilates in the hopes they'll knit back together; if that fails: physio.

OB also put in a Mirena for me. I'm done having babies - any more and I'd probably split in two! - and the Pill wreaked havoc on me, so something longer lasting and breastfeeding-friendly works for me.

M is back at daycare, which also works for me. He was getting rampant cabin fever and awfully bratty; at least he can run and play and do stuff with his friends; get all that excess energy out of his system. He still protests, but they're token protests only.
Reply
Send
Watch