Feature:
Ballet / Ballet - General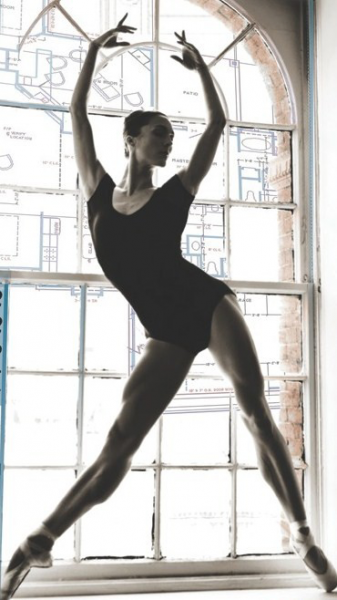 Inspiration #08: BLUEPRINT Summer Intensive w/Drew Jacoby, Igal Perry and Helen Pickett
By
nycsylph




On Mon Mar 26, 2012 10:09 AM

Edited by nycsylph (206174) on 2012-03-26 10:16:54
Edited by webdeadmaster (251) on 2012-03-26 15:49:57 Make feature
Edited by nycsylph (206174) on 2012-03-26 16:44:21 Added pictures
Edited by nycsylph (206174) on 2012-03-26 16:46:26
Edited by nycsylph (206174) on 2012-03-26 16:47:50

Hello DDNers! I am very excited about this interview. Why? Because it reflects the launch of a new perspective for me. The Year of the Tiger has unleashed a new perspective. This new view really came into its own when I read about BLUEPRINT, a new summer intensive being offered by Peridance Dance Center here in NYC. The proverbial light bulb went on. I realized that while the tried-and-true method of getting into large companies is very valid, so is taking a different path in engaging in small, exciting outlets that allow you to partake in some pretty amazing dance opportunities!
With that realization, my focus shifted and I'm now gearing up to do an entirely new set of interviews designed to take you from classroom to being a working dancer. I'll be concentrating on places you might not have considered, and delve into what it takes to get you noticed. While honing your skills in the classroom is a prerequisite to prepare you to take advantage of what comes your way, it's the other half of the process that gets you out into the world and fulfilling your dreams. I hope you'll let these interviews augment that journey, and get you firing on all 'dance option' pistons.
This is the first of this venture. The scintillating talk is the result of combining the two driving forces behind BLUEPRINT, Drew Jacoby and Igal Perry, as well as one notable member of the Faculty, Helen Pickett. They all graciously gave their time to explain a bit about BLUEPRINT, the amazing, dynamic dance happening at Peridance.
www.peridance.com . . .
. BLUEPRINT itself reads like a who's who in dance. A list of who is involved includes: Igal Perry, Founder and Artistic Director of Peridance Contemporary Dance Company; Drew Jacoby, Co-Founder and Artistic Director of Jacoby and Pronk and DancePulp; Helen Pickett, Frankfurt Ballet; guest choreographer for Boston Ballet, Dresden Ballet, Vienna State Opera; Kevin Irving, Nacho Duato Repertory; Michele Wiles, Ballet Next; Sidra Bell, Sidra Bell Dance New York; Wendy Whelan, New York City Ballet; Susan Jaffe, American Ballet Theater; and Michèle Assaf, Founder of World Movement Workshop-The International Workshop. As great as the opportunity is to rub shoulders and learn from the movers and shakers of the danceworld, it's not the only perk. Students will have the chance to learn the choreography of Peridance Contemporary Dance Company, William Forsythe, Nacho Duato, Jacoby and Pronk, Christopher Wheeldon and Sidra Bell Dance New York. As if that isn't enough, at the conclusion of the Intensive, a culminating performance will be held at the beautiful Salvatore Capezio Theater at Peridance, on September 1st. All participants will have the opportunity to perform at the culminating performance! Perhaps now you can understand why I was so jazzed up as to want to interview the creators of this amazing program.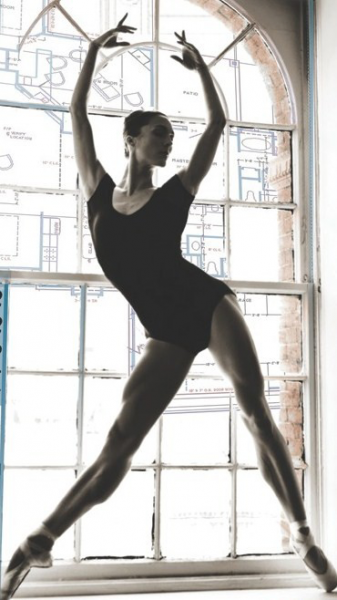 is arguably one of the hottest dancers on the planet right now. Hailed "guest dance goddess" by Ballet-Dance Magazine, she's studied at School of American Ballet, San Francisco Ballet and Pacific Northwest Ballet, beginning her professional career at age 17 in San Francisco with Lines Ballet. She's performed works by acclaimed choreographers including George Balanchine, Sir Kenneth MacMillan, William Forsythe, Christopher Wheeldon, Lar Lubovitch, Dwight Rhoden, Mia Michaels, Annabelle Lopez Ochoa, Lauri Stallings, and Lightfoot Leon. In 2008 she co-founded her independent partnership, "Jacoby & Pronk," with former Dutch National Ballet star Rubinald Pronk. Featured on the August 2009 cover of Dance, they've guested with Dutch National Ballet, performing multiple seasons with Morphoses/The Wheeldon Company, including their own week at the prestigious Jacob's Pillow Dance Festival. In 2010, she founded a media website called DancePulp which features HD video interviews of the world's top dance industry professionals. DancePulp videos are also viewable on Hulu.com. Full bio: dancepulp.com . . .

[b]Q: Drew, to what do you attribute your success? Do you feel it is based on your artistic abilities or physical proficiency?
A: I think a good dancer has to have the physical talent and capability, but great dancing is about individuality, generosity, intelligence, quality and intention. I have been blessed with ability, but my success I believe is attributed to confidence in myself because of the encouragement and nurturing of teachers, choreographers, and family along the path of my career, balanced with hard work and the desire to share my gift to my fullest potential.
Q: What do you think you're able to bring to a performance to warrant you being hailed as "guest dance goddess" by Ballet-Dance Magazine?
A: HA HA! Well I would never call myself a goddess, but I might use the imagery of a goddess on stage to enhance a performance. I think the fact that I am quite tall and muscular and I have an extreme look that is uncommon for a ballerina might inspire someone to write this. I also tend to dance a lot of pieces that highlight strength and power, not so much vulnerability and I have a commanding presence whether I try to or not. These may be factors, but I hate to break it down. I think it just has to do with my body and facial structure mixed with strong presence and technique.
Q: What was your intention with your partnership of Jacoby & Pronk? What is your vision of where you want to this to go?
A: My intention was to provide an outlet for myself and to approach my career in an unconventional way. Rubi and I have something special, and I believe unique which we decided to brand. We wanted freedom and believed with both of our credentials and motives it could be done. Our ultimate vision is to make something on a bigger scale, or be a part of a large scale production. We really hope to bring what we do more into the mainstream, while keeping our integrity. I think we are capable of bridging the gap between concert and commercial dance in a wonderful way. We haven't achieved this yet, but hopefully our path will take us there. I just see how the young public responds to us, and I would like to expose more people to high quality dance by fusing it with more theatrical elements and different art forms that tend to not be so alienating to the public.
Q: In terms of the BLUEPRINT Summer Intensive, how did you become involved? I'm sure you're pelted with many invitations, so what attracted you to this project?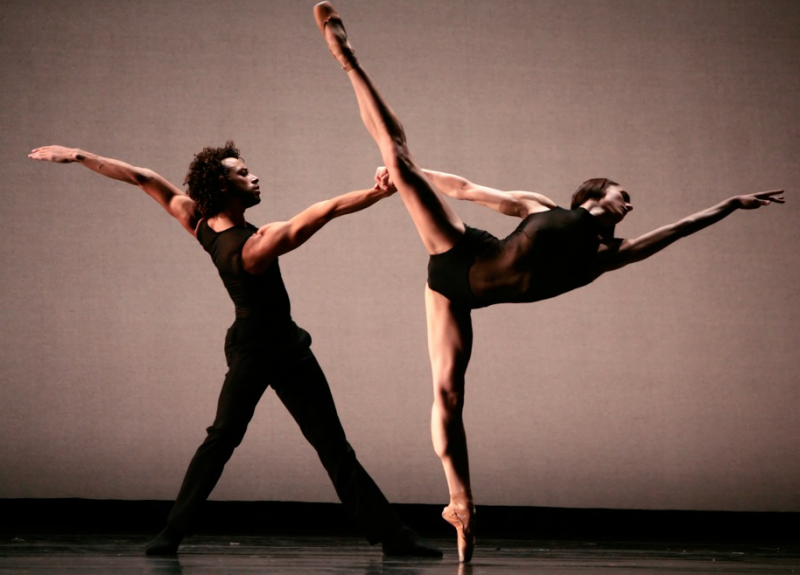 A: I'm starting to get asked to teach a lot, and finding that I really enjoy it. I have an excellent relationship with Peridance and think that they have progressive, open, and collaborative ideas. I actually wanted to set up an intensive through my company DancePulp, and told Yarden Ronen (Director of Development and PR) at Peridance about it. He also wanted to create something new for Peridance, so we decided to go in on it together. I enjoy exploring different sides of the dance world, as I feel it is broadening my skill set and preparing me for a future when I won't be performing anymore. I also feel quite a responsibility to give back and get so much good response from students I coach. It is very rewarding for me to give away some of the knowledge I have been so privileged to receive. I tour a lot, so it is nice to create a little more of a base for myself here in NYC, and I can do that by collaborating with Peridance on this and other projects. What attracted me to this project is that I am helping create and produce it, not just being a faculty member.
Q: What will your role be in it? Will it be teaching? Choreographing? Coaching/mentoring? Please explain what your function will be.
A: Creating the team/faculty alongside Peridance, auditioning students, marketing, teaching, setting rep, giving seminars, pretty much every part of it I will have my hands in..
Q: How do you feel this intensive will benefit a dancer? Why should they attend and is networking an element that they should consider?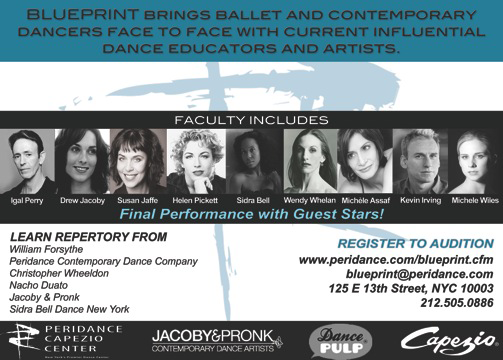 A: Just look at the faculty!!! We chose a lot of the faculty based on their present work﹘everyone on the team is doing something important for contemporary dance right now. The faculty is young and energetic and progressive. I want classically trained students to expand their vocabulary and more contemporary students to refine their technique. It can be very beneficial for many types of students. They will learn rep from great living choreographers and get to work alongside current professional dancers (myself, Wendy Whelan, Michele Wiles) I think the intensive will be a good preparation for company/professional life. We will also have seminars/discussions on topics such as funding/marketing for the arts, or networking skills/self-promotion. There will be a performing opportunity at the conclusion of the program, so the dancers will get a chance to showcase themselves in New York City among directors and choreographers of several companies. So yes, definitely a networking element FOR SURE!
Q: In terms of choreography, what types of dance are you most comfortable performing? What were some of your favorite roles? Do you feel it important for dancers to constantly push their comfort zones?
A: Yes on pushing comfort zones. You can't really grow without being pushed. I think I am well-suited for big movement, technically challenging contemporary work. I like variety, however and versatility is important to me. My favorite work thus far in my career to dance has been "Softly as I Leave You" by Paul Lightfoot and Sol Leon. I was able to put drama, vulnerability, expression, and technical skill all into one role with beautiful music and lighting. It was less of a "show" piece and more of a complete theatrical experience.
Q: Since an apprenticeship is being offered for your company, what are you looking for? Versatility? Natural ability? Personality? Artistic statement or individuality? What can a prospect hope to gain from the work experience??
A: Intelligence, individuality, and yes, of course, a lot of ability. The apprenticeship will only be offered if we find someone we think has the potential to grow quickly and perform alongside a group of principal dancers. Big movers, strong presence, and smart artistry. They would come learn rep and rehearse alongside us when we're in NYC.
Q: Truthfully, how much will body type affect a dancer's chances?
A: In ballet, very much. You can overcome a lot by working extremely hard. But yes, clean line and being fit are a must for ballet in my opinion.
Q: What is the one thing that you hope a dancer will take away from this intensive that is unique to it?
A: A highly concentrated dose of information from experienced dancers and choreographers. They will have new ideas and be pushed to their limit. The teachers have so much to share, and the dancers will be learning rep from some of the greatest choreographers in the world!
Q: Are you willing to share any hints of upcoming projects in the coming year?
A: Tours to Holland and Belgrade in the Winter/Spring, galas in Dallas and Riga, Latvia.
Shows with Ballet Next in NYC.
I am also working on a film project with Christopher Wheeldon and four star ballerinas, but it is in the very beginning stages and that's as much as I will say!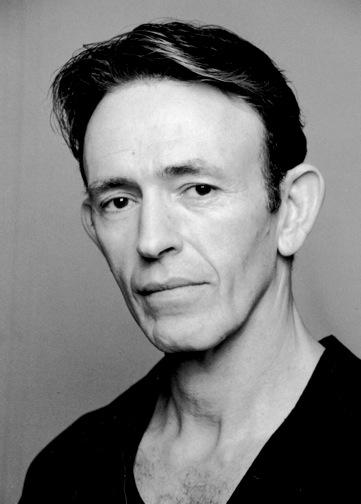 Our next interviewee is the fantabulous Igal Perry, Founder and Artistic Director of Peridance Contemporary Dance Company. Born in Israel, Mr. Perry began his dancing career with Karmon, a folk dance company, and later joined the Bat-Dor Dance Company where he worked with leading teachers and choreographers including Inesse Alexandrov, Benjamin Harkarvy, John Butler, Rudi Van Dantzig, Alvin Ailey, Paul Sanasardo, and Lar Lubovitch. Upon arriving in the United States, Mr. Perry joined Dennis Wayne's Dancers as a ballet master and choreographer. In 1981 and 1982, he headed the ballet department at Jacob's Pillow, and went on to co-direct the Clive Thompson Dance Company. In 1983, Mr. Perry celebrated the opening of his dance school Peridance Center, now Peridance Capezio Center, which has since been providing a nurturing and professional environment for all dancers. A year after the opening of his school, he founded his dance company the Peridance Ensemble, now Peridance Contemporary Dance Company, for which he has choreographed over 50 works. For full bio: www.peridance.com . . .

[b]Q: Where did the idea for the BLUEPRINT Summer Intensive originate?
A: The fundamental idea came from both Drew and myself. It was our desire to give an opportunity for students, both pre-professionals and professionals, an experience that will not only enrich them, but also help to expose them professionally.
Q: What was your goal in creating it?
A: Bridging the gap between traditional ballet technique and the innovation of the current contemporary scene, BLUEPRINT brings dancers face-to-face with current influential dance educators and artists. My Company, Peridance Contemporary Dance Company, is such a company where these elements are seamlessly combined. Our mission is to expose students to the best in the business and as a result help them advance their dance careers!
Q: What can dancers expect from this intensive? Can someone really learn to move in a new way in such a short period of time? How does this summer intensive differ from others? Is there something unique being offered?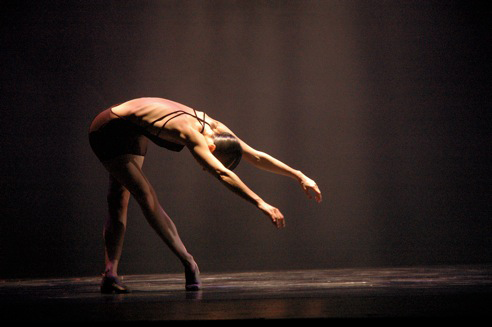 A: Any dancer participating in the BLUEPRINT Summer Intensive should expect a similar structure to traditional ballet intensives, with technique classes, repertory, seminars, and a culminating performance. However, this intensive was created on a completely different premise in regard to content and purpose, as the classes, repertory, and instructors have been specifically chosen to create a unique encompassing experience. It targets a dancer's study and performance of ballet and contemporary techniques. The intensive will provide an immersive and supportive environment in which these students can boldly hone their craft under the tutelage of some of the most forthcoming minds in today's contemporary ballet scene. In doing so, we hope BLUEPRINT will bring students to a new level, both personally and professionally, to ultimately enhance their careers as dancers and artists. And yes, it is definitely possible in only two weeks!
Q: What is the breakdown of how the classes will be structured? (b) Will there be a technique class followed by repertory variations? (c) Also, who specifically will be responsible for teaching what? In other words, will the faculty listed actually be conducting classes? Or are they names only?
A: Each day, Monday through Friday, all students will have a morning consisting of Ballet class followed by Jazz/Modern or Contemporary class. Afternoons will be filled with two or three rehearsals of repertory created by such luminaries as Nacho Duato and Christopher Wheeldon, set by master instructors like Kevin Irving who, for example, has staged productions of Duato ballets on companies all over the world. The faculty listed on our posters and website are world-renowned, master teachers, who have been amazingly successful in their own careers and who will be working with the students each and every day for two weeks. Students should expect their daily ballet technique classes to be taught by Drew Jacoby, Michele Wiles, Wendy Whelan, Susan Jaffe, and myself! Drew and I will be working with the students in the afternoons as well, setting repertory along with Kevin Irving (Nacho Duato rep) and Helen Pickett (Forsythe tech & rep). Sidra Bell will set her own choreography on the dancers and will teach Contemporary classes; Michele Assaf will teach Jazz classes.
Q: Since the intensive is supremely integrated in offering apprentice positions for your dance company as well as Ms. Jacoby's, I'm interested in what exactly you're for? What must a dancer bring to the table to catch your eye? b]

A: In order to participate in this intensive, dancers must have strong previous training in ballet and must also have had some exposure to contemporary style of dance in order to be able to follow and appreciate the value of the training offered.

[b]Q: In terms of your company, what is your artistic vision for it?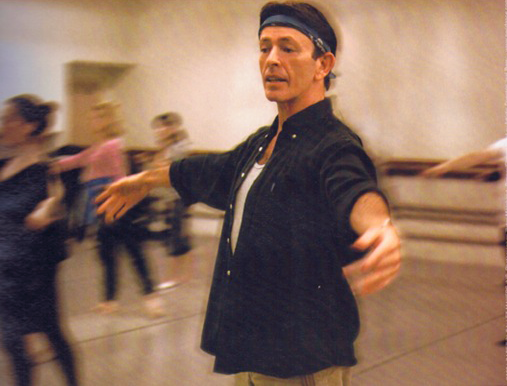 A: My company is structured as a repertory company and divides its time doing my own work, as well as work of contemporary choreographers of all kinds. The company strives to bring a very high level choreography in both traditional and innovative styles of dance. The company serves as a goal and beacon for young students to aspire to, and as such, has already raised the level of dance education within Peridance Capezio Center.
Q: While the foundation of the Peridance Contemporary Dance Company is ballet, you chose contemporary and not classic dance. Is contemporary dance another tool for you to use in creating exciting performances and unusual movements?
A: All of our Peridance Contemporary Dance Company dancers are classically trained. That being said, they all have sound contemporary performance qualities to their dancing and many of them do, or have performed in modern and contemporary dance companies. Much like the individual dancer, PCDC has a foundation based on the elegance and articulation of classical ballet technique that serves as a launching pad from which contemporary movement can emerge through experimentation. In fact, it is through experimentation with classical styles that contemporary techniques have arisen.
Q: Is it now necessary for dancers to broaden their base in developing new disciplines? Is it compulsory for this to happen? Or is it merely an option?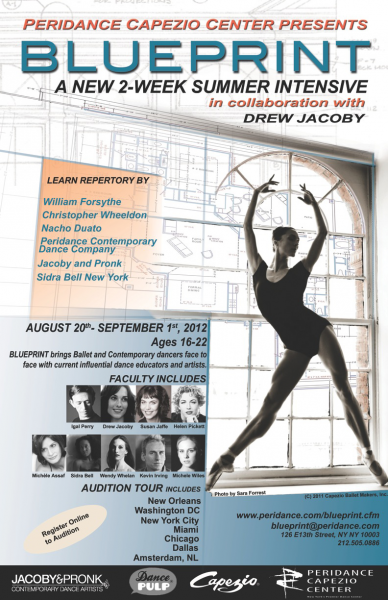 A: In order to succeed in the world of dance today, and to appeal to its companies and choreographers, dancers must be adept at multiple styles of dance. Specifically in the realm of ballet, dancers typically can no longer get away with strictly studying a classical structure. Even within a purely classical ballet company, a dancer needs to be able to go from romantic to neo-classical, from Bournville to Forsythe, in one evening. So, when you are considering today's "ballet" dancer, you now are looking at someone who can move from classical to contemporary; You are looking at someone who can offer that kind of flexibility and knowledge to the choreographer. Having this broader foundation is not compulsory; There are still plenty of companies that focus on a pure style. However, choreographers now strive for innovation rather than tradition and do not limit themselves by identifying with one style. And, if they say they do, it's probably because they don't realize the confluence of styles happening today.
Q: Are you willing to share hints on your plans for next year? Will this intensive be repeated? Or are there even more amazing opportunities for workshops and/or summer intensives on the horizon?
A: There will be for sure plenty of new opportunities in the future! Stay tuned!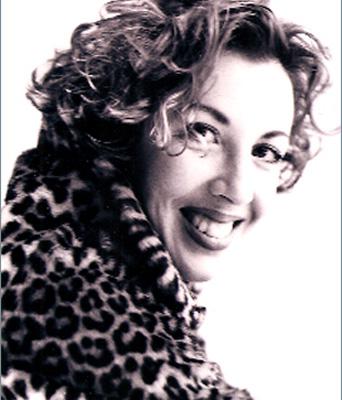 Our next interviewee should be familiar to DDN members. I had the pleasure of interviewing her before was thrilled to have the chance to do it again! Helen Pickett studied dance at The San Francisco Ballet School under the direction of Lew Christensen and Michael Smuin, and later, Helgi Tomasson. For over a decade, she performed with William Forsythe's Ballet Frankfurt. During her last season with Ballet Frankfurt, She simultaneously performed with The Wooster Group, director, Elizabeth Le Compte. In 2005, Mikko Nissinen, director of the Boston Ballet, offered her first choreographic commission, Etesian. In 2007, Dance magazine named Helen one of 25 to Watch. She received a Choreographic Residency from Jacob's Pillow in 2008. From 2009 through 2011, She's created new ballets for Royal Ballet of Flanders, Ballet West, Boston Ballet (two premieres), Aspen Santa Fe Ballet, Atlanta Ballet, and Dance Theatre of Harlem. Helen was one of the first choreographers to receive the Jerome Robbins Foundation's New Essential Works Grant. She teaches Forsythe-based improvisation and her motivational creative workshop entitled The Expansive Artist throughout Europe and the United States. Complete bio: www.helenpickett.com . . .


[b]Q: How did you become involved with the Blueprint Summer Intensive? Were you immediately attracted to this project?
A: I have a long-standing relationship with Peridance as a teacher of Forsythe-based Improvisation. I enjoy the commitment to dance one feels at Peridance throughout the different programs such as the wonderful Certificate Program up to the professional levels. I met Drew while teaching at Peridance. We discussed the possibilities and I decided to get on board with the project. I like being involved with an inaugural event.
Q: What is your exact role in this summer intensive? Teaching? Coaching? Choreography?
A: I will teach a Forsythe –based Improvisation intensive, which will culminate in an improvisation showing.
Q: How do you feel learning a Forsythe technique changes a dancer? Does it make you stronger? More fluid? Specifically, how does it alter the body and integrate with pointe work or classic ballets?
A: Within the structure of this technique I foster accountability, articulation, self-study, curiosity, and investigation of time, space and matter. Those aspects along with the rigorous physical details of the modalities can "change" a dancer's thought process and work ethic. Yes, it makes you stronger. It alters the entire dancing self in wonderfully personal ways. It opens into different strengths from sensorial articulations, proprioception, for example, to a greater sense of length throughout not only the limbs, but also the torso and trunk. Intricate coordinations created, in part through Cross-Hemispherics, inform a dancer's consciousness, a whole consciousness, not a Cartesian separated consciousness, into an incredibly articulated sense of movement. This articulation can cross over to any other technique, and yes, certainly to ballet. Among other ideas, I focus on activating "quick twitch" muscles and proprioceptive awareness that can correlate beautifully with active choice making. This set of reactions integrates very well with pointe work, and the speed of pointe work. The dancer takes delight in what the self is capable of
Q: How important is learning contemporary and other forms of dance to a young dancer aspiring to a professional career? Is it a prerequisite? Or does it only make you more versatile?
A: Today's contemporary dancer must be versed in many dance forms. And who would not want to work with a smart, articulated, curious dancer?
Q: Good point! What do you hope the students attending will gain from working with you? What is that one thing you will be concentrating on passing along?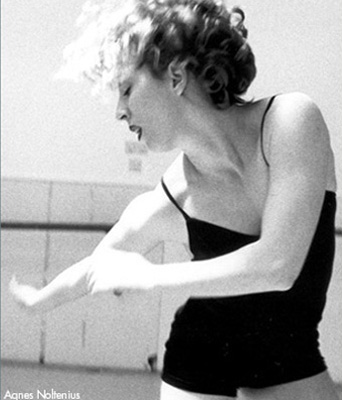 A: I have higher aspirations than passing on one thing! I hope the students are inspired to delve further into their chosen career: To embrace the incredible power of personal responsibility. To enjoy rigorous investigation of their art form. I want to teach, "think more," to enjoy the act of thinking more. A dancer must be audacious in their thinking. As Adlai Stevenson said, "Success is the child of audacity."
I want to pass on ideas that refer to the power and freedom of choice. I want to plant the seed in students to accept and embrace frustration and confusion as two magnificent jumping off points into learning and understanding. To ask questions like," What is possible here?" "How can I manifest this idea, while staying true to the task?"
Q: What do you get out of teaching? What's in it for you?
A: All of the above. I get to investigate as well. The Beginner's Mind is a powerful attitude to foster. I practice daily. I love to see the sparks fly in a dancer's being and the energy that is created in a room full of courageous ideas. It is an awesome life affirming energy. It is life.
Q: How much can a student's technique change in this period of time? Realistically, how much can they learn? .
A: That is up to the dancer. Where they are at, at a particular time. What they allow themselves to take in. The field is open.
Q: Since I'm into networking, I see this as an invaluable opportunity for young dancers to do just that. What is your opinion on this? And on networking in general? Is it the missing link in most dancers' training?
A: I believe one must stay true to their abilities. Speaking about your abilities is one thing, demonstrating your knowledge is another.
One must back up their talk with action. Taking a humble, honest and generous approach is always good. If one genuinely likes people networking can be quite enjoyable and fruitful..
Q: What catches your eye? As someone that constantly is evaluating students, what about a dancer knocks your leg warmers off?
A: My Dad used to say, "Knock their socks off Helen! My socks get knocked off when I witness the bliss that occurs when a dancer has made a connection, has discovered something within themselves, has blown off the shutters of their current realities. That is truly amazing. The room tingles.
Q: Do you see this fusion of dance disciplines as the wave of the future of dance?
A: This wave is constantly crashing onto our shores, and I say crashing with a positive spin. We are in the fusion right now and we have been here for quite some time. I think we are advancing at a very fast rate. I love being a part of it!!!
* * * * * * * * * * * *
If you are interested in more information about BLUEPRINT Summer Intensive, please visit
www.peridance.com . . .
For information about DancePulp
dancepulp.com
For information about Helen Pickett
www.helenpickett.com
2 Replies to Inspiration #08: BLUEPRINT Summer Intensive w/Drew Jacoby, Igal Perry and Helen Pickett

re: Inspiration #08: BLUEPRINT Summer Intensive w/Drew Jacoby, Igal Perry and Helen Pickett
By
smileywoman




On Sun Apr 01, 2012 06:53 AM

Lovely interview. You are so lucky to have such an opportunity! I've been reading about BLUEPRINT on Facebook and I think it's a wonderful opportunity for some very lucky dancers.


re: Inspiration #08: BLUEPRINT Summer Intensive w/Drew Jacoby, Igal Perry and Helen Pickett
By
nycsylph




On Sun Apr 01, 2012 11:35 AM

smileywoman wrote:

Lovely interview. You are so lucky to have such an opportunity! I've been reading about BLUEPRINT on Facebook and I think it's a wonderful opportunity for some very lucky dancers.
Smileywoman -
Aw, thank you! Busily working on next!!!
And I am very lucky to be where I am. NYC is a cultural center that's for sure!
Yes, when I heard about it I was just overcome with enthusiasm! Had to find out more and contact the movers and shakers to discover how they put this together and what it really offers! Know that sometimes these things have names attached, but there's not much contact. This really does seem different in that way. Very hands-on by tons of really amazing dancers. And the opportunity to learn the selections of choreography is also enormous. They were kind enough to give me their time in putting together this little ditty!
Thanks for the nice comment. I do appreciate it!!
Cyber hug.
Reply
Send
Watch