User Profile for
smileywoman




Show smileywoman's Weblog
(
List Weblogs
)
smileywoman's Bio
My name is Maria, but on DDN I'm known as smiley or smileywoman.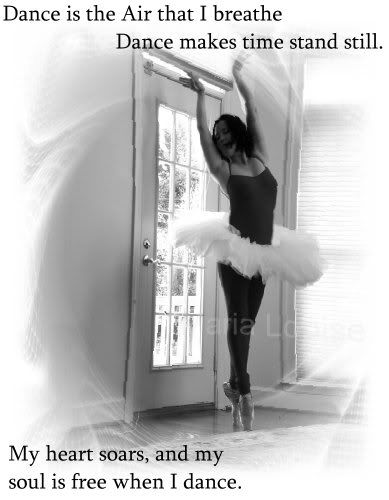 Dance because you LOVE it
don't let the lack of support deter you.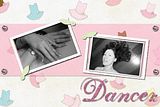 My mottos:
Age is JUST a number. So DANCE!




Passion to dance, regardless of age.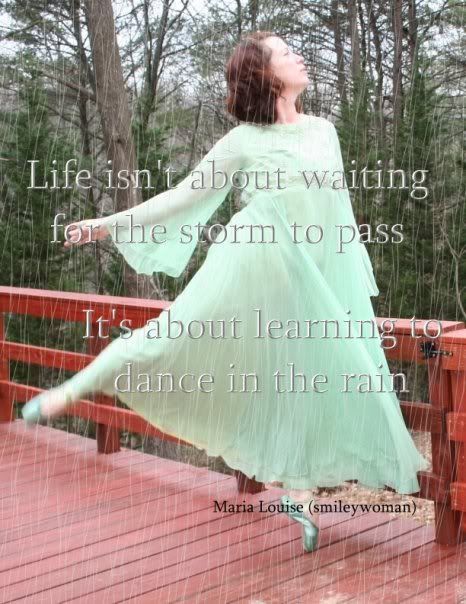 You can find me at:

My internet personae IS "smileywoman" so you can find me by googling "smileywoman" or go to smileywoman.com/

Twitter
twitter.com . . .

A little about me
By day wear two hats: 1) Consultant to small businesses for their operations management and administrative infrastructure design, and 2) Owner of a creative enterprise with a website and Etsy shop - MariasWonders where I re-create vintage jewelry pieces, wedding veils, and wedding accessories using vintage materials.

I also love photography, architecture and I enjoy writing (ballet interviews, childrens' books, and a blog). So much more...an adult recreational ballet dancer, mother, wife, grandmother, and former model.

I also want to be a motivational speaker someday, so I can help inspire and empower women. I have a strong desire to help my fellow females at this point in my life.

I ADORE music as much as dance (they both make my soul sing). I particularly LOVE BackStreet Boys! YES! I said BackStreet Boys!!!! My inner child is 10 years old, so that's okay.



Yeah, dancing is something I do. I do it in my sleep, while standing in line at the grocery store. I don't listen to classical music to relax...because I find myself trying to choreograph to it!

As an older dancer, I don't get to dance as much as I would like to do. I'm lucky if I dance 2-3 times a week (instead of the 3-5 times a week that I used to dance). It's harder to recover from injuries, and life's obligations take priority.

The way dancing makes me feel is a combination of spiritual, emotional, and physical. There's an AMAZING interview a friend of mine did on Tami Stronach. Tami was best known as the English child actress who played the Empress in movie entitled, "The Never Ending Story." Tami is now a professional dancer, choreographer (who also has her own small dance company). A quote of her's describes EXACTLY how I feel about dancing:
"I think that the reason I'm attracted to dance - and art - is because it's the place where the emotional life is more important than the practical life on some level. It's a sacred space where your inner world is valued and I think most of my work - and most of the reason I'm a dancer - is I want to be in environments and make environments that give people permission to express that part of themselves. In various ways, all my work ties to the fact that forces in society conspire to shut people down and take away their ability to feel. Then as life becomes harder and harder, it becomes scarier to feel because feelings are big and hard. I think emotions are like your ballet muscles. They're like your plies or tendus, if you don't practice them, you become less good at it and less good at engaging with other people. It's not something you learn and not something that in society, we spend a lot of time thinking about. I feel like that piece is a story version of what I'm describing. It's sort of saying that there's a lot of fear in allowing your emotional world to be really full and big. There's that constant fear that you'll lose your equilibrium and you won't be able to be in charge of yourself and function well."

Ultimately, I dance because it makes me incredibly happy on a deeply spiritual level. I experience a harmonious, peaceful contentment of mind and body. Moving to music is the best therapy that I could ever imagine to stave off depression or anxiety.

Pictures of Me

Although I have a balance disorder, I re-started ballet about seven years ago (after
a 20 year absence).




I feel blessed to have found DDN. It is a wonderful loving and supportive community where I have a lot of friends. I think I'm the oldest DDNer to be featured (dancing4joy is close to my age) in a Get the Pointe ballet interview. I think that is pretty cool!

I have many, many friends all over the world and I'm honored in particular to have Sara Michelle as a friend. Sara Michelle was born and raised in Tidewater, VA. She trained in VA Beach, Norfolk, Chesapeake, Williamsburg, Philadelphia, and Washington, DC. After graduating from the Kirov Academy in Washington, DC she joined the Dresden Ballet in Germany.




Sara Michelle is an amazing young woman who I think will be a famous professional ballet dancer one day. She is now 5' 10" tall (quite tall for a dancer). Her favorite part of ballet dancing is pas de deux, but it is very difficult for her to find a male partner who is tall enough.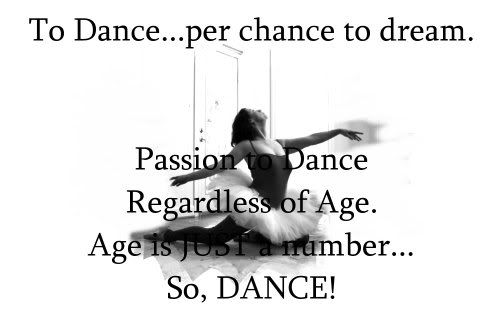 So NOW, you should go DANCE!!

Friends of smileywoman
See all smileywoman's friends...
| | | | | |
| --- | --- | --- | --- | --- |
| 1 Jul 2017 | 26 Jul 2014 | 26 Jul 2014 | 3 Mar 2014 | 19 Jan 2014 |
See all smileywoman's images...
Comments about smileywoman
See all smileywoman's comments...